A huge list of new press releases, SEC filings and BDC-related articles and analyst actions. We couldn't fit all the content into one screenshot. By the way, the orange bookmark indicates the BDC Reporter has read the accompanying document (whose page count is provided by Alphasense). The orange pen symbol and the number indicate internal notes we've taken on the document in this first pass. In order to review all the day's content we're providing brief comments about most every item below. Separately, we will undertake a full review of OHA Investment's (NASDAQ:OHAI) earnings release and quarterly filing.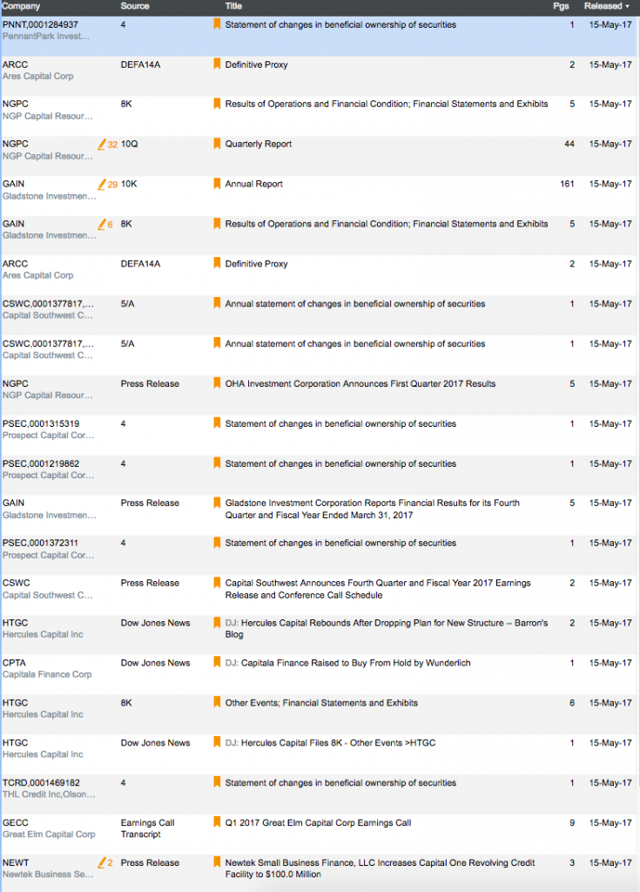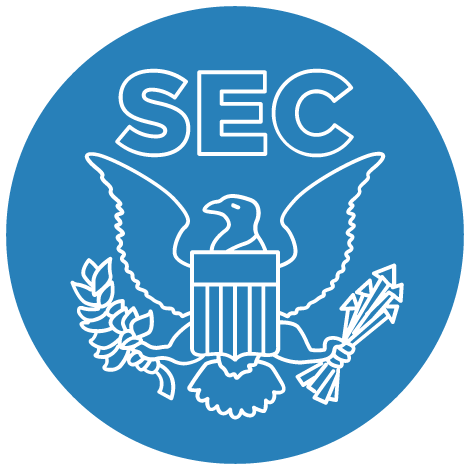 INSIDER PURCHASES
Pennant Park Investment's (NASDAQ:PNNT) Chairman, CEO and founder Arthur Penn made two purchases of the BDC's stock at $7.77 and $7.892 for 28,000 shares. That increased Mr Penn's ownership through PennantPark Investment Advisers, LLC to nearly half a million shares. He also owns, according to the Form 4 we're quoting from, another 183,400 shares personally.PNNT's stock has been up and has been down in 2017, but is currently close to the level at the beginning of the year, as this chart shows.
Three of Prospect Capital's (NASDAQ:PSEC) insiders were also acquiring shares in their BDC. Director Eugene Stark bought 2,000 shares and no owns 37,000. Other Director William Gremp bought 5,000 shares, bringing his total to just under 9,000 in total. More impressive to many PSEC shareholders, who use insider purchases as an indicator of potential future performance, CFO Brian Oswald added 10,547 shares to a collection that is now approaching half a million shares, with a value of about $4mn.
PSEC share price has stabilized after dropping following the PSEC earnings release and Conference Call by $0.50 a share to $8.20 at time of writing, from $8.70 before the news broke. All 3 gentlemen purchased stock after the stock dropped, but that may have more to do with exchange or SEC stock buying rules for insiders than much in the way of market timing.
Over at another under-performing BDC - THL Credit (NASDAQ:TCRD) - co-CFO Terry Olsen bought 1,025 shares, bringing his total to a not very impressive (if you're using insider ownership as a proxy for confidence in future performance) 40,000 shares. Unfortunately TCRD's stock price has not recovered from the reduction in the distribution in the summer of 2016. Even three reporting periods on, the market appears uncertain about how to value the stock which has been as low as $8.95 and as high as $10.56. It's currently at $9.80, $2 a share below NAV.
With earnings season almost complete, the many investment bank analysts who trawl BDC waters have been issuing re-ratings left, right and center. As we've said before, these Solomonic announcements can move individual stock prices. However the stock move has usually occurred after we get to pass on the news. Presumably the firm's clients have been given an earlier heads up. We mention these rating changes both to be comprehensive and to give readers a sense of institutional market sentiment. A lot of analysis by very talented professionals goes into these Buy/Sell/Hold calls, but there are still plenty of contradictions between firms.
Anyway, Wunderlich Securities raised Capitala Finance (NASDAQ:CPTA) from a Hold to a Buy. CPTA's stock has risen from below $10.0 a share in early 2016 to $14.00 today, but has been as high as $15.60. However, that was before CPTA cut its distribution after a number of energy deals went sour. In the post-reduction period, the stock has never been above $14.65, and remains well below NAV. We can't imagine Wunderlich expects much in the way of capital appreciation still remaining at this level, just 4% off the recent high.
Deutsche Bank cut Fifth Street Finance (FSC) from Buy To Hold. FSC's stock price has been rolling up and down in recent weeks while investors wait to hear whether its Investment Advisor, Fifth Street Asset Management (OTCPK:FSAM) will proceed with announced plans to sell itself (and the advisory contracts owned for FSC and Fifth Street Senior Floating) to a third party buyer.
Hercules Capital (NASDAQ:HTGC) issued a press release and an associated SEC filing about its intention to engage a financial adviser to review whether switching to an external management structure would be appropriate. The BDC Reporter- and most everybody else, including the venerable Barron's- commented on the unexpected move yesterday, as did the BDC Reporter, at great length.
Newtek Business Services (NASDAQ:NEWT), which has been having a good 2017, announced an increase in its Revolver with Capital One from $50mn to $100mn. The size of the increase alone suggests NEWT's business is performing well, as does the reduction in the interest rate charged.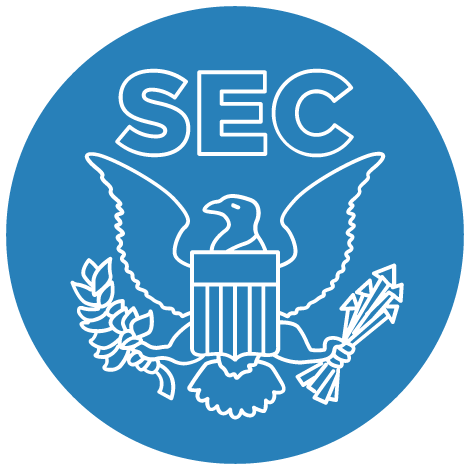 10-K FILING
Gladstone Investment (NASDAQ:GAIN): Filed its 10-K for the year ended March 31, 2017 and announced the earnings in a press release.
The BDC Reporter will be undertaking a deep dive into the high flying (from a recent stock price standpoint) BDC's portfolio in the next few days. However, we did review earnings, leverage, liquidity and so forty and all the vitals looked good, as you might expect from a BDC that just raised new equity at close to book value. These Are The Good Old Days for GAIN right now.
We did undertake our proprietary Stress Test analysis on GAIN's Preferred issues that are outstanding, and remain encouraged that the securities remain asset covered -on a pro forma basis - even when we deduct any value for equity and haircut the value of the rest of the assets by 30%. That's before the latest equity offering, which will only have improved the Preferred Holders position and will help with diversification. (A nagging credit issue with GAIN is that the top 5 investments in the portfolio account for nearly a third of portfolio value).
We reviewed Great Elm Corporation's (NASDAQ:GECC) Conference Call transcript on Alphasense, but we'd listened to the convocation live earlier. The BDC Reporter covered GECC's results in a long post yesterday. We still have a few questions (don't we always ?) which we're hoping to pose to management shortly.
Disclosure: I am/we are long NEWT,FSC,FSFR.
Additional disclosure: We are long Baby Bonds/Preferred of GAIN,FSC, NEWT,TCRD, HTGC and PSEC