Background
Equity Inns, Inc. began operations on March 1, 1994 upon completion of its IPO and simultaneous acquisition of eight Hampton Inn hotels with 995 rooms. By December 31, 2006, the REIT had grown to 129 properties with 15,366 rooms.
On October 25, 2007, Grace Acquisition I, Inc. (Grace), an affiliate of Whitehall Street Global Real Estate Limited Partnership 2007 (Whitehall), completed its purchase of Equity Inns, Inc. for $23 per share in cash for each common share.
Whitehall is an affiliate of Goldman Sachs.
At the time of the acquisition, Equity Inns, Inc. owned 136 hotels with 16,235 rooms located in 35 states. Hotels operate under franchise agreements with Marriott, Hilton, Hyatt, Choice and Intercontinental. The hotels are generally managed by independent third parties.
The aggregate purchase price paid for all of the equity securities was approximately $2.2 billion, including assumed debt, in which the purchase price was funded by the equity financing from Whitehall and by debt financing from Goldman Sachs Mortgage Company.
However, holders of its two series of preferred stock retained their investments, effectively becoming mezzanine debt or "junk equity". The 3.45 million shares of 8.75% Series B Cumulative Preferred Stock and 2.4 million shares of 9.00% Series C Cumulative Preferred Stock became issues of the surviving corporation. The shares were delisted from the NYSE upon going private. The shares began trading Other OTC: Preferred B (OTC:WGCBP) and Preferred C (OTC:WGCCP).
Like many other real estate deals completed in 2007, in hindsight, Grace paid top dollar. As a result of the Great Recession, revenue and profit quickly declined. As a result of a "cash trap" under the mortgage, dividends were last paid to preferred holders on April 30, 2008. Now, five years later, Preferred B has accumulated $10.9375 in unpaid dividends, while Preferred C has accumulated $11.25.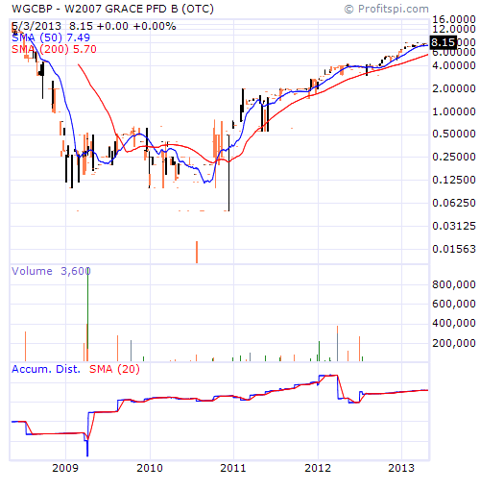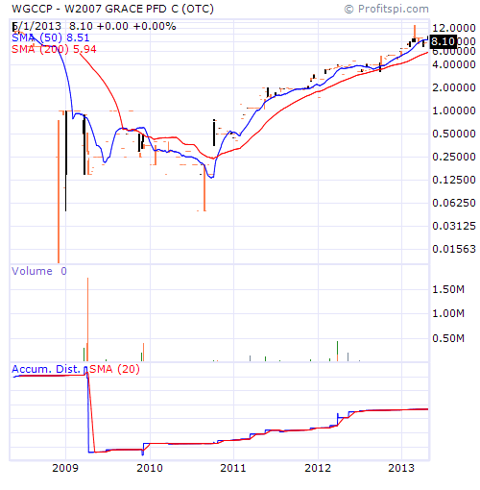 As with most preferred issues when dividends are in arrears for six or more quarters, the Grace board of directors is required to increase by two and the holders (voting as a single class) are entitled to elect the additional directors at any annual meeting or at a special meeting called for such a purpose. The company has held a special meeting three times: June 3, 2010, December 14, 2010 and March 27, 2012. Each time, a quorum was not present. A letter dated April 29, 2013 informs holders that the company is attempting to hold another special meeting later this year, most likely in the third quarter based on earlier information.
Since the company has gone private and is no longer required to file reports with the Securities and Exchange Commission, financial information is not readily available. However, Grace has elected to make certain materials and information available to the holders of Grace preferred stock. Interested holders must complete, sign and mail to the company a request form. The form is available on Grace's website (equityinns.com). Holders are required to confirm their status as a holder of Grace preferred stock, acknowledge their understanding that the materials provided must be kept confidential, and pay the reasonable cost of copying and shipping the materials. This should explain why this article does not contain any financial information.
The corporate website will provide outsiders with some limited information. It will also detail when the latest financial information is available for purchase by preferred shareholders and the cost to obtain it. Calendar 2012 financial information is now available.
All it takes to get the information is being a preferred shareholder, filing out a form and sending in payment.
Analysis
Grace will benefit from industry-wide macro trends. The construction of new hotel rooms remains at historic lows and will most likely remain low for some time. This lack of new competition allows existing hotels to raise room rates as the economy slowly improves. The properties become valuable.
At some point, Whitehall will be looking for an exit strategy. It may take several more years. However, it appears that work has already begun.
Grace announced on September 17, 2012 that a sister company had acquired approximately 35 percent of the outstanding Series B and Series C preferred shares. The release went on to say that this sister company and its affiliates (including Grace) may also from time to time consider entering into one or more other transactions with respect to the company, including the acquisition or disposition of securities of, or interests in, the company (including additional transactions with respect to the Series B and Series C preferred shares).
The sister company may be working towards obtaining enough votes to produce the quorum needed to hold a special shareholder's meeting and ultimately electing two, potentially friendly, directors.
These two series of preferred stock stand in the way of Whitehall monetizing its investment in Grace. It is also not hard to envision the sister company or even Grace announcing a tender offer to buy preferred shares at a discount from liquidation value (par plus accrued dividends) down the road.
Disclosure: I have no positions in any stocks mentioned, and no plans to initiate any positions within the next 72 hours. I wrote this article myself, and it expresses my own opinions. I am not receiving compensation for it (other than from Seeking Alpha). I have no business relationship with any company whose stock is mentioned in this article.
Additional disclosure: I own both WGCBP and WGCCP.