The Consumer Confidence Index (NYSE:CCI) measures the level of optimism of consumers. It turns out that this indicator is a good long term contrarion indicator. In the past 40 years, the indicator managed to pinpoint 5 market bottoms since 1969. That's a whopping 5 out 5 times.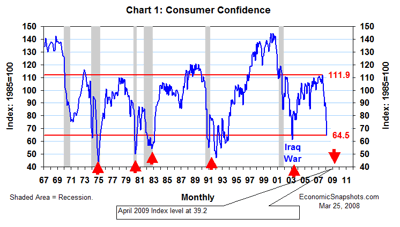 Comparing this CCI chart to the S&P 500, the CCI correctly predicts great buying times for the long term equity investments. According to the CCI, 2009 marks another great time to buy in.
I found this chart from EconomicSnapshots.com of the historical CCI dating back to 1961. It's not surprising that when people turns from euphoria to panic, it's the best time to invest. The CCI index went from 111.9 to below 40 just recently.