Back in early 2003, the world was hit by SARS (Severe Acute Respiratory Syndrome). What's interesting is the similarity of the the market environment to what we have today and the swine flu. In early 2003, the S&P 500 was running into its 3rd year of bear market.
 
By early 2003, many investors have lost their shirts and thrown in the towels on the markets. Just as you think that we needed a break from all the bad financial news, the world was hit by its first global pandemic. Timing couldn't have been any worst! Market doomsayers would predict further deteriorations of the markets. Market confidences was at extreme lows. The Consumer Confidence Index dropped from 140 at the peak of the market to the low of mid-50's by early 2003.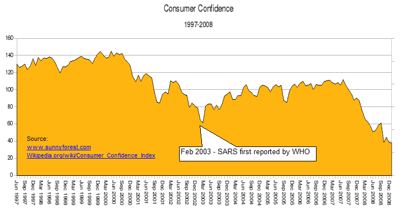 A Mini History of SARs. 
 
The first SARS case was reported by WHO (World Health Organization) back on Feb 11 2003. The number of cases grew quickly to 1633 by end of March. This number more tripled by April 30th before leveling off at around 8400 by end of May 2003 and was contained thereafter.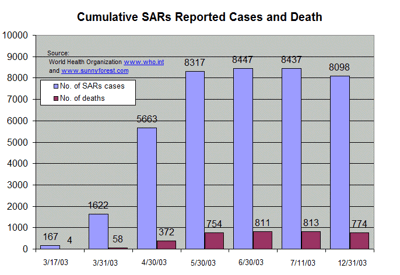 A month after the first report SARS case, on March 2003, it marks the bottom of the bear market. No amount of bad news out there could bring down the market. It was indeed the best time to buy on fear.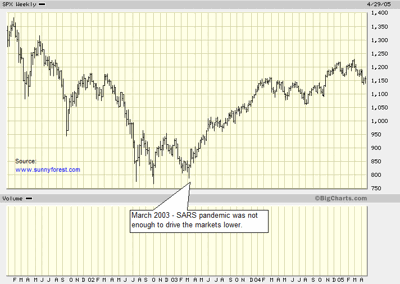 Back from the Past...
 
Perhaps today is no different from 2003. Today the markets have fallen off the cliff since it peaked at the end of 2007. Confidence levels have fallen to the mid 30's from 100. Just as we are going through this bear market, the rapid spread of the swine flu is something we don't need. Turn on CNN and the other market news, you'll probably hear economists and analysts forecasting further market and economic contractions.
History repeats itself... 
 
Perhaps we can draw some conclusions from the recent past? Maybe the current flu might bring down the markets to lower levels and present the buy of the century. Only time will tell.
 
Good Luck
 
 
Related links & sources
One hundred days into the outbreak
Cumulative Number of Reported Probable Cases of SARS