Weekly level -
the stock broke a long range between the gates $ 22 - $ 32 which means it is on a move of $ 10 toward the gate $ 42.
After the break-the price was supported on the $ 32 whinch means the market has shown a willingness to buy at the resistance.this is a permission from the marto continue upward trend.
Despite declines in the last week shows that the share buyers entered were willing to buy at a price higher than the previous week's low.
Bearish signs:
By momentum indicators is possible technical correction before going process towards the gate $ 33.5 months.
You can see that new records on the weekly level do not appear on the graph. However by the terms of our analysis this acts only as a warning signal and and not as a sign of bearish technical short sale.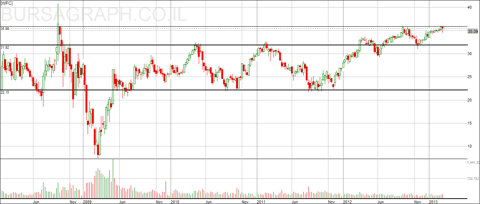 Daily chart confirms for us the weekly chart:
You can see that the rate of resistance could not be broken 35.5 which can create a template head shoulders that could lower the stock price towards 34, it recommended me share purchase range with a stop - Los below - $ 34.