Wheeeee – this is fun!  
It's always fun when the market does what you predict it's going to do.  Last Wednesday I said we were going to see a pattern in the indexes that was going to look like the "M" in the McDonald's arches and Stock World Weekly did a nice job of illustrating it this weekend,which I put up in yesterday's post as well.  At no point did we change our mind but we did change direction as we bounced around within a fairly tight intra-day trading range but our macro picture remains intact and now those patterns are looking very obvious on the charts.
In last Thursday's post, I had mentioned: "those Ms are going to look dangerously sloppy (more bearish) if they can't at least round out the top today" and that's where we are now, with sloppy M's that may not even hold our reference levels, which were our old breakout levels that we had hoped would support the broader rally.  
Of course we didn't have much adjusting to do (which is why we're just having fun with day trades) while we wait for the pattern to complete because it was the Wednesday before that, on May 4th, when I called the bottom on the Dollar and, therefore , a top on the market.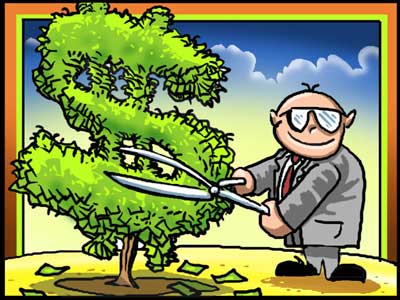 Right in the main post (which is Emailed to Report-level Members and above at 8:30 every weekday) I suggested the TZA June $37/42 bull call spread at $1.  This one is going very well as TZA is already at $36.65 and the spread is at $1.35, up 35% in 2 weeks – now THAT's a hedge!  Our offset to that was to sell  the weekly RUT $825 puts at $1.15 and they did, as expected, expire worthless that Friday which made the whole trade a free ride with a .15 credit and up 1,000% so far.  Notice how that's a great cover because if the RUT went up, for sure we keep the $1.15 and we have a free hedge but if it went down but held our levels (it did) we still get a free hedge and, if it went down and exceeded our expected range, then we have $5 coming to us from the spread to help pay for a roll.  
Other hedges we took that day in Member chat were GLD Aug $135…

 Free Today!
Posted in Uncategorized | 17 Comments »
Tags: EDZ, HPQ, IWM, JPM, PCLN, PFE, QQQ, SQQQ, TZA, USO