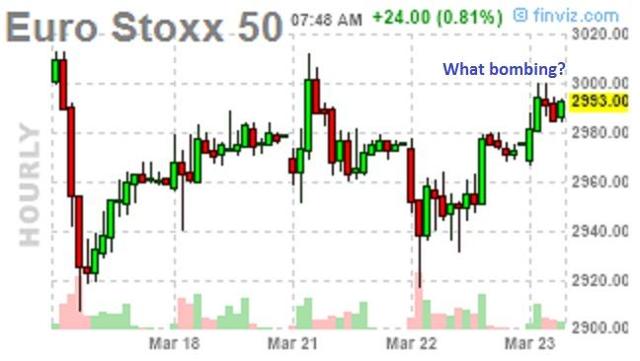 I think it's amazing.
They caught the Brussels bomber (the one that didn't blow himself up) and there was an extra bomb, so he could have killed more people - yet the markets in Europe are UP this morning. Sure it's nice they caught the guy and they say it's the same guy who masterminded Paris but the fact that he's 24 years-old and that ISIS has 30,000 other core members SHOULD bother people - at least a little.
When the markets are back near their all-time highs, I tend to look for things that can go wrong and it's kind of strange to think that terror attacks on major cities is not one of those things. Our near-total detachment from reality reminds me of a scene in the movie "Brazil", where rich people are having lunch and the restaurant is bombed and they simply go on eating amidst the horror, only mildly inconvenienced. Is that the world we're aiming for? Seriously?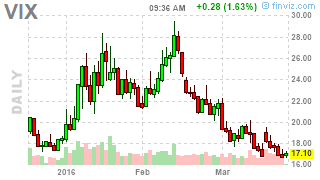 Nevertheless, as you can see, the VIX, the "fear index" has continued it's March march lower, down almost 50% from it's February peak. The only thing the markets actually fear is that the Central Banks will stop the endless flow of FREE MONEY that is flying off the presses and 13 Central Bank actions in the past 30 days say that's not going to happen any time soon (see Monday's post for the chart).
Speaking of Brazil (NYSEARCA:EWZ), corrupt President Dilma Rousseff said she will never resign and that she considers the impeachment procedure to be a coup as that country spirals completely out of control with barely 4 months to go before the August 5th start of the Olympics or, as Rousseff likes to think of it - payday! You have to sympathize with her as all these years of bribes and kickbacks will all be for nothing if she can't be there in August to collect her take.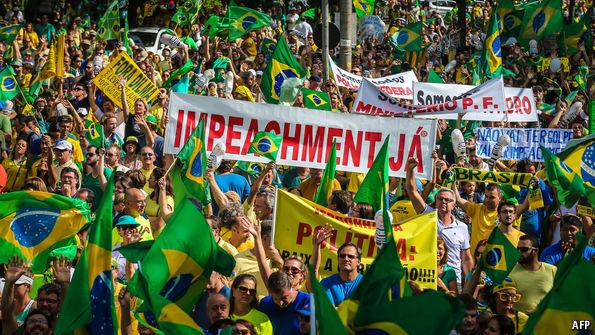 You might think that, like terrorism, Brazil doesn't matter but that country is possibly on the way to bankruptcy and it is the World's 7th largest economy ($2.25Tn) so I think it's going to matter A LOT once people begin focusing on it as we ramp up for the Olympics. Just this morning, Petrobas (NYSE:PBR) announded a $10.2Bn loss for Q4 and will lay off another 15% of their staff to bring the 2016 total firings to 45% - 12,000 jobs. They've also drastically cut spending by 25% ($32Bn), causing a ripple effect throughout Brazil's economy. Another massive company, Vale (NYSE:VALE) is teetering on the edge of disaster with $8.7Bn in Q4 losses.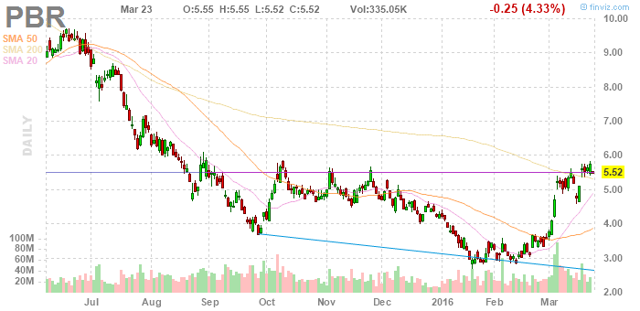 For the rest of this artilce, sign up for a free trial of our Daily Newsletter at philstockworld.com.
Disclosure: I am/we are short DIA, SPY, QQQ, IWM.
Additional disclosure: Positions as indicated but subject to RAPIDLY change (currently mainly cash and an otherwise slightly bearish mix of long and short positions - see previous posts for other trade ideas). Positions mentioned here have been previously discussed at www.Philstockworld.com - a Membership site teaching winning stock, options & futures trading, portfolio management skills and income-producing strategies to investors like you.