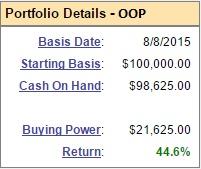 What a great month it's been!
Like the Fed, we've made very few adjustments to our portfolio but the ones we have made have been very effective and, more importantly, we added a lot of hedges that locked in our gains at very near our highest levels (45%) and we were relatively unaffected by this week's weak action. We started the portfolio on August 8th as an experiment with the people at Seeking Alpha to see if we could create a fully documented portfolio that makes a steady 5% monthly return. We failed to do that.
Though we are up just about 45% in our 9th month, the returns have been far from steady. As it turns out, our Butterfly Portfolio (one of the 4 virtual portfolios we use over at PSW) is still the champ and, to that end, we are incorporating more of those long, boring plays into the OOP from now on - as the goal was to have a low-risk $100,000 portfolio. The mistake we made was trying to make 5% in our first month, which we did but we were over-exposed when the market dove - bad timing as our first month coincided with a huge market drop that lasted through September.
Nonetheless, we got back on our horse and followed our "Be the House - NOT the Gambler" strategy and made a lot of smart bets and got ourselves back on track. Actually, this is a good time for a strategy note. Over at Philstockworld, we have an Education and Strategy section where we discuss our methods of scaling in and out of positions (something I also teach in our Live Trading Webinars) and it would be very educational for you to review our Options Opportunity Portfolio - 2016 Preview, which details each of our positions at the time and how much money we expected to make from each one. Although the BALANCE of the portfolio was just $101,571 at the time, the key quote was this:
Notice first that we have $98,672 worth of cash on hand. We started with $100,000 and, using just $1,328 of our original cash, we now control a substantial amount of positions. On the margin side, we are using $48,700 out of $200,000 of ordinary margin (not Portfolio Margin, which would be much more) and, generally, we don't want to use more than 1/2 of our margin - saving the rest for emergencies.

At this stage in the process, we're not so much concerned with the BALANCE of the positions as we are to whether or not they are on or off track for their goals. Options trades can swing wildly in value as premiums fluctuate as well as the price of the underlying security - your job as an options trader is to understand the VALUE of your options so you can identify which ones are misPRICED and learn to take advantage of the differences.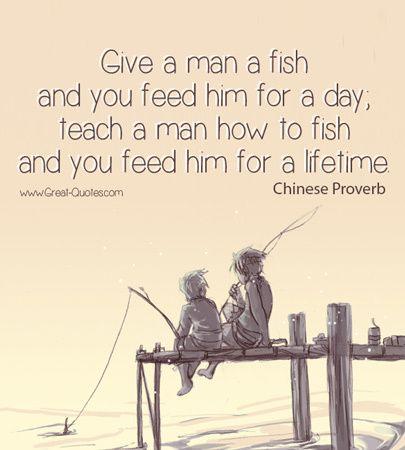 That, in a nutshell, is what we spend years teaching our Members at PSW, where we live by the philosophy that: If you GIVE a man a trade, you make him money for a day but, if you TEACH a man to trade, you make him wealthy and self-sufficient for the rest of his life! For more on this topic, read "How To Get Rich Slowly" - one of the articles in our Education Section.
Trying to hurry the process was certainly the mistake we made when we started the OOP and it's my fault because I felt pressure from having all these new people sign up at once to do something good right away. That was silly - good trading is a patience game - a marathon and never a sprint.
To that end, take a look at the trades and our comments from the January Preview and compare them with what we have now. Some trades ran their course and we're cashed in (we love taking profits off the table!) and a couple were cut for disappointing us (WSM, CCJ) but, on the whole, the group we had in January pretty much performed as expected and here we are, up 43% since Jan 4th.
Our current positions are very well-balanced (they'd have to be to have survived this week!) and, once you balance a portfolio it's a little bit like a Jenga tower - you hate to pull a position out for fear of toppling the whole thing over. So, in an uncertain market, we're mostly making small adjustments to steer our portfolio through choppy waters so that, when things calm down, we're well on course to make more profits.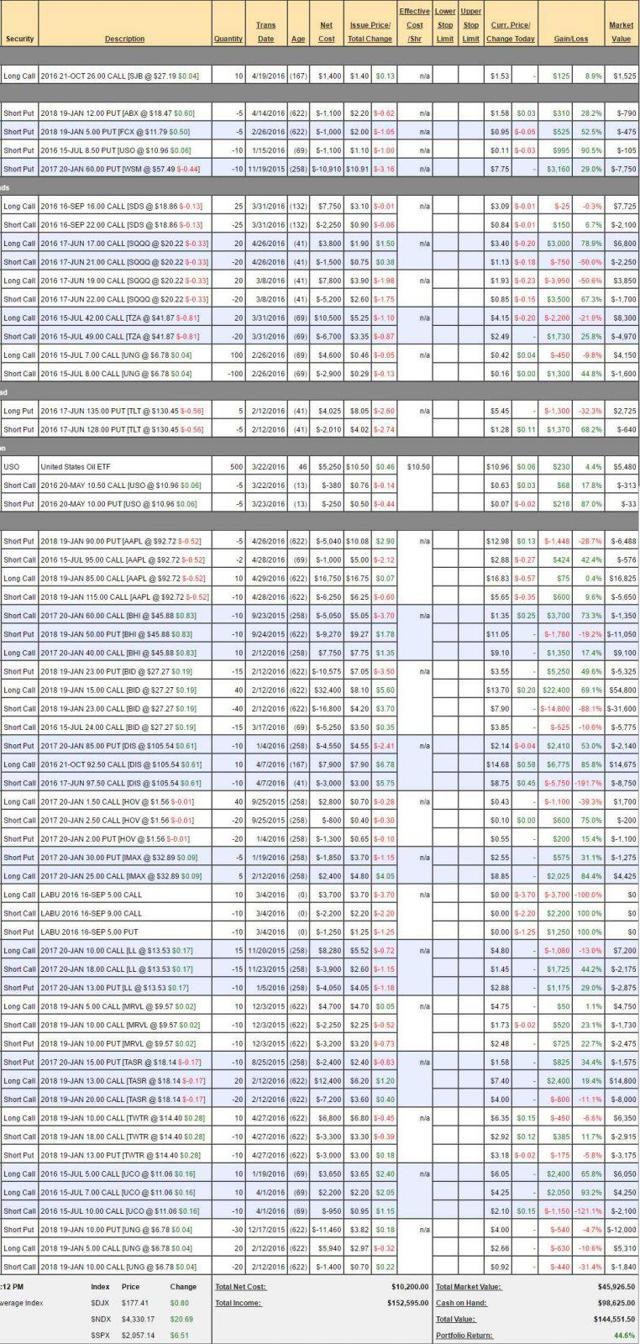 Notice that we still have a huge amount of cash, however, it is a smaller percentage of cash than we had in January. We have 25 open positions now vs. 19 in January but we have shifted to longer-term plays on the whole, so the portfolio will require less maintenance going forward but should still be on track to produce our desired $5,000 monthly gains.
Traders often forget that cash is an asset and, when the Dollar was fully valued, near 100, we chose to deploy more of them in exchange for stocks that we felt were undervalued. As the Dollar went down, the stocks went up and we find ourselves with less Dollars while the Dollar is undervalued (now 94). When the stocks get overvalued, we convert them to cheap Dollars and the virtuous cycle repeats.
SJB - Speaking of a strong Dollar. SJB is a 1x short Junk Bond ETF and a strong Dollar makes it harder for companies that borrow them to pay their debts. This is a fairly new position and, as you can see from the chart - it is full of potential and we see plenty of signs that the junk market is in for a very rough ride so I still like this as a new trade with a target of $28+ for at least $2 back but it could do much better. Call it +$500 expected.

ABX - We're well in the money already and very confident that we'll collect the rest of our $790 for the full 100% gain in 2018. If we needed the margin, however, we'd cash it in as it's so far ahead of schedule.

FCX - Ditto. We expect the full $475 remaining gain but, as it's so far off to collect (Jan 2018), if we need the margin we'd close it early.

USO - This one is more of a short-term bet and already almost fully collected. Same deal with the margin but, if we don't need the margin, then it's silly to pay even $105 to close this trade early. Margin on these puts is $867.50 so, even taking that into account, the return on margin is 12% in 69 days - what better is there to do with $867.50? Of course this assumes no downside risk and we REALLY don't think oil is going to be 22% lower in July.
When we're reviewing these trades, if you are new to PSW, you may find yourself thinking "Gee, I'd love to make 12% in two months, why isn't that good for a new trade?" And you'd be right, it's great for a new trade for a conservative investor, even if you are late to the party but, using options, we identify trade ideas like this on a regular basis and this trade has already made 90.5% 4 months so, literally, we do have better things to do with our money - finding new opportunities!
You should always be aware of your goals for each trade and whether it is on of off track. In other words, is the trade ahead of or behind schedule. Of course, you can't answer that question if you don't have a schedule so you should have a note on each trade you enter detailing what you expect to happen and when so that later, when you have some action - you have a good perspective to review it from. More on this as we continue the review:
WSM - We didn't totally get rid of it. Back in January, we only had 3 short puts and have since added 7 more at higher prices (scaling in while it went against us). The original 3 were sold on Nov 19th, when WSM was at about $62.50 and our net on the short puts was $53 but because we knew the VALUE of the stock, we were undeterred when the PRICE of the stock moved lower and we took advantage and added more and now, amazingly, we have a profit. As long as they stay in that uptrending bottom channel, I'm very confident we'll collect that additional $7,750 in Jan.

SDS - The first of our hedges. In this case, we have a simple bull call spread with a $15,000 potential return at $22 on SDS. SDS is a 2x ultra-short ETF for the S&P and it's currently at $19 so $22 is a 16% gain on SDS which would require an 8% drop in the S&P to 1,890, which just so happens to be the bottom of our expected range (1,850). So, to put it simply, this position gives us $15,000 of insurance against an 8% drop in the S&P between now and September and this insurance policy cost us $5,500, which we partially offset by selling puts against something, I'm sure (we usually do).

SQQQ - Another insurance hedge and we have two sets of these, all June. We paid a combined $4,900 for $12,000 worth of hedges that pay us in full if this 3x ultra-short Nasdaq ETF goes from $20 to $22, which is up 10% so -3%(ish) on the Nasdaq is all we need there. We have an AAPL position we were protecting into earnings but, if AAPL is finding a floor, we'll certainly lighten up on the hedge.
There's another important thing to note - remember WHY you took a position. In this case, the reason we added the 2nd SQQQ hedge on 4/26 was because AAPL's earnings were coming out and we expected some disappointment to knock it down and, wherever Apple goes - so goes the Nasdaq!
TZA - This is a 3x ultra-short on the Russell and it pays $14,000 back on a $3,800 insurance policy if the Russell is down about 5% (1,060) into July expirations. Notice that we spread the time-frames of our hedges so they don't all expire at once. $3,000/month is roughly the cost of insuring our $145,000 portfolio (when we're worried, as we are now) but, because we are BEING THE HOUSE and have sold time-sensitive premium - we expect to gain well over $3,000 a month from the short positions we've sold and the piece of mind is well worth skipping a little upside now and then!

UNG - We grabbed that when UNG fell below $6 in late February but we've lost steam at $7 and perhaps we were too aggressive. The trade is winning but needs to be watched carefully over the next week and if UNG isn't back above $7 before the end of the month, we won't be risking June on this trade.

TLT - What idiots are lending the Government money for 10 years at 1.76%? It simply blows my mind! We always like shorting TLT when it's over $130 and the February spike to $135 gave us a great opportunity to make this aggressive trade but the Fed has remained easier than we thought so it's a very slow grind down to our June target, and now we know the Fed won't raise rates then either so we'll be adjusting this trade to take advantage of the next move down.
USO - This is a bullish spread we call a buy/write at PSW, where we buy the stock and sell puts and calls to lower our basis. It goes along with scaling in as we take a small initial position and obligate ourselves to double down if it gets cheaper or, if not, we get called away with a nice profit. In this case, we paid $10.50 for the stock and sold $1.26 of puts and calls to drop our basis to $9.24/9.87, which means our net entry is $9.24 but, if assigned more below $10.50, our average on 1,000 shares would be $9.87 ($9,870). Meanwhile, we're in for $4,650 and we get called away at $5,250 for a quick $600 profit (12.9%) in less than two months - who needs dividends?

AAPL - We just bulked up on this one as it turned lower and this position is more like the kind we keep in our Butterfly Portfolio. 5 short puts is a lot but the margin is only $7,925 and we collected $5,040 and we are VERY confident AAPL will be over $90 in Jan, 2018. Nonetheless, we did offset 40% of the short puts with short calls - just in case and for a little income but the meat of our position is the 2018 $85/115 bull call spread which will pay $30,000 if it goes well and the net of the position now is $4,111 so net $4,111 in cash and $7,925 in margin to make a $25,899 profit in 19 months (629% on cash) is very nice on our single favorite stock.

BHI - We're very pleased with this one as the deal with HAL did, indeed, fall apart but BHI's stock did not. I was absolutely dumbfounded when this stock went below $40 and it's a big position in all of our portfolios and this trade targets $60 but we have a $6,750 credit on the spread and our short puts are $50s so anything over $43.25 is a win for us and, at $60, we make $26,750 (396%) and, at the moment, it's still a $3,300 credit and, damn, if I'm not tempted to buy 10 more! Upside on this is $23,450 in 2018.
I just went back and highlighted in green the ones we are fairly certain of our return on so, if you are new and looking for new entries - take you pick! I also highlighted our insurance payouts in red for a quick reference as to our balance (not because there's something wrong with them).
BID - This one was killing us back in Feb and we SCALED IN and added to our bet because we disagreed with the street view on the stock. Now we're well into the green, looking for BID to just hold $23 into 2018 and we'll cash in $32,000. We've taken losses to get to this position but that's already priced into our balance. What matters is this current group is net $12,100 and we're highly confident we'll be collecting the other $19,900 (+164% from here) not to mention whatever other short calls we sell along the way. Again, this is typical of our Butterfly Portfolio trades.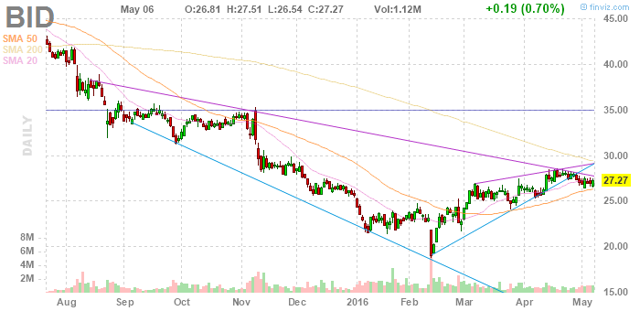 DIS - Another stock that sold off for stupid reasons. Investors are idiots - have I mentioned that before? Like AAPL, one of the World's greatest brands and a consistently well-run company but, because of a glitch in ESPN revenues (and what better brand in sports?), the stock dropped 30% and that led us to BUYBUYBUY, as we like to do when good stocks get cheap. In 1984, DIS was $1 so not quite AAPL's returns but that turns $10,000 into $1M in about 30 years - just in time for retirement! Of course, those returns are boring for us so we have our spread, which pays $5,000 off our $350 cash investment (1,328%) if DIS stays over $97.50, which is a nice less than annual return. As it stands, the net on the spread is $3,785 so we have at least another $1,215 to collect by June but we'll be rolling the short calls and we'll try to do about $2,500 better before we're done.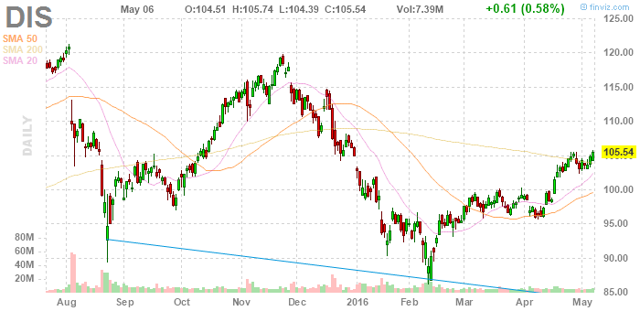 The reason DIS is so conservative is because, at the time we initiated (Jan 4th), the portfolio wasn't doing as well so we came in carefully, added some more when we felt more confident in April but then it took off fast so we stayed small. There's nothing wrong with a small win - even if you did intend to have a bigger one and, when we're ahead, we play more aggressively than when we're behind - that's just common sense...

HOV - This one still seems insanely low to me and we'll see in early June, when they have earnings, if I'm the one who's crazy or not. Moody's just downgraded their debt to junky junk (Caa2) AND gave them a negative outlook but Zacks agrees with me, so we'll have to see. HOV wrote down a lot of stuff as they consolidated their regions and that's a very good thing going forward and I will not be dumping them - just a question of whether we have to roll or not. At the moment, we have a potential $4,000 spread valued at $400 and I wish I could say I was confident they'd turn it around by Jan but I'm not - but I still love the spread as a nice gamble on a potential 10-bagger.

IMAX - Wow, this portfolio is just full of stocks people didn't believe in! This is another case of a very small initial position that got away from us before we could add to it but, fortunately, it's uncovered and already at $3,150 from our $550 entry (up 472% on cash) in Jan and Feb - not a bad quarterly return. At $33, the 5 $25 calls would be $4,000 but we expect to do better in summer though gaining just $1,000 or so from a $3,150 (30%) entry seems kind of dull now, doesn't it?
This is what we mean by "Option Opportunity Portfolio" - we look for stocks that are too high or too low for dumb reasons and we try to find a well-hedges play to take advantage of the mispriced risk that often accompanies these short-term moves. TA people can't trade like this - this is all about taking advantage of TA people when they trade against solid Fundamentals.
LABU - This one is strange as these are the old, mispriced options from before the 1:4 split. What we have (in new pricing) is 2.5 $20/36 bull call spreads - it's easier to think of that way and we paid just $250 for them so anything over $20 is a win for us up to $4,000 at $36 but the options we have are illiquid and we'll just have to wait until September to see how we do. I am confident and currently it shows us about even so plenty of upside if all goes well.

LL - Yet another story stock (I'm sure you get the idea by now). After testing $16 they are back to $13.50 but anything over $13 will make us very happy as we only paid $330 cash for the spread (after losing money in previous attempts) and it has a $12,000 potential at $18 in Jan and I'll say I'm confident at $15, which is still good for $7,500 and currently priced at $2,150 so $5,350 left to gain and potential for $4,500 more than that.

MRVL - We couldn't resist the Dec fire sale and we took a deep in-the-money spread, which is pretty aggressive as we paid up for the position but it was still a net $750 credit because we aggressively sold the $10 puts when the stock was at $8 - something I only do when I am 99% sure the stock is way underpriced. So far, so right and MRVL is holding up well for a semi and already past earnings danger so I'm very confident we'll get our full $5,750 in profit off the current spread net of $545, which is barely more than we paid so $5,205 left to gain makes this a great new entry, even if you missed our first $545 profit.

TASR - This is our stock of the decade with just 3.5 years to go. It was $4 when we picked it for a 10-bagger and already $18 is halfway there but we already got out at $35 at PSW and now we're back in at $15 because, as noted above, $35 was ahead of plan so we cashed in - this is a very simple system, folks! When the stock dove in Aug we sold Jan $15 puts for $2.40 to create a net $12.60 entry and we considered that $2,400 to be free money and we took the 2018 $13/20 spread after PATIENTLY waiting until Feb for better prices and then committed $5,200 to $14,000 worth of spreads for a net entry of $3,800. Currently the net shows $5,225 and I'm very confident we'll get our +$8,775 in 2018 (and we can sell another round of puts along the way!).

TWTR - With SQ (Dorsey's other CEO job) taking a dive on Friday, I'm beginning to have my doubt about TWTR for the first time. Our bullish premise is that there's value in 300M regular users because Facebook (FB) is valued at $225/user but TWTR is valued at just $33/user - that's a stunning disparity. Of course FB has been able to monetize their users and Twitter has not - end of story but I think either they will get something write some day (still waiting) or someone will buy them who has better ideas of what to do with 300M users and a top Internet brand. So, we paid net $500 cash for the $8,000 spread just a couple of weeks ago and it's even cheaper than our entry and I do firmly believe in $15, which is a $5,000 return for a $4,500 gain by 2018.

UCO - Another aggressively long bet on oil (what an OPPORTUNITY that was!) and deeply in the money in a very aggressive stance (20 calls, no cover). Oil is $45 and UCO is a 2x ETF so 20% more would be $54 and that would be a 40% pop on UCO (less some decay) to $15ish so that's our goal and the options are for July, which is when we expect it to happen but, if it comes early, we'll take it and run. There's $8,000 more to collect at $15 but let's conservatively say we can expect $4,000 more than we have now (net $8,200).

UNG - Our Trade of the Year on Natural Gas is right on track but up and down like a bucking bronco while we wait for 2018 to roll around. This spread is actually cheaper than where we entered it with a very aggressive sale of 30 2018 $10 puts for $3.82 (now $4) and the net of the spread is currently a $8,530 credit with the potential to return $10,000 (+$18,530 total) if UNG is over $10 in Jan 2018. I still like this trade but I'd do it just selling 20 of the 2018 $8 puts for $2.50 ($5,000) if I were entering fresh along with 20 of the spreads at $1.70 ($3,400) would still be a $1,600 credit on the $10,000 spread - that's good enough upside for most of us!
I'm very pleased with our mix and we have $120,000 worth of bullish trades we feel very good about and, currently, we have $41,000 of potential hedges keeping them warm for us, which is just about the mix we'd like to have.
Now, what's interesting here is the same thing that was interesting in January, when we did the 2016 preview. At the time we had a $100,000 portfolio and we had a goal to make $60,000 by August (5% x 12 months) and here we are in April up $45,000 so far. I often joke with our Members that I can only tell you what the market is going to do and how to make money trading it - the rest is up to you. This is one of those times where things went completely according to plan and now our plan is to make another $100,000 (100%) by Jan, 2018.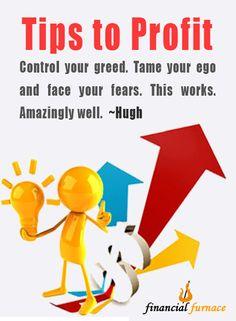 Positions will come and go but the trick is to have BALANCE so that you can make small adjustments along the way - not drastic ones. If I were CERTAIN the market was going higher - I wouldn't spend $10,000+/quarter on hedges but the reason we can make these aggressive upside plays is BECAUSE we have our hedges in place to backstop our losses - just in case we do get it wrong.
Balanced portfolios, sensible hedging, scaling in and out of positions and Being the House - NOT the Gambler - that's how we got here in our first 9 months of trading and that's what we try to teach our Members every day at PSW in our Live Chat Room as there's no better way to learn than by actually discussing live stocks during the day - any Wall Street firm will tell you that - that's why weekend seminars are BS (we do a Sunday session and a Live Trading Session on Mondays in our seminars).