Not much happend over the weekend.
That being the case, I'm going to take the time to catch up on our Top Trade Reviews, as we haven't done one since Sept 13th, which closed out 2017's trade ideas at 54 winners and 9 losers for an overall 85.7% winning percentage for the year. This is why Top Trades is such a successful part of our subscriber base while, in fact, Top Trades only represent a small fraction of the trade ideas we discuss in our Live Member Chat Room - which you can SIGN UP FOR HERE (subtle marketing ploy).
Of course, one of the reasons we like to do reviews is to look at the losers, as they are often the ones that offer great new entries with a chance to turn around. As Fundamental Investors, we are more likely to be wrong about our timing than wrong about a position in general so a stock that goes the wrong way after our pick can be a great opportunity to jump in for a better price.
Top Trade Alerts are sent out from our Live Member Chat room and are usually the trade of the week that I think has the highest likelihood of being successful. We are developing a platform called "Trade Exchange" that will roll out this year to make our text alerts actionable so the pressure will really be on to perform in this segment.
Our first Top Trade Idea of 2018 came right on Tuesday, Jan 2nd with Chipotle (CMG), which had been crushed on another food poisoning scare but we thought the damage was overdone but, as noted, I didn't expect the kind of rebound we had - we played it conservatively, though we did play it more aggressively later in the year.
MG/Streth – It's tricky as sales are up 10% from 2016 but profits ($187M) not even half of what they were in 2015 ($475M) and they are getting, at $292, $8.2Bn for the company so at POTENTIAL profit, it's a very reasonable 17 p/e but, at actual profit, it's a ridiculous 44 that you could never justify for a full-grown chain. How long will it take them to get back to $475M in profit but, even if they do, that really only justifies $300 so I would not be aggressive with them at all, but that's not to say I wouldn't play. You can:

Sell 5 CMG 2020 $270 puts for $35 ($17,500)
Buy 10 CMG 2020 $280 calls for $65 ($65,000)
Sell 10 CMG 2020 $310 calls for $51 ($51,000)

That's a net credit of $3,500 on the $30,000 spread so 10x return on cash and TOS says $12,400 in margin – so nice and efficient. Also, since I don't expect them to make any rapid recovery, we can sell 4 March $310 calls for $12 ($4,800) and, if we can collect $4,800 a quarter selling calls, that's another $38,400 while we wait to see if we clear $33,500 on the main spread.

Let's make that the first official trade for the new LTP!

What's great about this trade is that, even if CMG goes lower, we can recover our money just through the quarterly short call sales. Makes it hard to lose!
Though we still have a year to go, this trade is over as the short $270 puts are now $3 ($1,500) and the $280 ($275)/310 ($248) bull call spread is $27 ($27,000) so net $25,500 (up $29,000 or 828%) out of a possible $33,500 with a full year left means it's silly to keep it open to get the last 20% - unless you have absolutely no use for the margin or cash that's tied up - in which case 20% isn't that bad...
Tuesday, Jan 16th was our next Alert (if we don't see something we really like, we don't send out an Alert) on Cabot (CBT), who are a specialty chemical maker we like because they are heavy into graphine, which is the material of the future - though not the near-term future, it seems - as CBT fell off a cliff after an October earnings warning. Fortunatley, we had taken a very light position which was:
Still, that's no reason not to collect $4 for selling 5 of the July $65 puts ($2,000) in the LTP to remind us to keep an eye on them.
Those puts expired worthless so we made 100% on those ($2,000) and, fortunately, we did not re-up the play but NOW, I certainly do like them as a new play down here so, for our Long-Term Portfolio, let's sell 10 of the July $45 puts for $3.25 ($3,250) and see how it plays out before adding a bull call spread. See how useful these trade reviews can be?
Also that Tuesday, we sent out another Alert for H&R Block, who we always like to buy into tax season (like now!) and they've had quite a ride since. Our trade idea was:
They are very reasonably priced at $26.65 and they do pay a 3.6% dividend so I really don't mind owning them long-term.

In the OOP:

Sell 5 2020 $25 puts for $4 ($2,000)
Buy 10 2019 $22 calls for $6.20 ($6,200)
Sell 10 2019 $27 calls for $3.40 ($3,400)

That's net $800 on the $5,000 spread that's almost entirely in the money already. If HRB squeaks up from here, we make $4,200 (525%) but we will still have the open short puts for another year but, again, I'm very happy to own HRB at $25.

For the LTP:

Sell 10 2020 $25 puts for $4 ($4,000)
Buy 20 2019 $22 calls for $6.20 ($12,400)
Sell 20 2019 $27 calls for $3.40 ($6,800)

So just doubling the OOP with an $8,400 (525%) upside on $1,600. Nice boring way to make 5x I think!
As you can see, they are even more "reasonably" priced now but, thanks to our BRILLIANT strategy of selling more premium than we buy in a typical trade, we have a profit anyway as the 2020 $25 puts have fallen to $2.85 and the $22/27 bull call spreads expired at $25.63 on Jan 18th so net $3.63 which was $3,630-1,425 = $2,205 in the OOP for a profit of $1,405 (175%) and $7,260-$2,850 = $4,410 in the LTP for a profit of $2,810 (175%) and we love something similar as a new trade.
That is a very key takeaway from our trading stragegy - it's much easier to have an 85.7% success rate when you stack the odds so firmly in your favor on every trade. HRB DROPPED 0.02 over the course of 12 months so ALL of our gains came from premium decay. We were Being the House - NOT the Gambler in our trade entry and we sold all the risk to other suckers who thought that HRB would be below $25 or over $27 but, as we expected, it went net nowhere for the year so we kept ALL of their money, which more than offset the loss of our own $1.25 of premium that we paid for the $22 calls.
Friday, Jan 19th, 2018 we added some hedges to our Short-Term Portfolio, which is usually net bearish "In case the market fails to surrender" - our STP was a massive outperformer this year and we tend to forget that, from time to time, we hedge our hedges as well. Our trade ideas at the time were:
edge #1 is SVXY, which is the Ultra-Short VIX ETF. This is going to be an actively managed trade:

Buy 20 SVXY June $140 puts at $28.50 ($57,000)
Sell 20 SVXY June $110 puts at $17.50 ($35,000)
Sell 6 SVXY Feb $30 puts for $8 ($4,800)

That's net $17,200 on the $60,000 spread that's almost $10,000 in the money to start. As long as it doesn't drop too fast, we shouldn't have any trouble rolling the short puts and, if SVXY goes up and the puts go worthless, then we sell $5,000 worth of March puts, etc until we pay for the spread (3 more sales) and then it's free insurance.
That one paid the full $60,000 as, of course, SVXY never came close to our June $110 calls but also never came close to the short Feb $30 puts. The gain was $46,800 (282%) in less than 6 months but it's not a trade we'd make by itself - it was offsetting a log of bearish bets that would have paid well if the VIX had popped on us - causing this trade to lose money.
We can do something similar with the Dow for the STP in something we used to call a Mattress Play.

Buy 20 DIA June $280 puts for $21.50 ($43,000)
Sell 20 DIA June $260 puts for $8.20 ($16,400)
Sell 10 DIA Feb $257 puts for $2.05 ($2,050)

At net $24,550 we're buying $40,000 in protection but we anticipate selling March, April and May puts for $6,000 more and this is the kind of spread we roll along all year. Upside at the moment is $15,550 so not too sexy but these are hedges we work into and, of course, with DIA at $260, the only way we DON'T get paid in full is if the Dow goes higher – which better mean we're making money on our LTP longs.
Again, we had that nice, short time-frame and the Dow never made it to $260 in June so we got the full $40,000 on that spread but Feb 16th the Dow finished at $247.34, so we owed the short $257 putter $9.66 ($9,660) to net a disappointing $30,340 for a profit of just $5,790 (23.5%) thogh, of course, we rolled the short puts along and the eventually expired worthless but, for these purposes, lets' say just the $5,790. Still, simply not losing money on the hedges of your hedges is a good thing! And we weren't done there as I concluded with:
So here we have about $60,000 in downside protection for our LTP but we also like the STP to make money so, assuming we lose about $20,000 (half of what we're spending), let's find a couple of puts to sell.

5 IBM 2020 $140 puts can be sold for $12 ($6,000)
10 IMAX June $23 puts can be sold for $3.40 ($3,400)
3 TSLA March $260 calls can be sold for $15 ($4,500)
10 ABX Jan $15 puts can be sold for $2 ($2,000)
10 CIM June $18 puts can be sold for $1 ($1,000)
20 NLY Jan 12 puts can be sold for $1.85 ($3,700)
10 SKT Jan $22.50 puts can be sold for $1.85 ($1,850)

That's $22,450 collected in premium that will mostly expire this year and, if the stock goes south, these are Watch List stocks we'd be happy to turn into long-term positions in the LTP and, don't forget, if they go down – it's probably because we're making $60,000 on our hedges!

Don't forget, the primary purpose of the STP is to protect the LTP so we look, generally, for opportunities that will make money if the market heads lower. If the market goes higher, the $500,000 LTP should easily cover any losses in the $100,000 STP.
IBM 2020 $140 puts are now $16 - down $2,000 (33%)
IMAX June $23 puts expired at $1.15 - up $2,250 (66%)
TSLA March $260 calls expired at $50.55 - down $10,665 (237%)
ABX Jan (2019) $15 puts expired at $3.21 - down $1,210 (60%)
CIM June $18 puts expired at 0.88 - up $120 (12%)
NLY Jan $12 puts expired at $1.77 - up $160 (4.3%)
SKT Jan $22.50 puts expired at 0.17 - up $1,680 (91%)
The TSLA short calls turned the set into a net loss but, of course, we rolled those along and eventually took the win. IBM is now our 2019 Stock of the Year while ABX is now GOLD (merger) and we still love them this low.
Tuesday, Jan 23rd, we like OIH in our Butterfly Portfolio, where we sell a lot of short-term premium against our long-term positions.
This will be our first trade for the Butterfly Portfolio!

OIH is a nice, rangy play that's not likely to go up or down more than 20% but should give us good action in between so it's good for a neutral play where we sell puts and calls.

Since we think it can move 10% up or down easily we should start small so let's just sell 10 of the March $30 calls for 0.90 ($900) and 10 of the March $29 puts for 0.95 ($950) and we'll just roll the loser.

The July $26 puts are 0.80 and the $33 calls are 0.90 so those are our roll targets and our "safe" range.

Of course the key to liking a butterfly is seeing how cheaply we can protect it and we only need to protect the outside of our roll, not the whole thing so we can buy:

Buy 15 OIH 2020 $23 puts for $1.60 ($2,400)
Buy 15 OIH 2020 $36 calls for $2.10 ($3,150)
Sell 10 OIH March $29 puts for 0.95 ($950)
Sell 10 OIH March $30 calls for 0.90 ($900)

So we're into the trade for net $3,700 and we have 7 more quarters to sell $1,800 in premium = $12,600, so a lot of potential collections. We EXPECT to lose on one side, of course and we expect to have to do a 1.5x or 2x roll on the loser so it's a slow grind in the initial set-ups but we can easily double down any leg if we have to and, if we don't have to, we can collect 2-3x in profits.

The most complicated thing about a Butterfly trade is learning to be patient and letting it play out. Generally, we only make adjustments once a month, during expiration week and, even then, only on contracts close to expiration or way off track. Otherwise, this portfolio is the embodiment of Being the House and constantly selling premium.

If you are a Top Trade Member – be aware that we do not send out adjustment notes. The idea is simply to keep selling short-term puts and calls against the long position and you can follow them in chat as a Trend Watcher or higher Membership.
OIH finished March at $24.03 so the short puts and calls both expired worthless and we kept the $5,550 we sold for BEING THE HOUSE (see how great that is) and, of course, we sold more puts and calls all year long for a nice income but OIH fell off a cliff as oil prices tumbled and we're now bullish in the Butterfly Portfolio but, for the purposes of this review, the 2020 $36 calls are effectively worthless but the 2020 $23 puts are now $6.10 ($9,150) so that plus the first $5,550 we sold is $14,700 for a profit of $11,000 (297%) on just the first trade. That's why the Butterfly Portfolio is our most consistent money-maker, year after year.
Thursday, Feb 1st, there were 4 banks I liked and all 4 got killed in the recent crash so I'm goin to pause here and give them time to recover a bit more before reviewing February. If they go lower, they'll be good for new trades and, if they go higher - then we're back on track.
So, summing up last January, we had 11 winners and 3 losers for a 78.5% winning percentage and a net gain of $90,740, one year later, in our first month's worth of trade ideas - which was a pretty good way to start off 2018!
This morning, the markets are down about a point on a poor industrial report out of China backed up by TERRIBLE earnings/guidance from DLNG, VALE, NVDA, GOGL, PCG, CAT and AMD as the effect of the Trade War, Brexit and the US Government shutdown ripple through to the private sector. This is the biggest earnings week of the quarter with hundreds of companies reporting, including: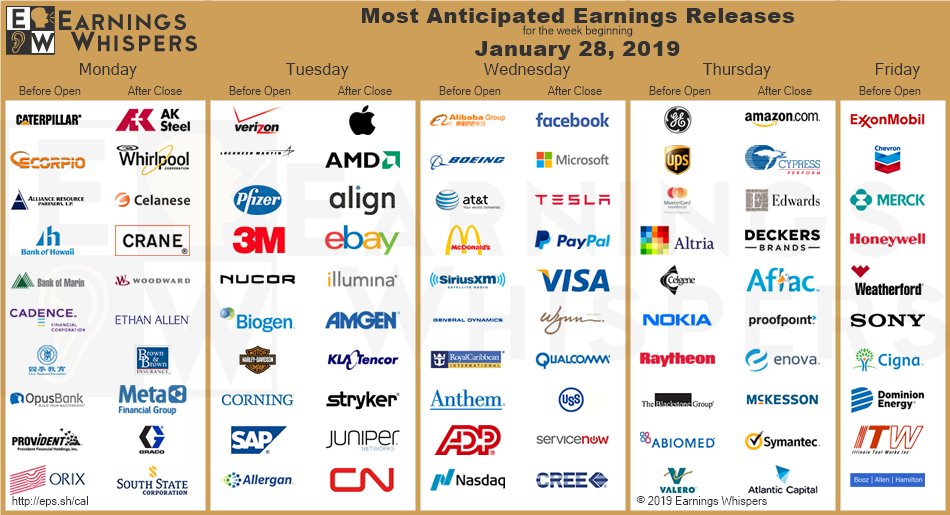 There's no Fed speak this week as they have a meeting and announcement on Wednesday (2pm) and we'll hear from Powell after that so, of course, we'll be going long into this downturn once it finds support UNLESS the 50-day moving averages fail and then our Strong Bounce Lines - in which case it will be every man for himself!
This is the data schedule for the week but a lot of Government data was delayed and will still be slowed due to the shutdown - so it's hard to count on the calendar at this point:
It's easy to pick winners in a bullish market - the trick is to KEEP your money in a bearish one!
Be careful out there,
- Phil