Thursday Failure At 3,420 - Are We Heading For A Real Correction?
Please Note: Blog posts are not selected, edited or screened by Seeking Alpha editors.
Stock and Options Newsletter, Teaches Hedging Strategies, Smart Portfolio Management, Value
Seeking Alpha Analyst Since 2006
Philip R. Davis is a highly respected options trader, entrepreneur, and founder of philstockworld.com, one of the most influential stock and options trading sites on the web. With over 20 years of experience in the financial industry, Mr. Davis has earned a reputation as a trusted authority on options trading, equities, and macroeconomic trends. As the creator of Phil's Stock World, Mr. Davis has built a vibrant community of traders and investors of all levels, providing them with unparalleled insights, analysis, and trading ideas. Whether you're a beginner or a seasoned pro, Phil's Stock World offers valuable resources that can help you navigate the complexities of the financial markets and achieve your investment goals. With a unique approach to teaching the art of options trading, Mr. Davis and his team of expert contributors including Optrader, Sabrient, Income Trader, Trend Trader, and Warren the Trader AI provide members with live chat sessions during trading hours, real-time trade alerts, and in-depth technical and fundamental analysis of hundreds of stocks. In addition to his role as an options trader and financial guru, Mr. Davis is a serial entrepreneur and founder of several successful companies, including Accu-Title, a real estate title insurance software solution, and Personality Plus, a precursor to eHarmony.com. He is also the President of Delphi Consulting Corp., an M&A consulting firm that helps companies of all sizes obtain funding and close deals. With his unique blend of wit, humor, and financial acumen, Mr. Davis is a sought-after speaker on options trading and financial markets. His writing style is both entertaining and informative, providing readers with specific and actionable trade ideas, as well as deep insights into the macroeconomic forces that drive market trends. In short, if you're looking for a trusted and experienced options trader and financial expert, Philip R. Davis is the real deal. Join the growing community of traders and investors at Phil's Stock World, and start profiting from his insights and analysis today.
Summary
The server at PSW is giving us trouble so we're going to chat here today.
We're very concerned about the market into the weekend - especially if stimulus talks fail in Congress (a near certainty).
Back to school is a super-spreader event.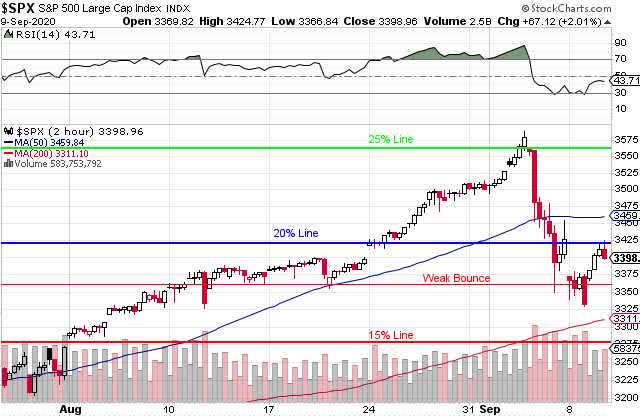 See how those lines work?
As we very accurately predicted yesterday, before the market opened, stimulus talk was enough to get us to our 3,420 line on the S&P 500 - but no higher. In fact, right before the close and after our Live Trading Webinar, I said to our Members in our Chat Room:
Another chance to short at 3,420 on /ES with tight stops above. Lined up with 28,200, 11,475 and 1,540.
This morning we're down to 3,380 on /ES and those Futures Contracts pay $50 per point when you get them right and, so far, we're right for 40 points so that's a gain of $2,000 per contract on our little hedge. We're not greedy, we take 1/2 off the table and put stops on the other half at $1,500 to lock in gains of $1,750 per contract and, this morning, the breakdown lines we're watching are 27,800 on the Dow (/YM), 3,375 on the S&P (/ES), 11,250 on the Nasdaq (/NQ) and 1,515 on the Russell (/RTY).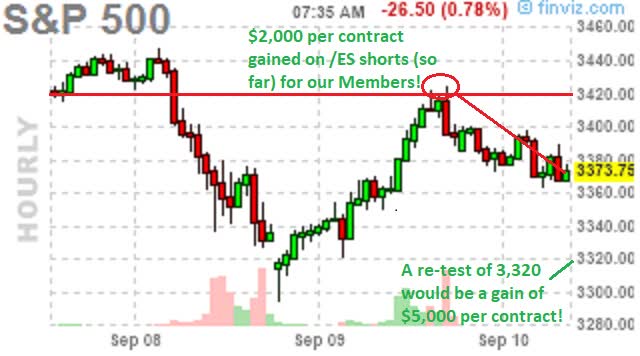 If 2 of the 4 indexes fail their line you can short either the 3rd using the 4th for confirmation or just wait for the 4th to cross and short with confidence and simply stop out if ANY of the indexes get back over the line again. What that does is limit your losses to a good line of resistance without limiting your gains and that means, if you are wrong, you shouldn't lose more than a couple of hundred Dollars but, if you are right, you could gain thousands - that's a good game to play!
It doesn't work every time though, we can go months without playing the Futures at all but, when conditions are right, we love to play them every day. Conditions now are a toppy market and worsening economic conditions, poor policy decisions and the driving force to the rally (stimulus) has met the point of diminishing returns - seems like a good short to me....
Congress remains deadlocked over a fresh stimulus package. On Wednesday, Senate Republicans said they would support a scaled-back $300 billion version of their earlier $1 trillion stimulus plan, including jobless aid, liability protections for businesses and school funding. Democrats oppose the bill, and it isn't expected to clear its first procedural hurdle in the Senate on Thursday.
Meanwhile, tensions between Washington and Beijing continued to loom over markets. More than 70% of U.S. companies polled by the American Chamber of Commerce in Shanghai expect geopolitical turbulence to create operational difficulties for them over the next three to five years, up sharply from roughly half that said the same thing last year. 
We're all holding our breath (literally!) as we wait for the back to school data to come in as we crowd our nation's 50M children into virus incubators 8 hours a day before sending them home to infect their parents - BRILLIANT!  
Speaking of living with your parents, 52% (FIFTY TWO PERCENT) of adults between the ages of 18 and 29 are now LIVING WITH THEIR PARENTS - a level higher than the Great Depression!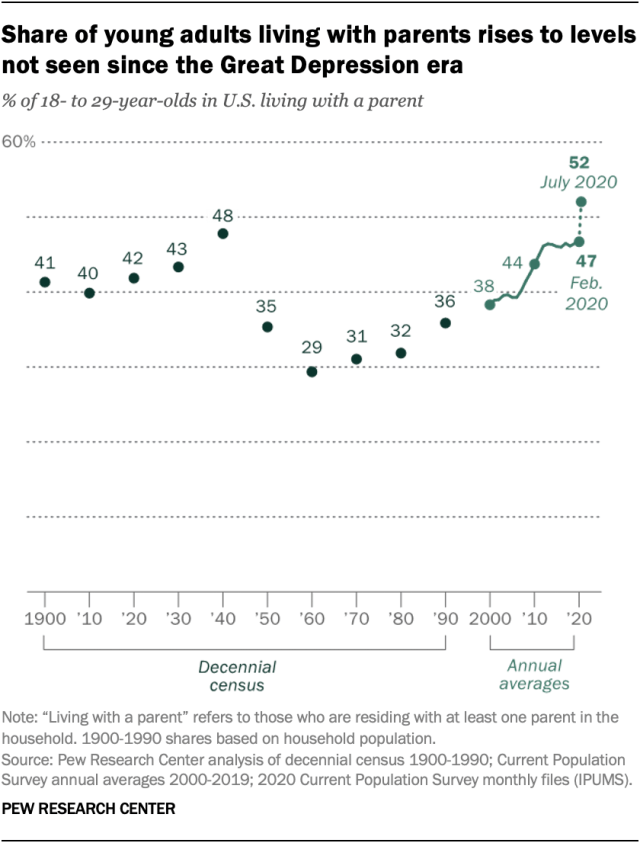 If you think this is a sign of a healthy economy - you are as delusional as our President, who will be presiding over our nation's 200,000 death this month (6.4M cases this morning) - that's 50 9/11s caused by Trump's incompetence or whatever it is you call it when a President knowingly lies to the American people and causes immense harm and then lies to cover it up.  
https://www.youtube.com/watch?v=P9E-dGkE-jI
IN PROGRESS
Analyst's Disclosure: I am/we are long SDS, SQQQ.
Positions as indicated but subject to RAPIDLY change (currently mainly cash and an otherwise slightly bearish mix of long and short positions - see previous posts for other trade ideas). Positions mentioned here have been previously discussed at http://www.Philstockworld.com - a Membership site teaching winning stock, options & futures trading, portfolio management skills and income-producing strategies to investors like you.
Seeking Alpha's Disclosure: Past performance is no guarantee of future results. No recommendation or advice is being given as to whether any investment is suitable for a particular investor. Any views or opinions expressed above may not reflect those of Seeking Alpha as a whole. Seeking Alpha is not a licensed securities dealer, broker or US investment adviser or investment bank. Our analysts are third party authors that include both professional investors and individual investors who may not be licensed or certified by any institute or regulatory body.