When I scan the market for opportunities, I usually place the focus on companies with good balance sheets and similar goals but with different approaches and methods to achieve them.
For me it is very important the activity of corporate insiders because they know better than anyone what will happen.
In this moment, the two pharmaceutical companies selected are: Celsion Corporation and Synta Pharmaceuticals. Both companies have significant milestones in the near future that will affect the share price significantly. In recent weeks, the price of both quotes has moved in a similar range anticipating that both are competing to move as soon as possible in the "teens" zone.
Celsion Corporation (NASDAQ:CLSN) was founded in 1982 and is focused on the development of cancer treatments. Thermodox®, its lead drug is being evaluated in different trials. On October 16, 2012, the trial NCT00617981 was updated. The purpose of this study is to determine whether Thermodox® (liposomal doxorubicin in thermally sensitive) is effective in the treatment of non-resectable hepatocellular carcinoma when it is used in conjunction with radiofrequency ablation (NYSEMKT:RFA). Around this date, insiders reported operations that heated the share price
As you can see in this chart, Celsion is in the next to last lap to "teens":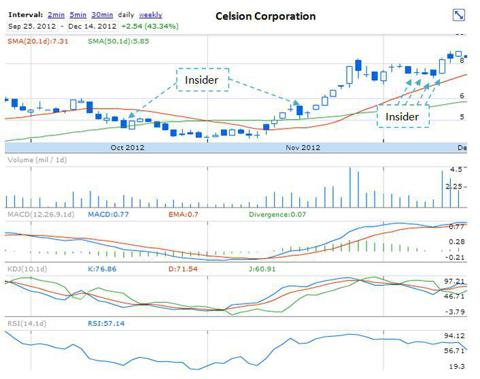 (source: google.com / nasdaq.com)
The bullish trend on the daily chart is accompanied by very good technical indicators (RSI, MACD and KDJ) and I hope to see soon the price above 10$ after a possible pull back will relax indicators.
Synta Pharmaceutical Corp. (SNTA) incorporated in March 2000 is the team to beat in this race. This company is focused on discovering, developing and commercializing drugs for treatments against cancer and inflammatory diseases. GANETESPIB its drug, is a potent HSP-90 inhibitor that blocks the growth of cancer cells. On June 18, 2012, the GALAXY trial that tries to determine whether combining ganetespib (STA-9090) with docetaxel is more Effective than docetaxel alone in the treatment of subjects with Advanced non-small cell lung cancer, was updated.
Around this date, as with Celsion, the activity of insiders, also heated the price taking it near yearly highs.
This is the chart of the company, where you can see the similarities: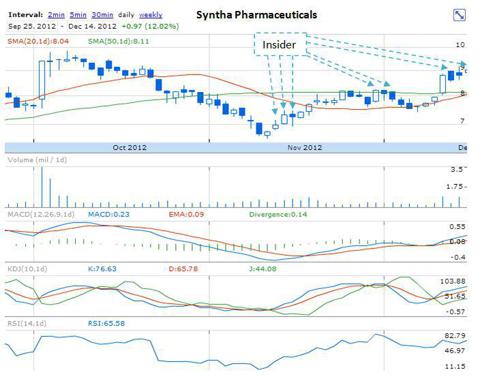 (source: google.com / nasdaq.com)
Risks
Investment in "small" biopharmaceutical companies is always a risky business because of the possibility that trials do not show the desired results causing important price movements in both directions. These companies have generated lots of expectations, therefore caution should be exercised.
Conclusion
Both, Celsion and Synta offer a very attractive risk/return for investors. The companies have strong catalysts in the near future. I would not rule out both shares will be soon in the "teens" zone if data are positive.
Disclosure: I am long CLSN, SNTA. I wrote this article myself, and it expresses my own opinions. I am not receiving compensation for it (other than from Seeking Alpha). I have no business relationship with any company whose stock is mentioned in this article.