After some sport goals, sometimes extreme (www.lalegion101.es/) now I have enough spare time for writing again.
Last week my radar started to send signals in the Spanish banking sector direction. Medium banks are now being seeing as important targets for mutual funds that search for investments with more than 10% of profitability. One indicator that allow to discriminate better what has value in the ratio or Return of Equity, well know as ROE. This indicator calculate the amount of net income returned as a percentage of shareholders equity, ergo, return on equity measures a corporation's profitability by revealing how much profit a company generates with the money shareholders have invested.
The higher the ROE, the more profitable on a bank and, presumably, it will more valued the investment community. Applying this to the banking sector in Spain, I've analyzed two medium Spanish Banks with an interesting ROE: Bankia (ROE'13 = 4,7%) and Liberbank (ROE'13=8,57%)
Bankia, yesterday recovered the threshold of 1,5 ee per share, the price, probably was boosted by the new objective gave by JPMorgan analysts that offer a profitability of 6,6%, with the 1,6 ee the target although the government must sell tomorrow another package of share to fulfill with the promise made to the UE, and this time the discount must be bigger than 90 days ago, after the sell, we expect a big revaluation of the titles probably next week.
In image below we can observe that bollinger band are shaking suggesting the price must jump to next level. MACD and RSI are bullish and the increase of big buys (koncorde indicator) are positive.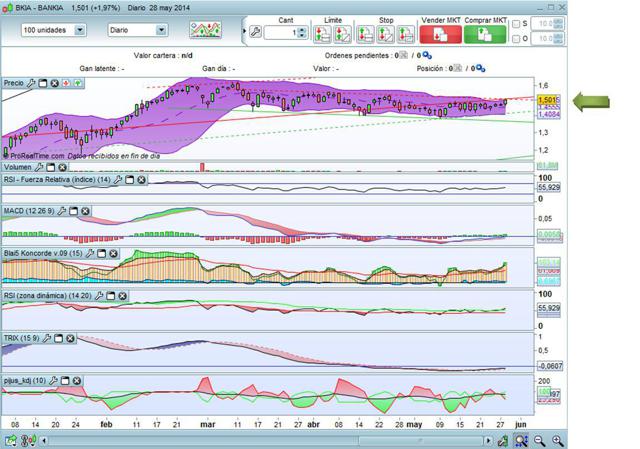 In weekly chart (without noises) the trend shown clearly the strength of the movement: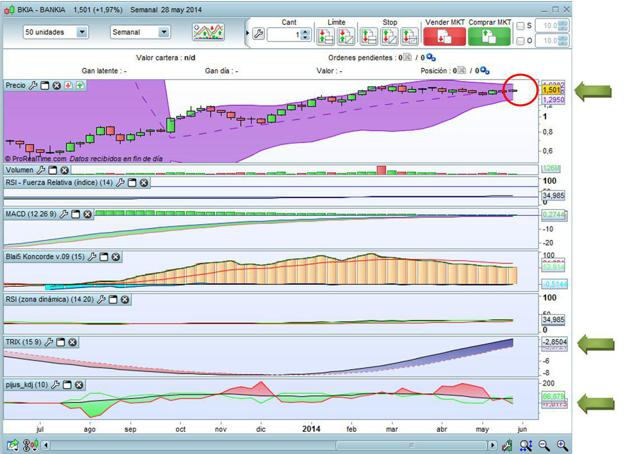 In this second graph, KDJ indicator show a very positive signal of growth for next weeks.
My second option, Liberbank, is a new bank that was born after the adjust of the sector. In this moment the bank is facing a capital increase so the price had just experiment the effect of divide the share and the right. Today, the daily volume has been multiplied by 4, so the interest to become a part of this entity is evident.
Graphs below show how investors are taking positions in the pole. Current equity holders have expressed interest in going to see enlargement to avoid dilution in the bank.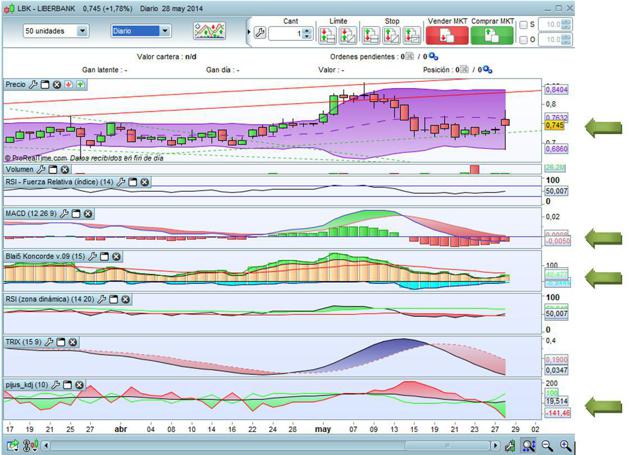 In weekly view: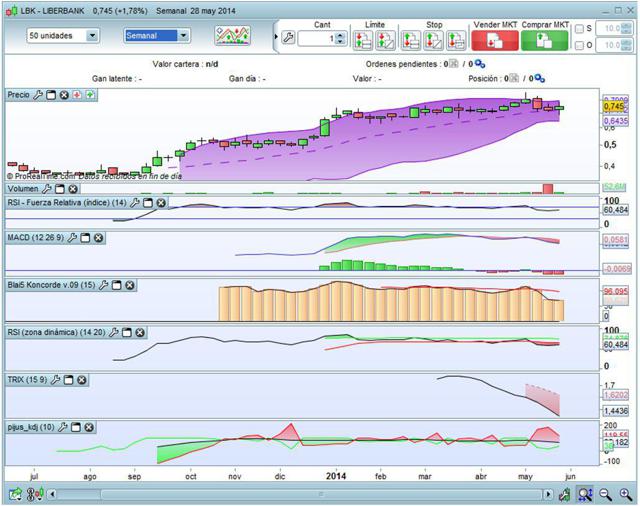 To summarize, Spanish bank sector is experimenting the revaluation of the economy better than traditional blue chip banks that are adapting slowly to the new environment. The ROE (Return of equity) is the clue that allow to detect which firms are going play better in this game.
Disclosure: I have no positions in any stocks mentioned, and no plans to initiate any positions within the next 72 hours.