It looks like we are entering a late bull market cycle. So far this rally in the market has been lead by early bull market sectors. Housing (NYSEARCA:XHB), Technology (NYSEARCA:XLK), Consumer Discretionary (NYSEARCA:XLY), and Financials (NYSEARCA:XLF) have lead this rally so far. As evidenced by the year-to-date S&P 500 (NYSEARCA:SPY) comparison chart below.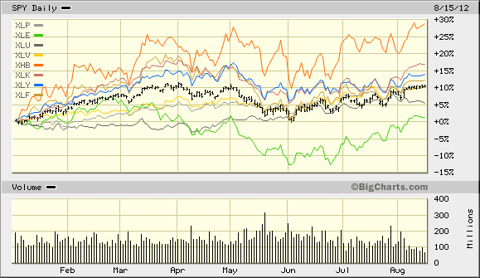 The late bull market sectors: Energy (NYSEARCA:XLE), Consumer Staples (NYSEARCA:XLP), HealthCare (NYSEARCA:XLV), and Utilities (NYSEARCA:XLU) have all begun to close the gap on early bull market sectors in the last 90 days. Indicating a possible shift to the late bull market. As evidenced by the chart below.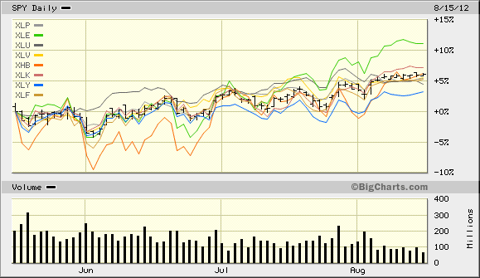 This could also be indicative of performance chasing by fund managers in search of stocks that haven't been priced to perfection yet. Either way it looks like it is time to get defensive and to start taking money off the table as soon just about every early bull market stock chart will be approaching resistance.