Apple: A Bullish Prediction and 3 Option Plays Based on the Charts
Please Note: Blog posts are not selected, edited or screened by Seeking Alpha editors.
There are many articles and commentary written about the fundamentals of Apple (AAPL) and their fantastic products.  There is no arguing these facts.  Apple's stock price has surpassed many expectations over the last two years. This article is not about Apple's profitability or its next product release.  I believe in the fundamentals of this company. It trades at a reasonable PE of 16 times trailing earnings, all of their PE multiples (trailing, forward, and forward PEG) are at or near their 5 year lows, it has one of the best margins in the industry, and is flush with cash.  The focus here is on the technical aspects of Apple's stock chart which appear to be flashing a buy signal.  While the fundamentals are what a value investor will focus on before making a decision to buy, a technician, or someone that trades based on the technical indicators of a stock chart, will wait for the appropriate signal to flash in front of them.  I like to consider both the technicals and fundamentals when putting on a trade (a so called tech-namentalist if you will) and when both align, it is go time!

The Technical Thesis

Based on Apple's daily chart pictured below, there appear to be several technical indicators signaling a bullish move is on the horizon.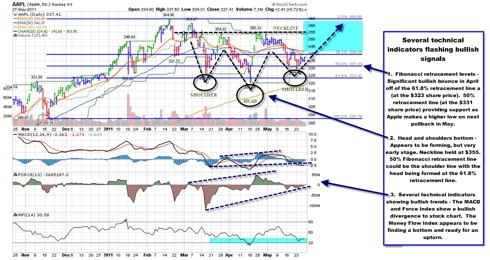 Fibonacci Retracement Levels - Fibonacci retracement is a technical indicator used to determine areas of support (when a stock price stops going lower) and resistance (when a stock price stops going higher).  The key retracement levels according to Fibonacci are at 38.2%, 50.0% and 61.8% of the stocks previous extreme point.  Using the mid-November low and early February high as our extreme points for determining the horizontal retracement levels, Apple's chart appears to have bounced off all three at one point or another in the last three months.  In mid-April, the 61.8% retracement line of $323 held as the last line of support on Apple's pullback from it's mid-February high of just under $365 (This is a bullish signal!).  It proceeded to follow through on big reversal over the next week on higher volume (This is another bullish signal!). After another small pullback in early May, Apple seems to have found support at the 50% retracement line of $331 making a higher low from the mid-April pullback (Yet another bullish signal!).
Reverse Head and Shoulders Chart Pattern - This has nothing to do with the shampoo and everything to do with a flashing buy sign for a technical trader.  The head and shoulders chart pattern and it's sister reverse pattern represent one of the most reliable chart patterns to a technical trader.  The reverse head and shoulders pattern consists of three troughs, with the middle trough (the head) being lower than the two outside troughs (the shoulders).  A "neckline" is formed at the point where resistance is met on the pullback from each trough.  The chart below shows the reverse head and shoulders pattern highlighted (dashed lines and circles).  While the pattern is not truly complete until the neckline is broken after the last trough is formed, I am doing a bit of foreshadowing on where the stock is going.  It is quite possible that the pattern never finalizes, but given the Fibonacci retracement support and the additional technical indicators mentioned below, the odds seem to be in our favor.
Technical Indicators Show Bullish Trends - A look at a few popular technical indicators, Moving Average Convergence-Divergence (MACD), Force Index (Force) and Money Flow Index (MFI), we can see some bullish patterns forming.  Without getting into too much technical detail, the MACD and Force show a bullish divergence from the price trend of the stock and the MFI appears to be finding a base just above oversold territory.  These indicators help confirm the Fibonacci retracement and reverse head and shoulders pattern described above.
Enough with the Technicals, What's the Trade?


So how can we generate a triple digit return over the next three weeks even if Apple doesn't do exactly what the technicals are telling us?  Very simple, we look to put on a credit spread using options.  While there are many ways you could play Apple, I like to hedge myself and use as little capital as possible, especially when trading a stock over $300.  This is why I prefer putting on a bull put spread, whereby I sell one out of the money put and buy a further out of the money put and collect the premium. The preferred outcome is for both options to expire out of the money at expiration.
Here are three trades based on Friday's closing prices and utilizing the June 18 expiration options. 
#1 - The Aggressive Bull Put Spread

While I call this "aggressive," it is still more conservative than buying the stock outright.  The worst case scenario is that if Apple drops below your short strike put at expiration, you own Apple stock at that short strike.  A bullish put spread can be opened by selling the June 18 $335 strike puts and buying the June 18 $330 strike puts for a net credit of $1.55.  With a total of $3.45 at risk, the possible return is 45% and a whopping 820% on an annualized basis.  The tradeoff is the small $3.96 or 1.2% cushion to break even from Friday's close of $337.41, but if you believe we have found support and the only way is up, this could be a very lucrative trade.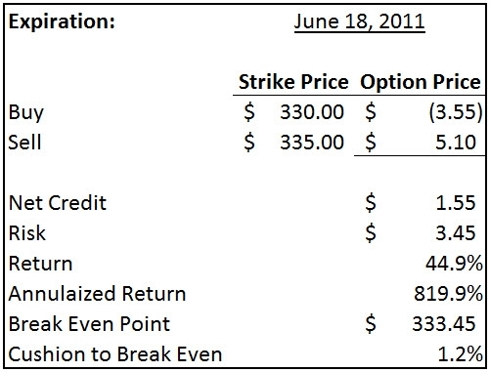 #2 - The Middle of the Road Bull Put Spread

This bull put spread sets the short strike just below the 50% Fibonacci retracement line of $331 which has acted as support for the right shoulder of the reverse head and shoulders pattern described above.  By selling the June 18 $330 strike put and buying the $325 strike put, you receive a net credit of $1.04.  With a total risk of $3.96, the return is 26% and 479% on an annualized basis.  The break even point of $328.96 is over $2 below the 50% Fibonacci support line and $8.45 or 2.5% below Friday's closing price.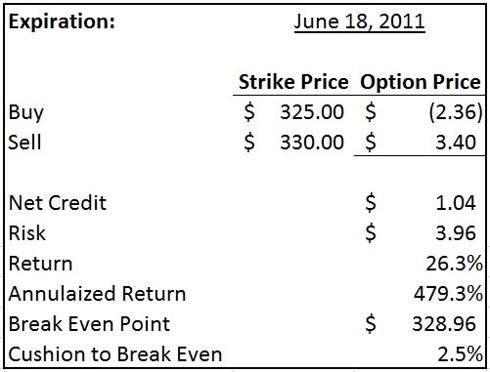 #3 - The Last Line of Support Bull Put Spread


This bull put spread provides the most cushion, but still has a great return.  By selling the $320 strike June 18 put and buying the $315 strike put, we are setting the break even point at $319.58, just below the most recent April low of $320.16 which is the top of the head of the potential reverse head and shoulders pattern as discussed above.  This is also just below the third Fibonacci support line.  With a net credit of $.42 on an investment of $4.58, this generates a 9% return or 167% annualized.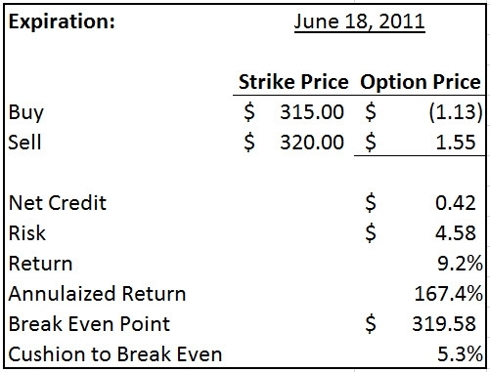 While there are many ways to play Apple to the long side, these bull put spreads give substantial return and a bit more margin of error if we are not entirely correct on Apple's next price movement.  This can also be viewed as a cheaper way to get into Apple stock, with the worst case scenario being Apple stock getting put to you at the short strike with your basis in the stock equal to the break even points.
Disclosure:
I am long
AAPL
.
Additional disclosure:
I am long AAPL via a short position in OTM puts.
Seeking Alpha's Disclosure: Past performance is no guarantee of future results. No recommendation or advice is being given as to whether any investment is suitable for a particular investor. Any views or opinions expressed above may not reflect those of Seeking Alpha as a whole. Seeking Alpha is not a licensed securities dealer, broker or US investment adviser or investment bank. Our analysts are third party authors that include both professional investors and individual investors who may not be licensed or certified by any institute or regulatory body.