Tax-loss harvesting tends to impact retail-investor oriented assets more than other assets. Thus they're an important issue for closed-end funds.
I've been thinking a lot about how much tax-loss harvesting we will see this year. Some issues to consider:
It's been a good year for CEFs, which means the total amount of purchases eligible for tax-loss harvesting is significantly less than in prior years. This should lessen the sell-off pressure in aggregate.
Some CEFs have not had good years; obviously tax-loss harvesting may be more acute in those funds.
This could also result in more flows into well-performing funds in the short term, so CEFs that have done well recently could actually end up doing better in the coming weeks.
The tax-loss harvest "front running" seems to have already come and gone. We saw CEFs dip on relatively high volume a couple of weeks ago, and they've already recovered. This may mean less sell-off pressure at the end of the year.
In short, I don't think the end of 2017 is going to be relatively better than the end of most years for CEFs.
The Fed and Floating-Rate Funds
One other quick comment: I've gotten a lot of questions on floating-rate funds for a rising interest rate environment. As I've written in the past, everyone knows rates are going up, so that fact doesn't really matter anymore. What does matter is the vector--that is, how fast will rates rise relative to expectations. Powell's hawkishness is often commented on in the financial press. We all know he is hawkish--but we also know that political appointments tend not to rock the boat very much at the Federal Reserve. For that reason, it seems unlikely that Powell will veer off course significantly from Yellen's plans. (It's also worth noting that Yellen was famously dovish, yet rose rates in late 2015 despite many mainstream economists' insistence that it was too early.)
Note that the recent FOMC minutes are very dovish. Key quotes:
"Nearly all participants reaffirmed the view that a gradual approach to increasing the target range was likely to promote the Committee's objectives of maximum employment and price stability."
"Most saw the outlook for economic activity and the labor market as little changed since the September meeting, and participants expected increasing tightness in the labor market to put only gradual upward pressure on inflation."
"Many participants observed, however, that continued low readings on inflation, which had occurred even as the labor market tightened, might reflect not only transitory factors, but also the influence of developments that could prove more persistent. A number of these participants were worried that a decline in longer-term inflation expectations would make it more challenging for the Committee to promote a return of inflation to 2 percent over the medium term. These participants' concerns were sharpened by the apparently weak responsiveness of inflation to resource utilization and the low level of the neutral interest rate, and such considerations suggested that the removal of policy accommodation should be quite gradual. In contrast, some other participants were concerned about upside risks to inflation in an environment in which the economy had reached full employment and the labor market was projected to tighten further, or about still very accommodative financial conditions. They cautioned that waiting too long to remove accommodation, or removing accommodation too slowly, could result in a substantial overshoot of the maximum sustainable level of employment that would likely be costly to reverse or could lead to increased risks to financial stability. A few of these participants emphasized that the lags in the response of inflation to tightening resource utilization implied that there could be increasing upside risks to inflation as the labor market tightened further."
It seems clear to me that there's more downside to upside risk in the Fed funds rate target. What's even more interesting is that LIBOR isn't really pricing this in: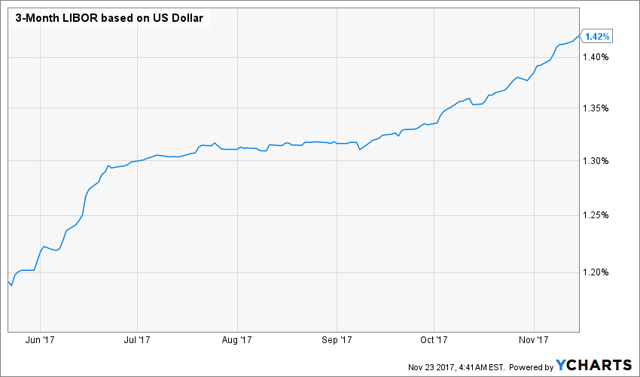 However, the LIBOR is affected by more than just the Fed funds rate. Treasury futures are pricing in a more dovish future: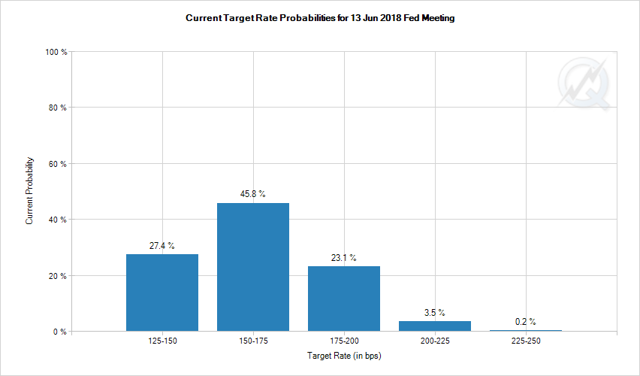 This means there's limited upside in betting on dovish rates--but there is upside, while there's a greater chance of actual losses in betting on a hawkish fed. A cursory look at Pimco funds' portfolios indicates that they seem to agree with me.
Happy Thanksgiving everyone!