It's been about a month since I recommended buying (PCI) on the sudden price drop. Here's where the fund is since then: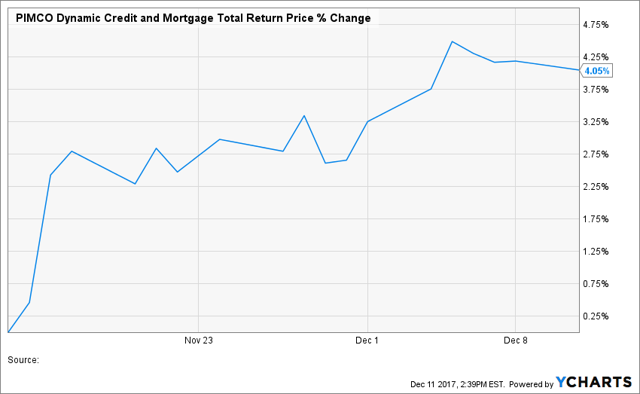 The discount to NAV that appeared when I pounded the table is also pretty much gone, too: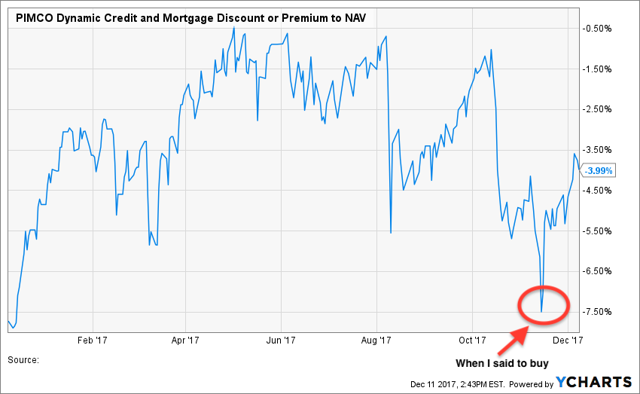 I'd been waiting almost all year to buy PCI, so I was happy to jump in in November.
There was one thing I wasn't sure about: the special dividend. Left Banker has already written his opinion on what's going to happen--and while it's well reasoned, I can't say I fully agree. In fact, I've become more and more convinced PCI won't release a year-end special dividend and all--and its sister fund (PDI) probably won't either.
The year's not over, so I could be wrong. However, something odd has popped up on Pimco's website that makes me think I could be right--but I'm still not 100% sure.
On Friday, Pimco announced that (PCM) would give a special distribution of...2 cents. That's right--a 0.21% special distribution. And that was LB's second-highest candidate for a special distribution!
Perhaps I'm just too dumbfounded to accept reality, but I'm a bit confused at Pimco. The release is titled "PIMCO Closed-End Funds Declare Special Year-End Distribution", but there's only one fund on the list. That is also the name of the release in December 2016, which listed 6 funds to get specials. And Pimco doesn't usually make a habit of releasing special distribution info for funds separately--it's all lumped together in one release.
So I guess this means PCI, PDI, and the other Pimco funds that paid out specials in the past won't pay one out this year. That's no surprise. As many have observed here and elsewhere, Pimco's funds had big NAV growth but NII shortfall--a lack of UNII means no need for a special distribution. And since the market knows that, Pimco apparently wasn't worried that no special would cut stock prices.
And they were right. PCI is up slightly, the other Pimco funds are flattish--funnily enough, PCM is down more than the funds not paying a special.
This is yet another instance of Pimco's prudence and steels my confidence in them as a mature and intelligent money manager. By not paying the special to appease investors with a foolish distribution that sets an unsustainable precedent, they aren't being forced to sell assets to fund the distribution and they have more assets to use to make income more sustainable in the future. Well done, Pimco--I respect you for not giving me extra cash, and I understand why you're doing it. Why is why I'm in love with your firm and your funds all over again.
Now if only those pesky premiums to NAV would disappear...
Disclosure: I am/we are long PCI.