More Blogs from Jennifer Lynn
digitalcanvasretail.com/author.asp?secti...;
With the complexity of the market rising over the next five years, content should lead your digital marketing priorities. And that means picking the right content management solution.
Emerging CMS solutions include technologies that can pinpoint patterns in your buyer's behavior, simplify merchandising and marketing, provide integration, and most importantly, focus on customer experience.
Here are some of the benefits a modern CMS can deliver:
Recommendation: Recommendations can be served dynamically to upsell and crosssell products.
Multivariate testing: Retailers can leverage multivariable testing to determine the most effective marketing, including messaging for new products, optimal pricing for maximum revenue, and promotional offers to increase conversions.
Web content management: Integrated management capabilities offer ability to manage the entire online experience.
Social media analytics: Real-time social media analysis can connect you with the customer.
Contact center management:Workforce optimization enables contact center management for your organization.
Mobile commerce: Marketers today have the ability to recognize what products the customers have viewed on each platform.
Multichannel solutions: Retailers to identify conversations that help to filter and detect trends.
Obviously, these kinds of capabilities bring high value to the marketing organization. By significantly adding shorter deliverable cycles, real-time accuracy, and fast turnaround, the cost saving benefits are considerable.
Determining the right channel and digital marketing experience mix to communicate for your organization is a challenge. Choosing the right CMS is critical to long-term success. Here are some of my favorite CMS solutions in the market today:
IBM customer experience and IBM Intranet Experience Suite
The two suites allow CMOs to aggregate customer data using its "Big Blue" enterprise portal, Web content management, forms, and social networking software. The software helps CMOs and CIOs transform digital and customer experience via mobile devices. The intranet software collaborates to front office operations and externally to clients. This results in organizations benefiting from faster insight on customer buying patterns and consumer sentiment for engagement.
Most applications can still only manage their content from a single system in enterprises where many different systems have already been deployed. Most organizations are struggling to deal with vast amounts of big-data.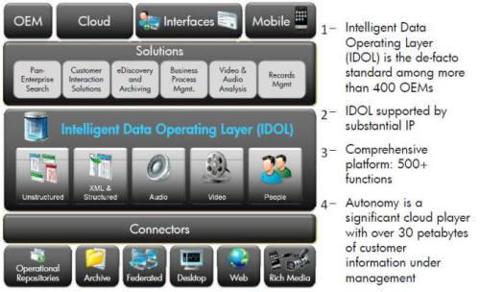 HP's Autonomy CMS system
Autonomy's Digital Marketing Suite
It's just over a year since HP bought Autonomy for $10.2 billion. HP recently added Autonomy's IDOL to its software, allowing it to read both unstructured and structured data. Autonomy IDOL's has over 500 advanced functions. It can gauge sentiment, then apply a governance policy across the entire organization built on sentiment and relationships. Organizations using Autonomy include: Citigroup, Coca Cola, Deutsche Bank, FedEx, Ford, GlaxoSmithKline, NASA, Nestlé, New York Stock Exchange, Reuters, Shell, T-Mobile, and thousands of others.
TransUnion, a global leader in credit information with over 45,000 businesses and 500 million customers worldwide, uses Autonomy. It tests various content combinations to determine which layout generates high conversions. TransUnion increased uplift and conversion by over 30 percent with Autonomy Optimost.
Autonomy plays a key role in our mission to deliver products and services that help consumers better understand and manage credit to achieve their financial goals," said Pat Nieman, TransUnion's vice president of engineering.
Adobe Digital Marketing Suite
Every digital interaction can be optimized with this solution. Retailers are able to see new opportunities and leverage conversion for ROI. This enables the brand to adapt content according to customer behavior. The organization can then publish content in real time to all marketing channels,for greater ROI efficiency.
I'd be very interested to hear all of your CMS experiences below on the message boards. What are your thoughts?