APM is a stock that every trader dreams about. Imagine if you have bought at .02 cents and sold it at .06, how amazing you are. 1 million pesos would become 3 million pesos in a matter of a week. I have seen this move before and its basically the same thing. Most people own psychology would drive this stock up into exhaustion and falls. I am bearish with this stock because all the people who have bought at consolidation and breakout are having a hefty profit and they can unload anytime. if assuming your going to buy now and the strategy is buying at narrow silent candlestick or aiming yesterday's break high, you might as well be killed, odds aren't your side. Again I am just playing in with odds and it might still go up who knows? .50 cents maybe? My assumption here is to the way APM moves, it would just consolidate for about a longtime or just go down drastically.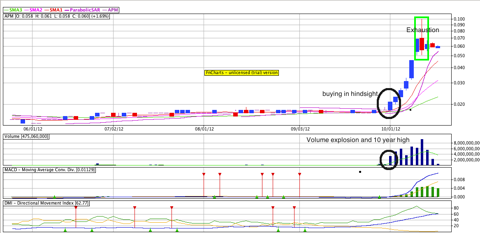 DISCLAIMER : The author is not promoting any stock to buy and sell. The author did not and have not received any compensation from any company whose stock appears on this site,There is substantial risk of loss trading stocks, options, and futures. You need to determine your own suitability to trade stocks.
Disclosure: I have no positions in any stocks mentioned, and no plans to initiate any positions within the next 72 hours.