Much has been written about the valuation of Amazon stock (NASDAQ:AMZN) and its long-term prospects for growth and earnings. While Amazon is a great company, it is significantly overvalued and has not at any point proven it can deliver the type of hyper earnings growth it needs to support the astronomically lofty valuation. I will cover my valuation models in subsequent articles, but for this article I will focus on the short-term prospects as I see an immediate gap between analyst expectations for the 2012 Q4 revenue growth and reality (or even AMZN guidance).
In order to uphold, or even raise their already ridiculous and unfounded price targets after last quarter's report from Amazon, analysts chose to largely disregard the terrible Q3 results and even more disappointing Q4 forecast from Amazon management of a revenue mid-point of $21.5B and an earnings mid-point loss of $0.39 per share. Analysts instead are predicting revenue of $22.24B and $0.28 of positive earnings.
Amazon has averaged 57% year on year growth for its service revenue during 2012, and if that continues they will achieve $3.33B in that revenue category for the fourth quarter. That means that analysts are expecting $18.91B in product revenue. Comscore's latest press release on December 23, 2012 estimated on-line sales between 11/1/2012 and 12/21/2012 to be up 15.5% vs. the same 51 shopping days last year. As you may have guessed, this is the strongest retail period of the quarter and accounts for about 70% of the total quarter's sales. If we assume that 15.5% year on year growth holds for all of the forth quarter, e-commerce sales will hit a record $57.4B, an incremental increase of $7.7B over 2011 Q4. From the first chart, you can see that the long-term average year-on-year growth of e-commerce sales is about 11% with almost no slope (the black straight line).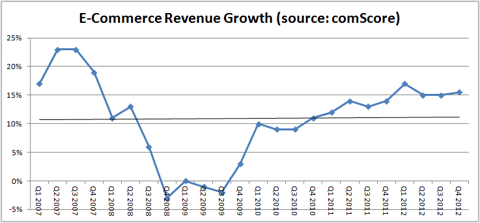 Amazon needs to secure $3.6B of the incremental $7.7B in e-commerce sales to meet Wall Street expectations, or an incremental market share of 46.7%. Let's look at Amazon e-commerce sales market share over the past several years.
While Amazon currently has averaged 27.2% market share of e-commerce sales for the past four Q's, their market share has been increasing in a linear fashion over the past four years at a rate of about 3.2% per year. To meet analyst median expectations, Amazon would need to achieve 32.9% e-commerce market share for the quarter (32.9% * $57.4B = $18.9B in product revenue). While this would be an all time record for Amazon (previous best was 30.8% in Q4 2011), the above trend line and cyclical pattern shows that may be possible.
Let's dig deeper into their market share gains, and look at Amazon's incremental market share over the past few years to see what percentage of new sales dollars in the market Amazon captures. This gives a better, more dynamic look at firm's recent competitiveness rather than absolute market share.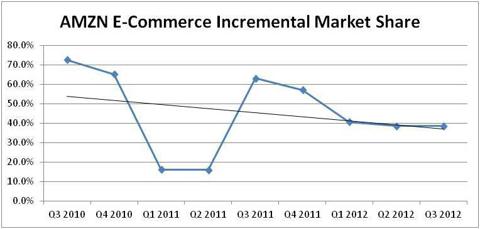 From the incremental market share chart, we can see that Amazon is gaining market share as their incremental market share is greater than their overall market share during the period. Importantly though, the chart also informs us that their market share gains are decreasing, at a trend of 7.5% less incremental share per year. This on its own would not be troubling if a market was growing much faster than analyst expectation for the firm's growth, but as we saw in the chart above, the long-term trend is 11% growth for e-commerce sales, which leaves little room for Amazon to continue to grow at 30% per year and maintain a forward Price-to-earnings ratio well in excess of 100. This is an ominous trend for Amazon long-range growth potential vs. analyst expectations.
So, what does this mean for Amazon's revenue potential this quarter? As we discussed earlier, to achieve the required 32.9% market share and $18.91B in product sales, Amazon need to win 46.7% of the increase in e-commerce sales during Q4. That would well exceed what they have been able to achieve in five of the prior seven quarters and significantly buck their long-term trend. Interestingly enough, the past three quarters have settled right in line with the long-term declining growth trend. If that trend continues in Q4, Amazon will reach 38% incremental market share, 31.8% overall share and $18.24B in product sales. This would deliver total sales of $21.56B - or the midpoint of guidance delivered by Amazon management on the Q3 investor call. That would be a $680M revenue miss to analyst expectations.
In summary, while e-commerce sales are presently growing above their long-term trend, analysts ignored Amazon management guidance and either expected a much faster e-commerce sales growth rate, or they expect Amazon to capture a much higher share of incremental market revenues than they recently have had, or even the long-term trend would suggest. This may finally set up for a series of required downgrades, as another quarter of both disappointing results and guidance will have to level set analyst lofty price targets with reality.
Disclosure: I am short AMZN.