As a trend follower, I have noticed how scarce information is on my trade. Quite frankly that is because the system of trading trends or trend following as it is known is really very simple!
Today, I will attempt to demystify trend following a little bit, without giving you the recipe to our secret sauce.
One of the basics of trend following is recognizing the trend. There are really only two main ways of doing so:
Breakouts
Indicator based signals
That is it! Just two ways. So now let's delve into each a bit.
Breakouts
Breakouts are when a position's price moves beyond or outside of a consolidation or resistance point (my definition). So these are basically modeled technical signals where the trend follower is looking for a certain price move to initiate a position.
A good example here is the Symmetrical Triangle base breakout. Here price consolidates in a coil that moves symmetrically in a narrowing pattern towards a triangle point.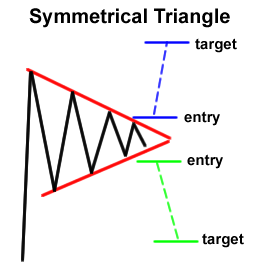 The breakout occurs when price moves outside the triangle pattern, preferably on rising volume. Typically, this type of trend following position is held until price reverses and hits a stop.
Those managers who play breakouts tend to vacillate in their market exposure based on the number of breakout opportunities and how they fare in subsequent trading. This is to say they can be 100% invested or hold a great deal of cash and only a few positions depending on the market.
A well known breakout based trend followers is Sunrise Capital as outlined in Michael Covel's Book, The Little Book of Trading - Trend Following Strategy for Big Winnings. (affiliate link)
Other common breakout patterns include:
Buying pullbacks in a upwardly trending position
Coiled spring breakouts out of a sideways correction
Bullish divergences
Cup and handle breakouts
Channel breaks
and many more patterns.
Indicator Based Signals
Trend followers who use indicator based signals are generally using 1, 2 or 3 moving averages alone or in combination with other indicators to signal a buy or sell set up. A great example here is a two moving average set up whereby when the moving averages cross, a buy (or sell) is generated.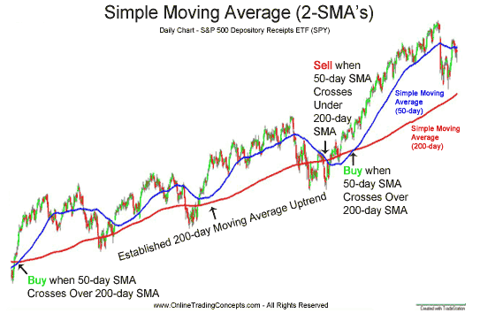 These kind of signals can be taken and trailed with a stop or followed to the next moving average cross signal.
One of the most famous indicator based trend followers is Dunn Capital Management, Inc.. You can read more about them in Michael Covel's book "Trend Following." (affiliate link)
What makes them (and Stock-Signal.com) unique is that this system is meant to keep them fully invested at all times.
When an indicator based trend follower takes a buy signal, he or she will hold it till they get a corresponding sell signal. When that occurs they will exit the buy or long position and instantly move to the short side of that same position.
This is exactly how Stock-Signal.com works. Our subscribers are always fully invested in one to seven positions. Each position is either on a buy or sell signal. If it is a buy, they hold the recommended ETF until they get a sell signal. The subscriber then sells that position and moves to an inverse (or short) ETF position and vice versa. However, they are always fully invested.
Conclusion
Both systems work well. The breakout trend follower has a tendency to be able to control portfolio volatility a little better than the indicator based manager. However, the indicator based manager is always in the market so when they get a hold of a big, big trend, they tend to be better positioned to ride that trend for larger profits.
So the choice is yours: Breakouts or Indicator based signals!