Did you know that adding commodities to your portfolio can greatly increase your returns during certain economic periods?
Did you know your portfolio will also benefit from lower overall volatility?
That is right, increase returns and lower volatility!
So let's take a closer look at whether commodities are right for you. Let's start with returns for commodities.
Today, we will take a look at the following chart (courtesy of Deutsche Bank and PowerShares) and data of various commodity indexes vs. the S&P 500 Index as of June 30, 2012.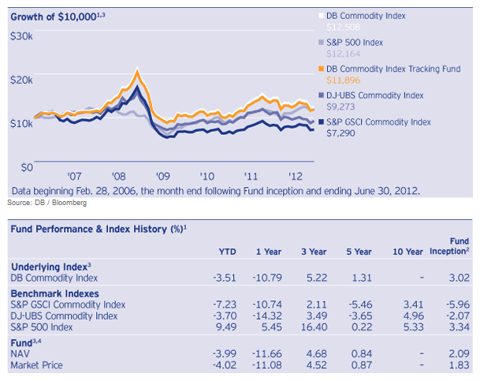 See the disclosures applicable to the chart at http://www.dbfunds.db.com/dbc/index.aspx.
What you can see is the performance of the commodity indexes is mixed with the DB Commodity Index outperforming the other commodity indexes above. Note how close it's long-term performance is to that of the S&P 500.
So we certainly do not give up performance holding commodities! In fact, during certain periods like 2007-2008 (above), commodities significantly outperformed for brief periods of time.
So what do commodities do in your portfolio?
According to investopedia.com, "commodities tend to bear a low or negative correlation to traditional asset classes like stocks or bonds." They further suggest that the correlation coefficient (a number between -1 and 1 that suggests how two variables are aligned linearly) for commodities is negative. This means it does not correlate to other asset classes.
So English, this means it zigs when stocks and bonds zag. The end result is a smoother overall portfolio return stream.
So what is the best way to play commodities?
We believe trend following is the best way to play commodities. Why? Because commodities tend to trend well and quite smoothly up and down.
As an example, we will be officially releasing our buy and sell signals for commodities in the next few weeks on Stock-Signal.com. Take a look at the back- tested performance of our trend following signals on the DB Liquid Commodity Index through September 2012: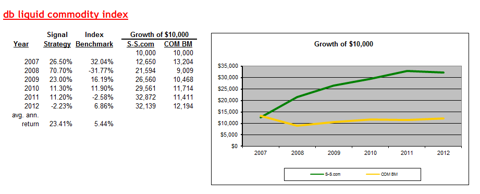 S-S - Stock-Signal.com backtested signals.
Com MB - Buying and holding the DB Liquid Commodity Index via DBC
Disclaimer: Back tested results are NOT net of commissions, slippage and other expenses. Past performance is not indicate of future returns.
So who wouldn't want that kind of relative outperformance as a part of their portfolio!
So what has been your experience with the trend following of commodities? Leave us a comment below.
Disclosure: I have no positions in any stocks mentioned, and no plans to initiate any positions within the next 72 hours.