How many of you would just like to turn your investing over to a computer program and step out of the way?
Well quite frankly, Stock-Signal.com is probably as close as most investors will ever get to that utopic view of investing. Why? It is because trend following (and investing) is as much about the art as is it is about the science.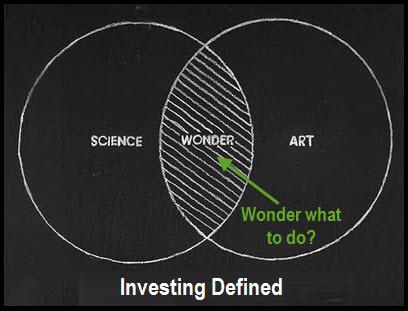 So in this post, I want to help you understand the art in investing as a trend follower by answering a few common questions. The wonder in the above diagram.
1) I got a late day sell (or buy) signal, do I do the trade now or am I better off waiting till the the following trading day?
Here is a common question that we have grappled with for years. The advantage of doing the signal trade right away is it generally carries less worry. You make the trade and now your indecision is complete.
Alternatively, if you wait till the next trading day, you must now grapple with when to make the trade (at the open or later in the trading day), the consequences of the open (whether positive or negative) and finally you must allocate your time to make these decisions or trades.
In my experience, sometimes you win by waiting and sometimes you don't. It is about 50%/50%. My recommendation: make the trade as soon as you get the signal if possible. It is just less stressful.
2) What if you are just sure markets will rally or decline inverse to your signal the next trading day?
Here is a trick I do in that situation? I use a stop below the low of the signal trading day for that position. If that position does move opposite of the signal direction, you get to participate and make your signal trade at a better trading level. However, if you are wrong (I know you are never wrong) you get stopped out. You can now make your prior day signal buy or sell.
3) What happens if you get multiple signals and are nervous the market moves against those trades in the next few sessions?
First, you must realize that it is always possible that you are "ticking tops and/or bottoms" in trend following. However, it is also possible the move continues against your current positioning which is really where trend following profits. So my advice is always do the signals.
However, even I don't always do that. So here is what I did recently when confronted with the same situation. I made one of the two signal trades immediately. I then used a stop below the second position in hopes that if the markets did rally the subsequent trading day I would participate in this one position at least. As it turns out, the markets did not rally the next day and I was stopped out. I then made my signal trade. In this particular case, my market read or gut call cost me a few basis points.
Why did I chose to do this? Quite frankly the more of your portfolio moves to say inverse the market, the more nervous you become that you are getting this signal at a bottom. It is just human nature and is something you will need to fight as a trend follower.
Have a question we can help you with, please leave a comment.