Is this the bottom? Or does the correction have further to go?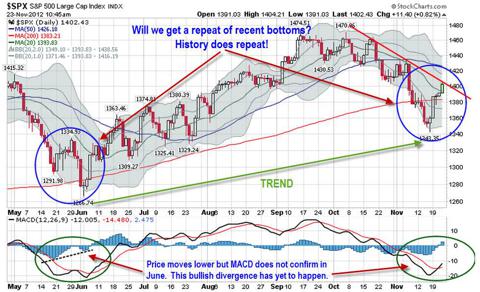 CLICK CHART TO INCREASE SIZE
First let's start with the trend. At least on this snapshot of the S&P 500, the trend is still up. We can tell you that this is the case in a wider snapshot as well.
So the next question is does this correction have further to go or should I be jumping on board?
Our belief is that every correction has an initial bottom and then a retest or lower bottom that forms a divergence with trend indicators, like the MACD. We have not seen either yet!
Our guess is next week the big boys come back to work (the professional traders) and knock down the fun their replacements have had over the preceding holiday period.
As you can see in June, this same scenario led to a lower low and a divergence with the MACD histogram in blue. This second thrust lower then marked the bottom and the beginning of the next strong leg up.
In our case, we believe we will get this bottom next week. This will set the stage for a rally to the highs through December and fits the bullishness of the period. If I were to wager right now, I believe we are unable to take out the highs and set up a double top that ushers in a bearish 2013.
However, markets do what they want to do and we must follow the trend, not our gut!
Disclosure: I am long SPY.