This week's Stock-Signal.com Chart of the Week is China. This week China announced a slew of good news that has market participants encouraged and hopeful it can continue to be an engine of economic growth worldwide. This news included scrapping ceiling limits on overseas sovereign wealth fund investment in China as part of a longer-term strategy to encourage foreign ownership and shore up slumping equities. China manufacturing also expanded at a faster pace this month. According to Bloomberg.com, December purchasing manager indexes were 50.9, which compares with 50.8 as a median estimate and 50.5 in November. Anything over a PMI of 50 indicates expansion.
Now for my nickel 50.8 is hardly growing! Also just because they are manufacturing doesn't mean there is anyone to buy what they manufacture and purchase. China is still largely dependent on exports for growth.
However, this news and positive market sentiment towards its new leader, Xi Jinping, have raised hopes.
So let's see what the tape says about China (represented here by the SPDR China ETF):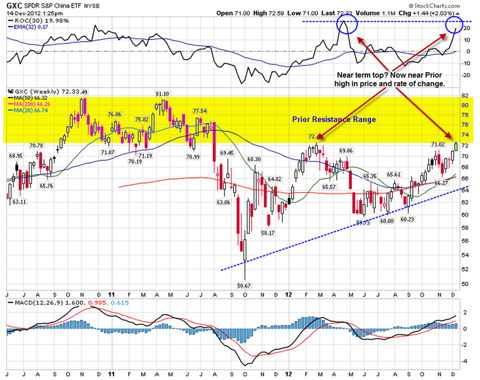 First, the past few weeks' advance did nothing but run its stock price up to prior overhead resistance. There is a bit of prior buyers here that will likely be sellers at these levels, assuming they did not already throw in the towel over the preceding year plus.
Second, notice that the rate of change is just shy of prior reversal levels. This may mean there is some upside, but I would not think a whole lot here.
Third, there is no trend yet….just sideways price action. The blue 50 period moving average here is really your trend indicator. What do you see? It is primarily moving downwards over the past year plus. The green 20 period moving average helps us see that up until now price has been moving in a large range as it has moved back above and below the 50 period moving average on a number of occasions. In a strong trend you should see the green line here strongly above the blue 50 period moving average. This may yet happen, but it has not happened yet.
Now here is my guess as to what happens (and it is only a guess). Price advances next week, but forms a reversal candle just above prior resistance at 72. We correct thereafter to 65-66. Thereafter we power to the highs at 91-92.
For my money here, the risk of reversal is too high relative to the likely upside in the short-term (i.e. next 3-4 months). Ideally as an investor, you want asymmetric returns where you upside is 3-4 times your possible downside. However, anything could happen and my view of this chart is buy one opinion in market of opinions!
What is your opinion on where Chinese stocks or this ETF are going?