Market Recap
Well they got it done! Have you ever seen so much drama, discourse and pure incompetence in all your life? Of course, I am speaking of the President and Congress' dance over the past 60 days that finally ended with a last minute, but late, deal that "saved us" from the so called "fiscal cliff."
As a active trader, I can tell you this whole discourse created havoc over the past two months that made it tough to trade and even tougher to profit. Day after day markets moved up or down based on the news that was mysteriously leaked out from behind closed doors. Both sides worked the financial and non-financial press to paint a picture that they are doing everything they could, but the "other guys" were blocking further progress.
No matter how you slice it, this drama cost us market returns in what has historically been one of the best trading months of the year. And oh by the way, we did have a positive month, but it took an extraordinary day on the last trading day of the year to make it happen.
Here is how we finished up the month: The S&P ended up .71%, the NASDAQ Composite returned .31% and the EAFE Index finished up 3.25% (the clear winner for the month).
Overall our strategies worked pretty well! If you were invested equal in our core four indexes (S&P 500, NASDAQ, EAFE and High Yield indexes), you earned a nice .99%. You would have even felt better about this prior to the last trading day as this portfolio easily (and with less risk) out distanced just buying and holding the S&P 500 index.
If you held a portfolio of all our index stock signals, you faired a bit worse. Our model portfolio (called Global Opportunities) returned .13%. Returns for the portfolio were again negatively impacted by an ongoing consolidation in gold and a monthly loss in the DB Commodities index.
The yearly return for each index and for those sample portfolios are below. Overall, we are very happy with the sample portfolio returns for 2012 versus both the broad indexes and other trend followers. We look forward to 2013 as we believe this will be the "Year of the Trend Follower." More on that later.
Stock-Signal Performance
As I stated above, this was a very good month for foreign securities. Smart money continued to rotate into international equities and away from the U.S. throughout the month. Both U.S. and International markets now look a bit rich, but its pretty tough to tell what that means right now given macro undercurrents.
We are seeing some possible stabilization in both the commodities and gold indexes. It looks possible that the commodity index will break to the upside and out of its downwardly trending trading channel, although it has not done so yet. It also looks like gold is ready to perk up here as Central Banks continue to print money and national governments continue to formulate bad policy (see fiscal cliff bill as exhibit A).
Here is the performance by index and sample portfolio: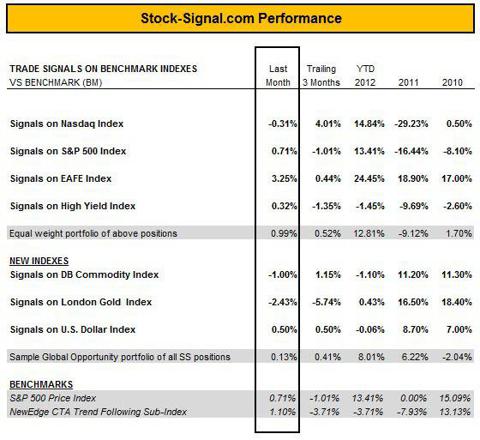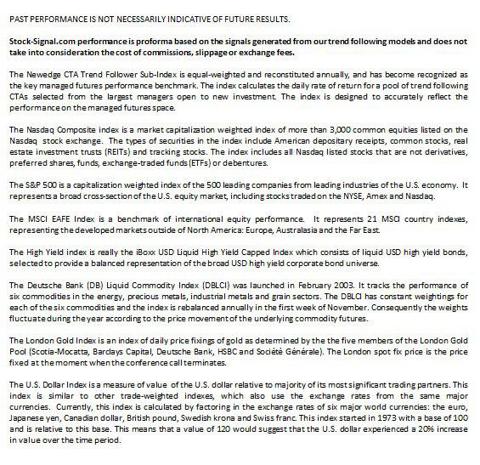 Market Forecast
If you have not seen our 2013 Stock Market Forecast Video, here is a link. Both Wayne and I believe that this fight over revenue increases and spending cuts is far from over! In fact, we think markets will manage to sidestep higher through continued debate on the former and the Congressional debate on increasing the U.S. debt limit, but when May/June comes, we could see traditionally tough market months turn even tougher.
The good news is that trend following strategies like Stock-Signal are not positively correlated to the overall stock markets. In English this means that they do well (after a brief adjustment period0 when markets do poorly.
My suggestion is that you take a look at a video we did on our sister site, InTrust Advisors, called How to Get Rid of Your Investment Worries Once and For All and see how trend following really compliments traditional strategies, like buy and hold.
Remember, we offer a Free 30 day trial. You can cancel at any time without even picking up the phone!