February lived up to its reputation as a tough month to gather performance after a big January, which we just had. The S&P 500 officially gained 1.11%, but I got to tell you it was tough to find performance during the month as just about every asset class was all over the map.
The good news is February is behind us. Although I believe we could see some weakness to start the month of March (post the first few trading days), I believe global stock markets will move higher into March and possibly April. Of course, this is just an educated guess and anything could happen in this Fed induced market.
So what went right in February? Obviously, the S&P 500 made money which is a good thing. This benchmark was pushed higher by strength in utilities, consumer staples and health care. These are all defensive names and should be enough to tell you how professional investors viewed the month that just ended.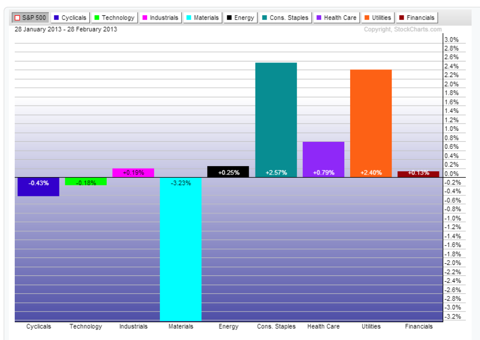 You can also see that the S&P 500 easily led the mid and small caps and the Nasdaq to the upside during the month. (I apologize the returns don't quite match up, but the best I can fine turn this chart is for the period of January 28th- February 28th.)
Stock-Signal Performance
The performance of our Stock-Signal.com indexes were mixed in February as you might expect by viewing the chart above. Note how the Nasdaq Index (QQQs) underperformed again in February. The only glimmer of hope I see is this index did outperform in last week of the month, but still its performance has really hurt our sample portfolios.
Our best performing index signal was short (or inverse) gold, which produced a +4.59% return in February. Our worst performing index was our high yield signals which produced a monthly loss of -1.12% while the underlying benchmark gained +.49%.
Our equal weighted portfolio (see below) lost (.18%). While our very broadly allocated Global Opportunity portfolio (see below) gained just .22%.
Here is the Stock-Signal.com performance for the period, year-to-date and prior two annual periods. Please keep in mind this has been a tough period for trend following strategies, like Stock-Signal.com, and if you have a contrarian mindset, now is the time to start following our signals as they are bound to take off as the markets likely top out sometime in 2013.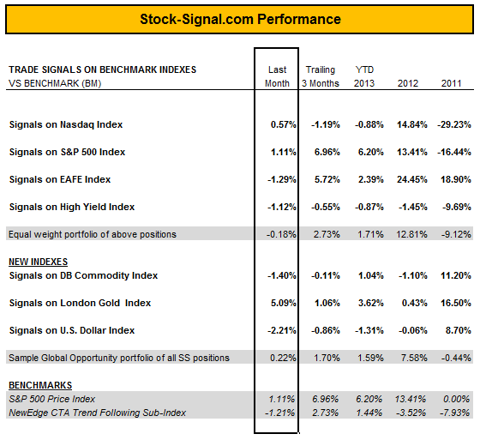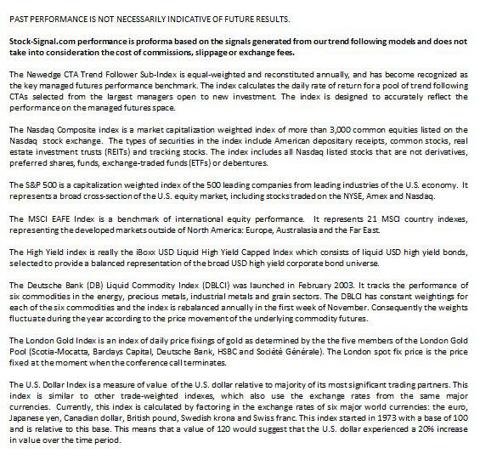 Market Forecast - March
I hinted above that I believe the powers that be continue to juice this market higher into April after some possible weakness to start the month of march. It is possible we head lower over the next few weeks and the test 1460-1475 on the S&P 500 before charging higher into the end of March and April.
Of course, events in Europe or even political indecision and fighting here in the U.S. could derail a perfectly good melt up. In any event, if you are a subscriber, we will attempt to keep you on the right side of the trade no matter what happens around the globe or here at home.
Maybe now is a great time to get a Free 30 day trial of Stock-Signal.com? You can cancel at anytime without your credit card being charged during the trial.