2013 is off to a great start! Who would have guessed that the U.S. markets, specifically the S&P 500, would continue to push higher into March with gains in excess of 3.6% for the month and now 10.03% for the year?
Simple answer: We did!
How did we know? This period has closely tracked the same period last year. That is how!
So a tough, but positive February blossomed into a strong, but volatile March. Stick with us, later in this post I will give you some insight on where markets might be heading from here.
Stock-Signal Performance
March was a great month for the S&P 500, but interestingly other U.S. and international indexes did not perform as well. For example, the High Yield index continued its 2013 underperformance only bringing .+33%. While hot foreign markets cooled some over the bailout of the country of Cypress and returned just +1.31% in March.
The result was that your performance in March was greatly dependent (as always) on the index or indexes you chose to follow. If you picked to follow our gold or commodities signals in March, you lost money (-.95% and -.66%, respectively). Gold and commodities decided to rally in March despite a rally in the U.S. dollar. Commodities and gold are usually negatively correlated to the U.S. dollar, not positively correlated!
So Stock-Signal.com performance for the month was generally positive, but a mixed bag.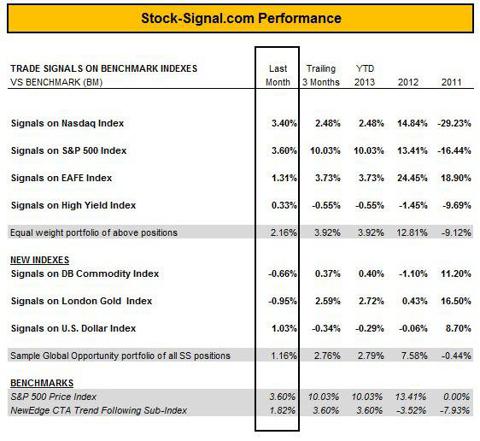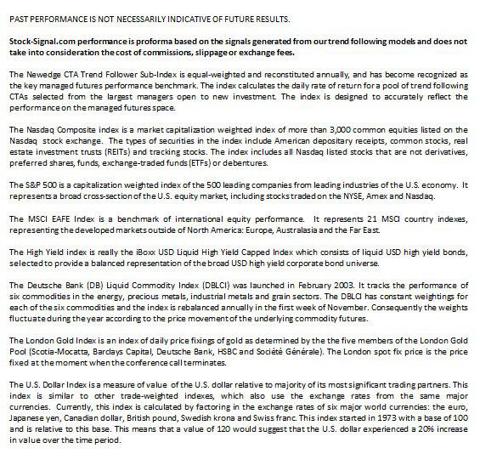 Our sample Equal Weighted portfolio returned a solid +2.16% before commissions, fees or other trading costs. Our sample Global Opportunities portfolio returned a less stunning 1.16% before the same costs as it was negatively impacted by the aforementioned losses in our gold and commodities signals.
Overall, we had a good month! The S&P 500, however, has clearly been the winner and has left our sample portfolios in the dust for the year-to-date period. This kind of disparity between index performances rarely lasts forever and I would expect that our other index signals will pick up in the coming months.
Market Forecast - April
We stated last month that the powers that be will continue to juice this market higher into April. Now that we have entered April, it will be important to watch the intraday highs on the S&P 500 of 1476. We have already exceeded the daily closing high.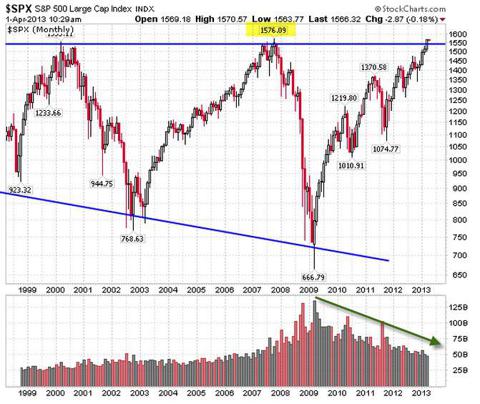 Our guess is that we make new highs on the S&P 500. We have already put in new highs on the Dow Jones Industrial and Russell 2000 averages. However, the volume behind this advance has been anything but impressive. This would lead us to caution investors to be careful!
The fact that we set new highs will in our opinion not necessarily set up further advances, nor a new bull run. In fact, we think these new highs will suck in more sideline money just in time for a significant corrective move in late April or early May. So the watch word here is to stay awake and, if you are a subscriber of Stock-Signal.com, watch our signals carefully.