April proved a tricky month for the markets. In the beginning of the month it looked like we could see a long overdue, substantial correction. Instead, we side stepped lower that then rallied higher as if someone pressed a massive "Buy" button.
I had told our subscribers to expect such a possible retest of the highs and that is just what we got. What I did not expect is that we would find a way to put in new incremental highs.
Here is how the averages performed in April:

All three major indexes moved higher and surprisingly the NASDAQ led the way for the month outperforming the other indexes over the last few days of the month while playing catch up.
Where we go from here is really anybody's guess. I would normally say that we are entering a soft season of the year for equities (May - October). However, let's face facts, markets are no longer being driven by fundamentals but by Central Banks.
This was no more evident than in Europe in April as member nations continued to produce weak GDP numbers and forecast slowing growth, but European markets instead of correcting (as the charts and our trend models seemed to indicate) rallied to new highs on the ECB's perceived change of heart on austerity and the possibility of further easing in Euro land. It was this technical weakness followed by strong anticipatory price moves against our inverse/short position that was the primary reason our sample model portfolios and our EAFE Index signals underperformed.
Stock-Signal Performance
Stock-Signal.com performance was generally strong for the month. The two exceptions being our EAFE models which, as explained earlier, hurt us in April. The other exception was our Long signal in the U.S. dollar, which took a break in April as equity markets rallied and the dollar resumed its negative correlation to such markets.
Our strongest Stock-Signal performances were in the DB Commodities Index and the London Gold Index. Our models had subscribers inverse (short) both indexes and we cleaned up as a result. On a technical basis both markets appear to have further downside after the current counter trend bounce in each is completed.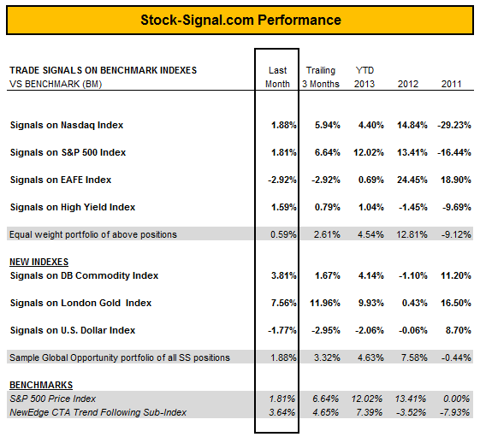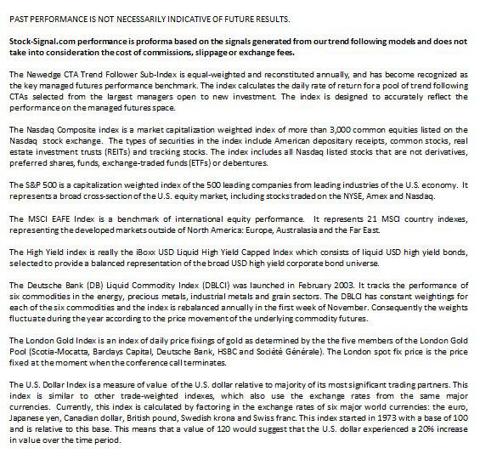 Our sample Equal Weighted portfolio returned a solid +.59% before commissions, fees or other trading costs.
Our sample Global Opportunities portfolio returned 1.88% before the same costs. Both portfolios were negatively impacted by our EAFE signals for the month, however, the Global Opportunities portfolio was able to overcome this loss with large gains in gold and commodities as mentioned previously.
Overall, we made money, which is always the goal! The S&P 500, however, has clearly been the winner and has left our sample portfolios in the dust for the year-to-date period. This kind of disparity between index performances rarely lasts forever and I would expect that our other index signals will pick up in the coming months. However, I would also like to state this is no normal market. In all my years of investing, I have never seen a market so tied to Central Bank intervention as now. It is like a bunch of junkies looking for a fix and the Central Bank is the glad supplier!
Market Forecast - May
We broke to new multi-year highs on all the major indexes in April. I would have bet you "dollars to donuts" we would have seen a top at the end of April, but we did not. So now the million dollar question is where will stocks go from here. My guess is we continue to grind higher.
I watched Carter Worth on CNBC explain how he thought the divergence in sector investing between low volatility sectors and higher beta/volatility sectors would eventually lead to a nasty shakeout. He made the point (that we have seen in our managed accounts and are exploiting) that money has flowed to lower growth, low volatility sectors in excess. While at the same time higher growth sectors continue to struggle in terms of growth expectations and money flows.
Now Carter may be right, but it seems to me we are in a bubble environment and bubbles tend to go much farther than anyone would expect. Low volatility just seems to be the bubble de jour!
Speaking of bubbles…is gold the most recent bubble to pop? I have a good friend who keeps warning me about an impending short squeeze in gold and a new move to highs based on buying by the hard metal suppliers. However, when I look at the charts all I see is a counter trend bounce and the possibility for more weakness over the balance of the year. We will have to see who is right!
So bottom line: this is a very exciting market, but it is fraught with danger! Make sure you know where the exit signs are and that someone is paying attention because these upward bubbles could burst at any time. May I suggest to you a Free Trial to Stock-Signal.com. We will help you stay on track and out of trouble, especially if this raging bull turns to bear.