So much has been written about where the price of gold will go over the next few weeks, months or years. So much of this information is biased based on a writer's gut, business interest or long-term thesis.
One of the great things about looking at investments purely on a technical basis is a lot (not all) the biases can be eliminated and a clear picture emerges of where an investment will be going.
For instance Gold (see chart) was clearly in an uptrend from 2009-2011 as evidenced by the fact that price was above its blue 50 period moving average.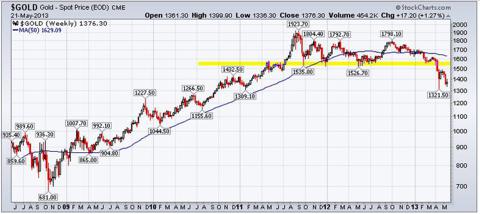 Then the unthinkable happened, gold began to consolidate for more than year and half. During this time, I have to admit that your guess would be as good as mine as to whether we would be heading higher or lower. In fact, I would say the odds favored a move higher.
Then in April 2013 we broke trend support (yellow line) and now the direction of gold is much clearer. That direction is down!
Do you see how in the uptrend, the price of gold would move up and then correct back towards the moving average? This is normal price action in an uptrend. Higher highs and higher lows is the norm.
The reverse will likely be true in this downtrend!
Right now we are quite extended to the downside in comparison to the blue 50 period moving average. So the chart watcher would expect a move back towards that moving average before we could see further weakness.
My guess is gold bounces here if it can hold above 1321 and bounces all the way up to 1550 to 1600 an ounce (at or just above the yellow line that was prior support now turned resistance).
Thereafter barring unforeseen market forces (i.e. Central Bank intervention), the trend should continue to the downside. A 61.8% retracement of the move from 2009-2011 would put a price target at roughly 1100-1150.
Disclaimer: This analysis is not meant as buy or sell recommendation. This analysis of gold is just for educational purposes.