I know that oil is not one of our seven Stock-Signal.com indexes on which we provide signals. However, oil (and gasoline) still make up almost half the portfolio composition of the DB Commodity Index. With that kind of weighting, what Oil does definitely affects this index.
So first, let's peer in on the DB Commodity Index via the Power Shares DB Commodity Index Tracking Fund (Symbol DBC).
Not how the DB Commodity Index is now in a pretty obvious downtrend. You can tell this by the fact that the 13 period moving average (red line) is now below the 18 period moving average (blue line). You can also tell by the indicator box and the fact that the blue MACD histogram is below the zero line and trending lower.
So with the big picture for Commodities now out of the way, is there any chance that oil may bail out this index or will it be a drag on this index like the metals and softs (i.e. corn, wheat, etc.).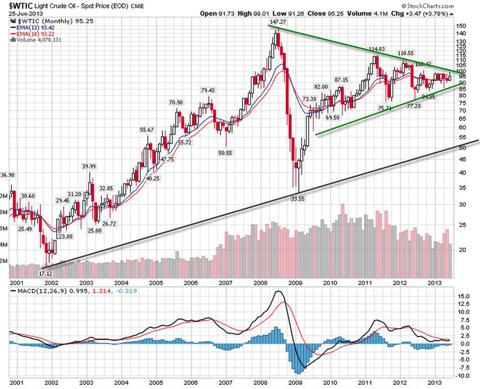 The simple answer is? Well……there is no simple answer.
Oil (West Texas Crude or WTI) has been consolidating since 2009. The good news is we are near the apex of this consolidation triangle and something has to happen soon (that is in the next few months). Right now I am leaning towards a break in oil prices with crude falling towards the diagonal black line and $50-$55 per barrel.
Obviously, if that happened, the DB Commodity Index would likely really fall towards its monthly support at around $18-$21.
So bottom line, something is going to happen soon in oil. If it is down, look for an acceleration to the downside in commodities. If it is up, likely all you will see will be more sideways action in the commodities index where strength in oil is offset by weakness in metals and softs.
What is your opinion? We would love to hear from you. Leave us your thoughts in a comment below.