Do I sound like a frustrated investor? Well maybe! It has been a tough cycle for trend followers.
No, this article is really about the Stock Market!
Mr. Market's bull cycle is now 55 months old. Happy 55 Mr. Market!
According to research by gestaltu.com and based on Yale Economist Robert Shiller's market data going back to the 1800s (see below), we are now past the median bull market in number of months (50) and well on our way to the average bull market length of 67 months.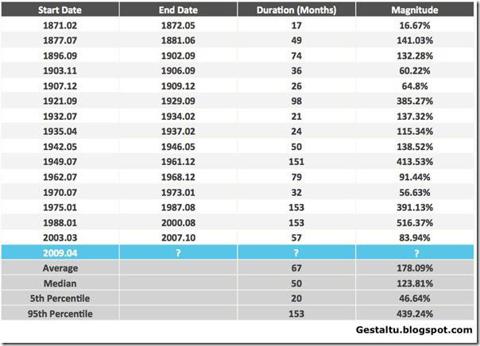 So should this be a warning to go out and sell everything? Of course not, but it should also be a reminder that the next Bear Market statistically could be just around the corner.
If it sticks to the average, that would forecast a new Bear Market starting in November 2014.
Now when is a market concerned about averages? Never, but it does pay to be prepared!
Preparing in this case would be incorporating more active management into your portfolios and making sure you know where the door is when Mr. Market rings the bear market signal.