October is not just scary due to Halloween, the market has historically held its own horror show in October.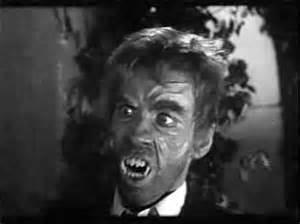 According to StockTradersAlmanac.com, October is known as the jinx month because of the crashes in 1929, 1987, the 554-point drop on October 27, 1997, back-to-back massacres in 1978 and 1979, Friday the 13th in 1989 and more recently October 2008 (lest we not forget).
Seasonally, October ends the worst 6 month period for performance annually and marks the beginning of the best season six month period of the year.
So I probably don't need to tell you the horror story we experienced in October! These numbers really tell the story!

Yes, that is right! Big gains! Not carnage at all!
It certainly fooled me as I failed to keep the "petal to the metal" in our separate accounts due to worries of a pullback in October that never materialized. In fact, I am beginning to wonder if real market driven corrections are a thing of the past in this new Fed driven environment.
What worries me is the day the Fed stops supporting this market. Could we see another October 27, 1997?
It's worth considering and its also worth planning for that day, lest you be the last one to sit down when the music stops.
Stock-Signal.com Performance
Despite my problems in our separate accounts, Stock-Signal.com did pretty well in October. As they say the "trend was our friend!"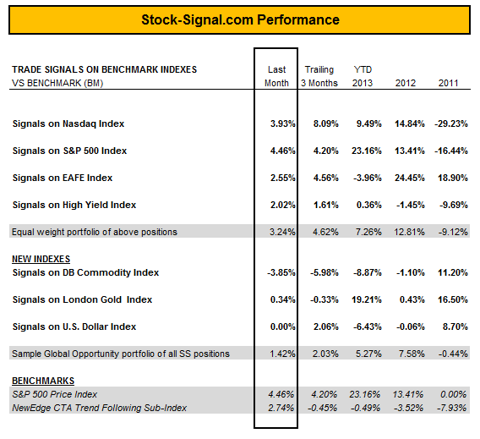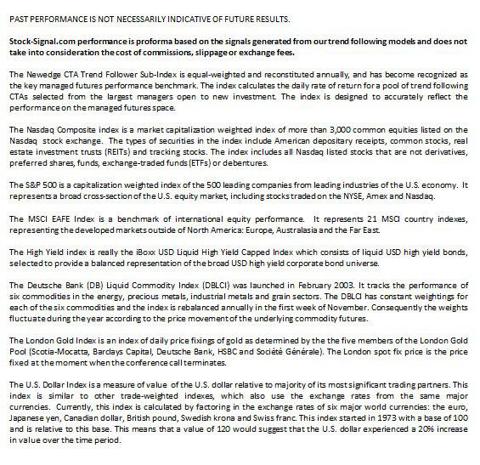 It still holds that the S&P 500 index has been near impossible to beat in 2013! In fact, it is during periods like these that we sometimes get our separate account clients pulling out 401(k) statements and crowing about their investment management skills due to the returns in the S&P 500 Index fund this year. They then turn to us and say "how come you haven't done this in 2013"
The answer is always the same "every dog has his day and this is just the S&P 500's day." Truth is we could be months or even years away from the next trending market where we outperform. That market may be the next bear market. I do no it will come and that their will be a reversion to the mean (upward) for trend followers. There always is!
Our sample Equal Weighted Portfolio had its best returns in October. Difficult cross currents in the commodity, gold and dollar complexes hurt returns for the sample Global Opportunities Portfolio.
Please note that the benchmark NewEdge CTA Trend Following Sub-Index has a decent month. Our strategies continue to outperform this index of the largest Commodity Trading Advisors due primarily to greater equity exposure and less exposure to the murderous commodity sectors of the market.
Market Forecast - Balance of 2013
Sunny and beautiful with a light winds from Washington. In other words, seasonality is now on our side. The Fed continues to provide support for the market. So aside from brief periods of profit taking or market consolidation, this market is likely heading up despite the fact that many long-term indicators are flashing "overbought."
I personally feel this market will ignore those metrics as long as the Fed remains accommodative. If it decides to taper, watch out!
However, how can it taper? We already saw that just the hint the Fed might taper its Quantitative Easing (QE) program sent interest rates spiraling upward. Can the U.S. really afford higher interest rates on top of spiraling government borrowing? The answer to that is no! The Fed is trapped in QE to infinity!