They say that asset allocation is 90% of the overall return equation in investing. So wouldn't it make sense that if you knew just where the next hot market would be that you could increase these odds even more?
I ran across this chart in my weekend stock review and thought I would share it with you.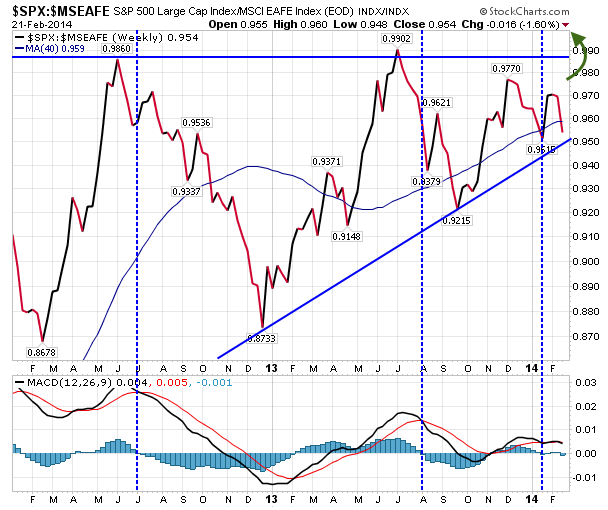 This chart is a relative performance chart of the U.S. (as represented by the S&P 500 Index) vs. the Foreign Markets (as represented by the MS EAFE Index). What is clear is that the relative performance chart is in a consolidation pattern.
In fact, we call this pattern an "Ascending Triangle" pattern.
According to Investopedia.com, "in an ascending triangle, one trendline is drawn horizontally at a level that has historically prevented the price from heading higher, while the second trendline connects a series of increasing troughs." Which is exactly what we have here.
Traders generally enter long positions when the price of the asset breaks above the top horizontal resistance line (see green arrow representing breakout price move). An ascending triangle is generally considered a continuation pattern.
So in the chart above, one must conclude, assuming there is a breakout above the upper horizontal trend line, that 1) the S&P 500 looks like it could outperform the foreign markets on a relative basis due to continued rising markets in future months; 2) the S&P 500 looks primed to outperform foreign markets due to problems in overseas markets; or 3) on a relative basis the S&P 500 will outperform, but there could be problems in both markets.
No matter which scenario you believe is possible. The fact of the matter is the odds seem to favor outperformance by the S&P 500 on a relative basis (assuming this consolidation does indeed act as a continuation pattern).
What are your thoughts? What do you think is likely to happen?