Today is the release day of the new film "God's Not Dead," which prompted me to wonder if the same can be said for trend following. There has been a lot of discussion about the death of trend following, the underlying strategy used by Stock-Signal.com to deliver buy and sell signals on its seven broad market indexes. To all the naysayers out there I would just like to make this one prediction……."the longer the period of underperformance, the greater the next period of outperformance will be."
How can I make such a call? Simple, it is based on the theory of mean reversion and history of trend following.
The theory of mean reversion says "that prices and returns eventually move back towards the mean or average" (according to Investopedia.com). Since trend following performance is the farthest away its ever been from the mean returns of the overall market over the past four years, I can only image the opportunity that exists to profit in the future!
The history of trend following also reflects that trend following can be volatile way of managing money and it has seen its share of periods where it is out of step with the broad market benchmarks. You can see both this volatility and the periods of relative underperfomance in this historical returns chart for the IASG Trend Following Index, the S&P 500 Price Index and a 50%/50% mix of these two averages, which we have dubbed a "Multi-Disciplined" Portfolio.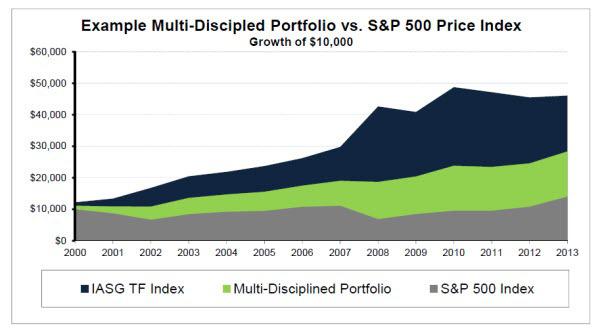 Despite the periods of volatility and relative underperformance, trend followers have outperformed historically as measured by the IASG Trend Following Index. Notice also how well a portfolio of 50% the S&P 500 and 50% the IASG Trend Following Index has performed. This Multi-Disciplined Portfolio has better returns and a smoother return stream.
However a closer look at this chart shows the real problem! Negative net returns since 2010 in the trend follower space. This has caused many naysayers to question the long-term viability of this method of managing money. In all likelihood these are the same people pronounced the end to bear markets and cyclicality and have found out the hard way that "those who cannot remember the past are bound to repeat it."
So why have we had this period of underperformance and what might we expect going forward?
Simply put, this has been a period of unprecedented Central Bank intervention in the markets that has not allowed them to move and trend naturally. They have been very news and event driven, which has been bad for trend followers.
However, no particular type of market lasts forever and it is my belief that the Central Bank driven market is coming to an end. The result will likely be a market that is not controllable by those same forces or a trending market.
I don't think I need to expand on what kind of market this will likely be. You can probably have already guessed.
But if we examine the last two such markets, where stock prices trended to the downside…this is where trend followers cleaned up! See chart below.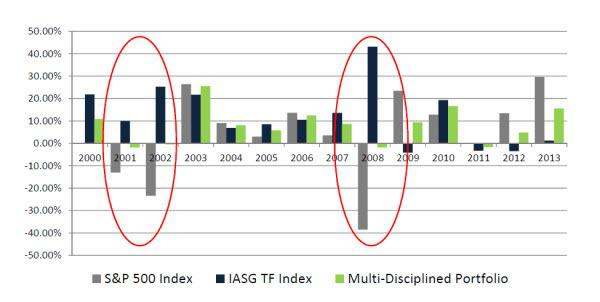 Notice also how trend followers made money and made up relative underperformance while the underlying relative return benchmark, in this case the S&P 500 Price Index, got crushed!
So is trend following dead? By no means.
Is it a tough period to be a trend follower? Absolutely.
However, if our Multi-Disciplined Portfolio can teach you anything (above) is that it still makes sense to be a trend follower and that the best overall results come from mixing more traditional "buy and hold" strategies with trend following. This Multi-Disciplined approach gives an investor the staying power to wait on the next major market trend while getting the benefit of smoother and higher overall returns over a complete market cycles (in most cases).
So trend following is not dead! In fact, it makes as much sense today as it did a decade again. Keep the faith and use it as it is best used, as part of a multi-strategy approach.
Disclosures:
Past performance is not an indication of future performance.
The S&P 500 is a capitalization weighted index of the 500 leading companies from leading industries of the U.S. economy. It represents a broad cross-section of the U.S. equity market, including stocks traded on the NYSE, Amex and Nasdaq.
IASG Trend Following Strategy Index: For the purposes of this index, established CTAs are defined as having a minimum 3 year documented performance history. The index is not weighted and new managers are added when they reach the 3 year performance requirement. The IASG Index does not represent an actual portfolio which could be invested in, and therefore the index performance results should be deemed hypothetical in nature and for comparative purposes only.
MD or Multi-Disciplined Portfolio is a hypothetical portfolio meant to show the impact of mixing trend following strategies, like those used by the managers in the IASG Trend Following Strategy Index, with more traditional strategies like buying and holding the S&P 500 Index. This portfolio has not been adjusted for management fees, commissions or slippage.