First off, I want to apologize that I haven't been able to post more often to the Stock-Signal.com blog. I have been absolutely slammed so far in 2014, especially in the wealth management side of my business (see www.intrustadvisors.com). You will notice if you look at the InTrust Blog, I have had no time for updates there as well.
So with that bit of business out of the way, let's get down to business.
The month of April was very deceptive. We started the month testing new highs. We then had a significant correction, especially in the Nasdaq, bio-tech and internet related companies. This correction, although significant in relation to the past few years market movements, barely pushed the major averages into negative territory. I believe at one point the averages were down 3%. We were up versus our benchmarks in the model portfolios at this point.
Then, as you can probably already guess, the Central Bankers stepped in and managed to talk the markets up from short-term oversold conditions to end the month in positive territory. The Nasdaq continued to lag and actually finished down for the month as you can see below.
All other major averages pushed higher and into positive territory at month end. Same old broken record!
Gold, commodities and the dollar continued to struggle from a lack of clarity. Clarity is maybe the wrong work. They all will be highly affected by the dollar devaluation to come, it's more a matter of timing.
It is no secret to most in the financial community that the dollar is a dead currency. The Euro is probably also dead. There will likely be a push for a new world currency backed by gold or silver sometime in the not-so-distant future.
That said, developed countries are doing their best to hold onto the past, to keep gold and silver prices depressed and to continue to leverage up their economies despite the lack of true natural demand. This is why commodities cannot get out of their own way, the lack of real, natural demand.
Most of the consumption is government or government program led (e.g. Obama care).
First quarter GDP came in at .1% for 2014. I am in the camp that this number would not be a whole lot better even if the 1st quarter weather was better. In fact, I think a lot of the growth you did get was Obama care driven.
Stock-Signal.com Performance
So now comes the tough part! Trend followers by and large continued to under-perform.
Why?
The answer is simple…there are no trends. In 2014, the S&P 500 may be up 1.93% but for the most part markets have been trading up and down in ranges. Not a good environment for the trend follower.
I recently tweeted (yes I do tweet) an article on trend followers called Misery continues for trend-following hedge funds. If you are a contrarian, I would highly recommend you check it out. I think every remaining trend follower would like all our clients to be contrarians at this stage in the game.
While Stock-Signal.com is not a hedge fund, we have certainly suffered from an environment that has not been "trend friendly." Now I do believe that is going to change this year, but right now we are still in a market blow off or possibly a topping stage. Until we get past this stage, we may struggle.
So what should you do as a subscriber? You really have three choices:
1) Stay the course realizing that trend followers do best in nasty bear markets and the next bear market is probably less than 12 months away.

2) Use our signals selectively. I have already written on how the S&P 500 index signals alone are worth the price of admission to Stock-Signal.com (see Wouldn't You Like to Know When to Get Out?). As the post describes, use that signal to time out (or into) the market with your "buy and hold" accounts including your 401k, IRAs or other accounts under your management. We don't get a lot of signals and they tend to sniff out bear markets before your losses get too large.

3) Ignore the signals until you start to see the performance ramp back up. I don't think this idea is very smart, but I certainly understand why you may consider it.

So now for the unveiling. How did we do?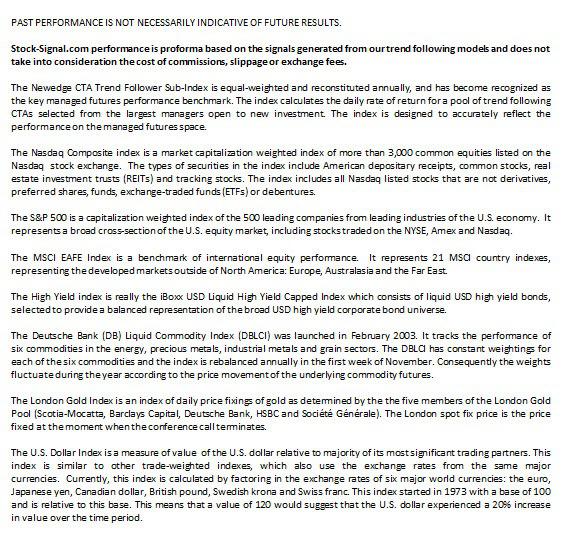 Obviously, we struggled in April!
Our Market Forecast
Our forecast really remains unchanged from prior months. We are now entering May and there is a reason that the saying goes "Sell in May and go away." May through mid-October tend to be tougher months for the markets as you can see below: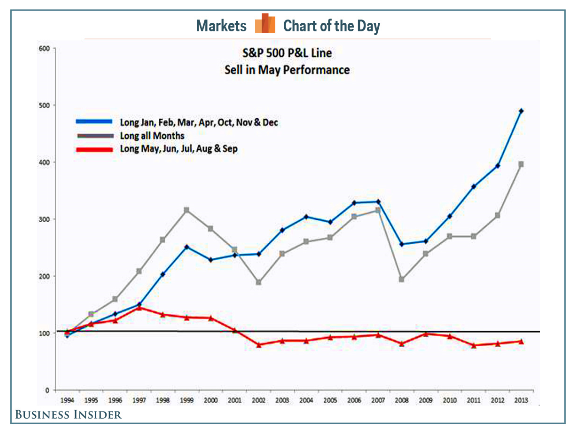 Courtesy of the Business Insider
We have already mentioned in prior months that mid-term election years tend to have a summer sell-off. I believe we are setting up for one now, which may be why our Nasdaq and EAFE trend following indicators are still flashing "sell" signals.
Following a sloppy summer, mid-term election years historically have had a year end rally. I believe this year's year-end rally will mark the top in this market.
We will have to see how well this plays out, but it sounds logical!
Finally, I would like to ask if anyone knows a inexpensive, but good internet marketing person who gets financial websites and generating interest, leads and subscribers. If you know of someone, please let me know at Jeff@stock-signal.com.
Thanks for your interest and let me remind you it's a great time to try Stock-Signal.com!