I thought this was a pretty interesting chart from Stockcharts.com. The old adage says that traders should "sell in May and go away." According to the Stock Trader's Almanac, since 1950, the Dow Jones Industrial Average has had an average return of only 0.3% during the May-October period, compared with an average gain of 7.5% during the November-April period.
At least over the past five years, this strategy would have cost you money. The cost of selling (transaction costs and taxes) was not rewarded by the market (which was a net positive) over that period.
The chart does clearly shows an historically negative bias in May and August over the past five years. So be careful!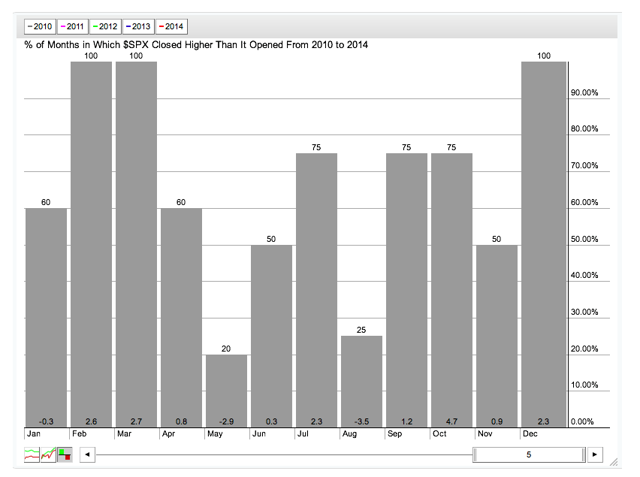 June is barely breakeven over the past five years and surprisingly September and October are positive. I think if you took this back a few more years, you would see negative returns in September and flat returns in October.
Also check out my Market Update video from last week for more on the "Sell in May and Go Away" seasonality pattern. I used to be skeptical this pattern would repeat, but over the course of my career I would say it happens more than not.