In my market commentary video last Friday, I stated that it looked like we would get a push back towards the highs this week. So far that prediction has held true as the markets now await the Federal Reserve's Open Market Committee Meetings today and tomorrow with the next announcement of any intervention to be announced at 2:30 pm on Wednesday.
It's not unusual for market rallies or sell offs to happen right before the FOMC meetings as market participants try to anticipate and front run the Fed's next move.
That being said, post the FOMC meeting (unless the Fed announces something really fantastic), the markets looked poised for a correction. Obviously sentiment remains very high - see my Friday video. The put/call ratio remains very low and the stock markets have had a heck of a run since we last had some sustained market weakness.
Here is what the charts tell me at this time: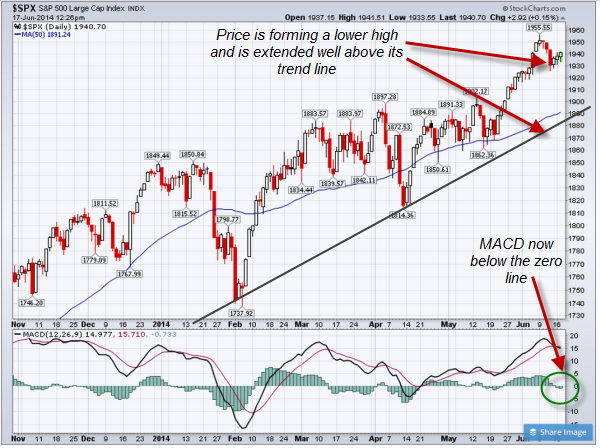 Note - that same trend line for which price is very extended is likely the target for any market weakness, at least on this first leg down.