So many subscribers to Stock-Signal have been asking me the question: Is it time to own gold yet?
The answer up to this point has been a bit murky.
Yes, gold is a store of value and hard asset. It would stand to reason that with Central Banks around the world printing currency with abandon that gold (or silver) should be something you want to hold.
Unfortunately, that line of thinking has not lined up with the technical perspective of gold and silver, that is until recently.
We still don't have a gold buy signal, but I must say we are getting closer and it appears to me this current consolidation in gold is going to lead to a great opportunity to profit from the yellow metal and potentially erase our year-to-date loss in gold as it has consolidated (the bane of trend followers).
Let's take a look.
First, the long-term view of gold as represented by GLD (paper gold) below: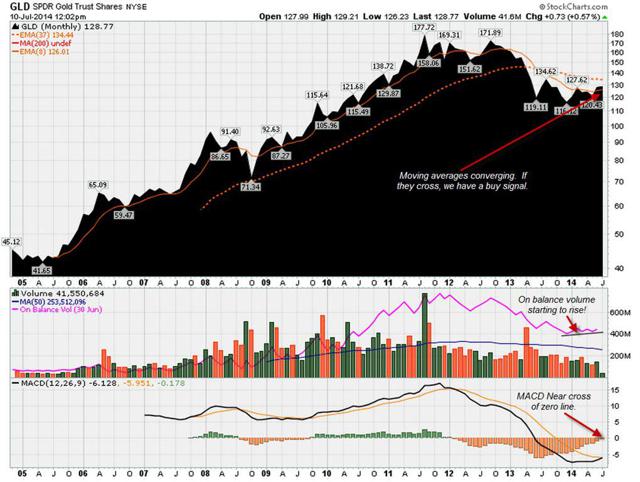 Note a few things in this monthly chart. First, gold has a big run up of over a decade without a significant correction. The correction finally came at the end of 2012 and we are consolidating those gains now.
However, the good news is we are building a base. On balance (buy vs. sell volume) is starting to stabilize and rise (middle chart window). The trend is looking up as both the moving averages and MACD histogram are moving towards crosses that would signal a long-term buy (top and bottom windows, respectively).
The bad news, we are not there yet!
Take a look at this weekly chart of GLD (intermediate term chart)! GLD is still trading in a slightly downward channel (dotted black lines) and we still do not have a channel break to the upside (or downside). In fact, we have been here before and GLD reverted to the bottom of the channel.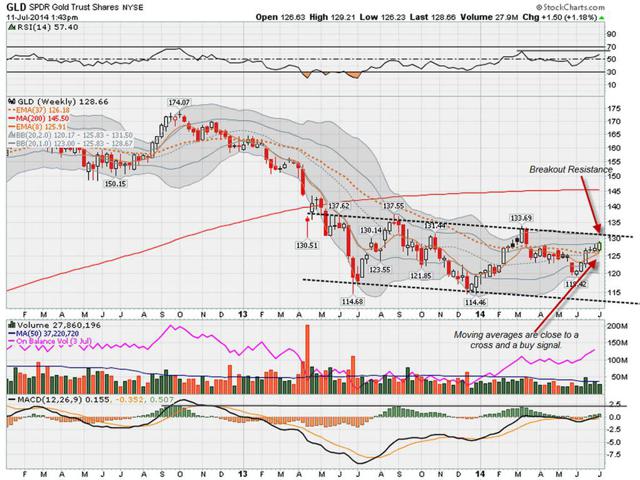 It is hard to know what will happen this time. However, my guess (based on the daily short term charts - not shown) is that we have reached a short-term top in GLD and it will pull back here. It may reach up for its previous short term highs of $133.69, but its basically out of upward momentum.
We could, though, get a moving average cross buy on the weekly charts before that upward momentum runs its course and we get a pullback. So gold is getting very interesting here!
Of course, I don't control currency devaluations, wars or any number of events that could suddenly push gold prices higher despite what the charts are telling us.
So we remain in a holding pattern. Liking physical gold and silver as a long-term asset, but not liking gold as an intermediate term trade (yet that is).
Want to be the first to get the gold buy signal? Why not get a free trial to Stock-Signal.com?