As an advisor, I get so many email solicitations from the various Wall Street brokerage firms with titles like "Are You Prepared For Rising Rates?, What Will You Do For Your Clients When Rates Rise?, and What Are Your Alternatives To Bonds?" Just to name a few!
It would seem logical that with how fast the Fed's printing presses are pushing out dollars (and it's much faster and greater than the Fed is telling us), rates should be rising.
However, the charts just are not supporting that logic yet! As you can see below in this monthly chart of ten year treasury yields: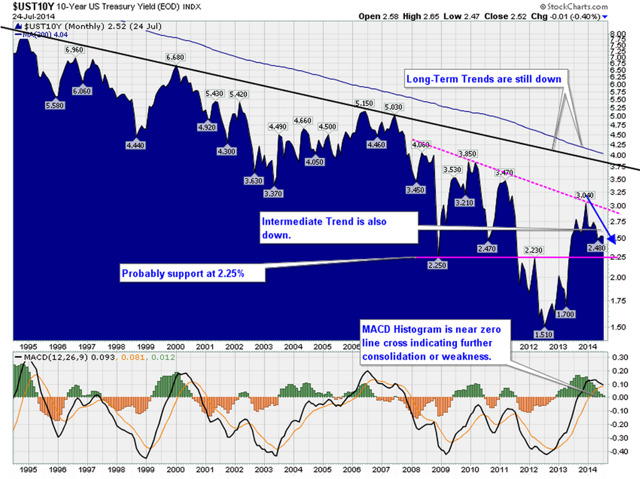 Note how yields have been falling since December of last year. I believe with the MACD moving averages and histogram rolling over, we could see rates down to support (solid pink line) at 2.25% for the ten year treasuries from the current yield of 2.52%, or another -10%.
Why?
My guess is growth is no where near as strong as the government's statistics would lead you to believe. In fact, I believe like many (see www.Shadowstats.com) that real GDP is actually negative and has been for some time.
Also, the Fed is not only printing new money and issuing treasuries, but it is also the largest buyer of treasuries. So in effect, there is very little real effect on the economy.
We can see this in the velocity of money or how much of the money is being used to buy goods and services, which is then used to buy more goods and services and so on.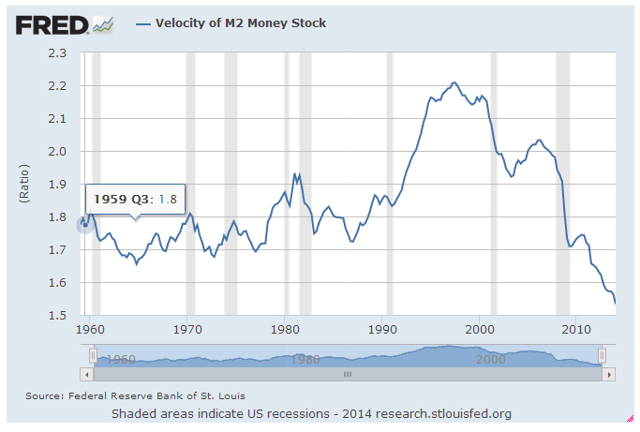 The simple answer is there is velocity of money and it continues to fall. That money is going to buy back treasuries and then right back to the Fed in the form of bank reserves on deposit at the Fed, see below.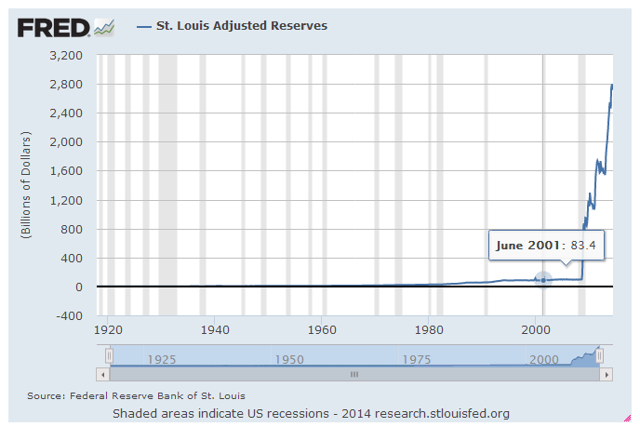 So right now the place to be is long bonds and bond like equities!
So how do you protect yourself from a sudden reversal of this trend? My suggesting is to buy long and sell short your bond portfolio just like hedge fund managers do equities.
How do you do this?
Using trend following signals and the wide array of both long only and inverse/short ETFs now available at your discount broker. It is simple to do and it will keep you from big losses if this slide in rates sudden stops and reverses.
For example, you could use the iShares Barclay's Aggregate Bond Index (NYSEARCA:AGG) for long exposure and the Direxion Daily Total Bond Market Bear 1X Shares (NYSEARCA:SAGG) for inverse exposure. Right now I am using a 11 period weekly EMA and a 9 period weekly Rate Of Change (NYSE:ROC) Indicator with a 7 period EMA overlay on the ROC to give me my signals.
When price drops through the 11 period EMA AND the ROC below its 7 period EMA, you have a sell signal. You get a buy signal on the inverse move where price and the ROC both move above their respective EMAs.
Too complex? In the coming months, Stock-Signal will be adding an 8th index - the Barclay's Aggregate Bond Index to our site. You can just follow our signals when that goes live later in the year. In the mean time, why not try a 30 day free trial of Stock-Signal.com?