No market moves in a straight line….usually! Let that sink in for a moment.
What we have seen over the past few years has been a market anomaly where there have been no 10%+ corrections since 2011. Markets don't typically move straight up without substantial Central Bank intervention, as was the case here in the U.S.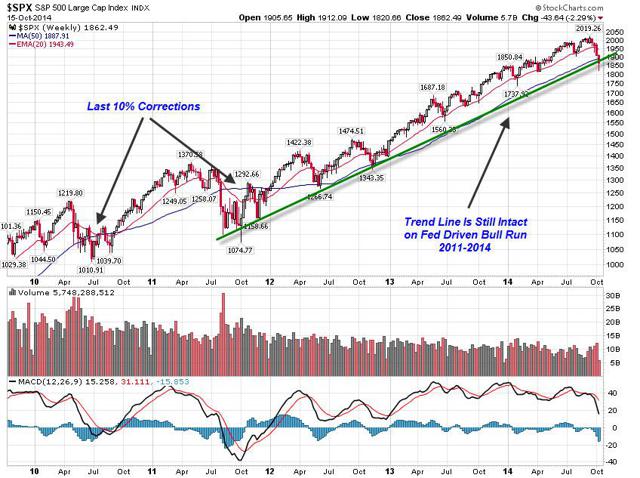 So when we are finally getting a long overdue correction, it leads to much consternation and worry. That has been the case here lately as the topic of "is this it, the big one" has been the most popular question I have gotten from those who know me.
The good news is that the trend is still intact. This is just a correction, so far (see price above).
The other good news is our indicators smelled out this decline and most of our signals are making money.
So how much farther will this correction run? My guess is it ends this week with a bounce higher.
Why?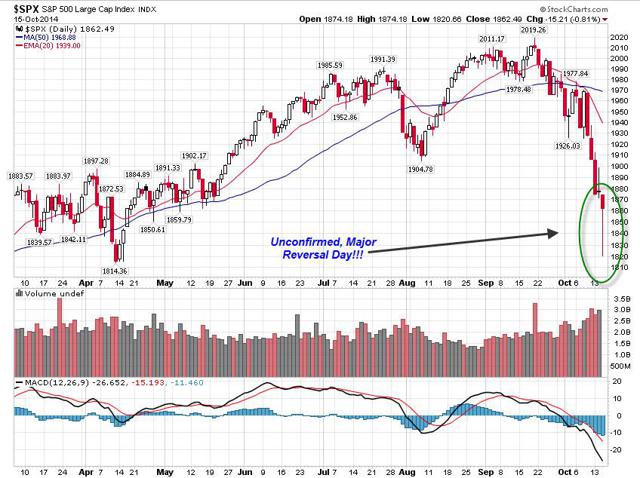 We got a unconfirmed Doji reversal candle today (upper chart of S&P 500 Index) on very high volume (see lower chart of SPY ETF). If confirmed tomorrow with price moving above today's highs, we should see at least a bounce and the bottoming process begin. We could yet retest these lows as part of that bottoming process (or not).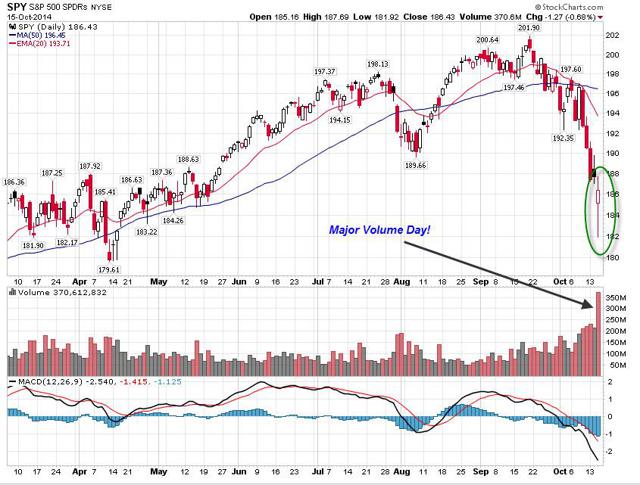 Assuming markets do move higher (whether from here or as I outlined in a bottoming process) the next question then becomes "do we move to new highs or do we put in a lower high." If it is the latter, we likely have a new Bear market on our hands.
My guess is that we do move to new highs and this whole question gets pushed into 2015. The reason, we are nearing a seasonally strong time of the year and quite frankly no one wants to deal with a declining market during the holiday season. The other reason is foreign markets are very oversold and also need to bounce. Small caps are also already bouncing here in the U.S.
Watch and wait on the next Stock-Signal.com signals, but my guess is we start seeing a few Buy signals in the next week or two.
One final word, Stock-Signal's trend following signals are reactionary, not predictive. This means we will likely give up some returns on the market turn before we get the next signal. So please be aware that this likely will be the case. However, as we have seen with Gold throughout 2014, Stock-Signal.com usually gets it right over the long-term.