Chanos vs. Rogers.....the heavyweight fight of the century.   Jim Rogers came out swinging this past week as he called Jim Chanos (the famed short seller) a China neophyte in so many terms.  He further alluded to the fact that Chanos and others "couldn't spell China 10 years ago are now experts on China."
But who is right? Chanos claims that he sees a major credit bubble coming driven by the countries massive stimulus.  
Could they be following in the steps of the U.S.? 
We do know that the China Securities Regulatory Commission on Friday approved the launch of stock futures and a trial run of margin trading.  This certainly would appear to help build Mr. Chanos case.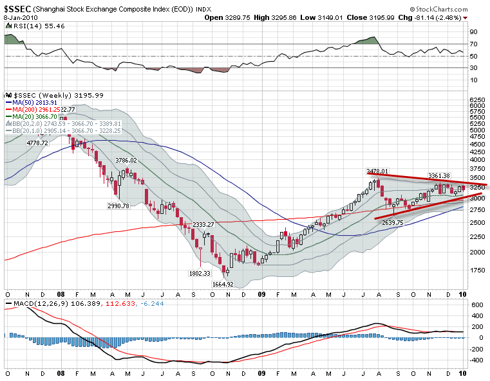 A chart of the Shanghi Stock Exchange week price activity shows the index consolidating in a triangle pattern.  At this point it could break up or down, although continuation of the short-term trend would be up.
So far the verdict is still out, only time will tell.