Debt trouble in Greece continues to underweight any substantial moves in the currency markets. Greece finally buckled under pressure and formally asked for a lending hand. EU will provide approximately €30 Billion, while the other €15 will come from the IMF. Nonetheless, a huge majority disagrees that the following package will be suitable to off-set problems in Greece. In the result, interest rate spread between Greek and German 10-year bonds jumped to a record 6.5 percentage points. The fear gauge of interest rate spreads comes amid uncertainty that Greece will be unable to go forward with needed budget cuts. Labor unions are already at the government's throats and any future cuts to employment, healthcare, or particularly pension will be met with strong opposition.
A ripple affect may come to other PIIG nations. In the mean time, fears of other European nations such as Portugal, Spain, and Ireland are slowly catching up with the Euro. Portugal debt is closely approaching 80 percent of the economy, showing that the nation might be the next one to buckle under the weight of public debt. Portuguese yield of its 10-year bond has risen by more than 100 basis points since middle of April, to current 5.3 percent.
Contagion fears of Greece are mounting and the following will put pressure on the EUR/USD. We currently see an opportunity to short the EUR/USD at 1.3360. The pair is currently consolidating in a bearish flag formation.  If the pair inches its way to 1.3360, we should see a stall and possible sell-off to the downside. We would take our profits around 1.3250 -1.3260, which is ABCD extension of this week, coinciding with 127.1% extension of today's low and high. Also the level represents 78.6 % retracement of April 22 low and this weeks high.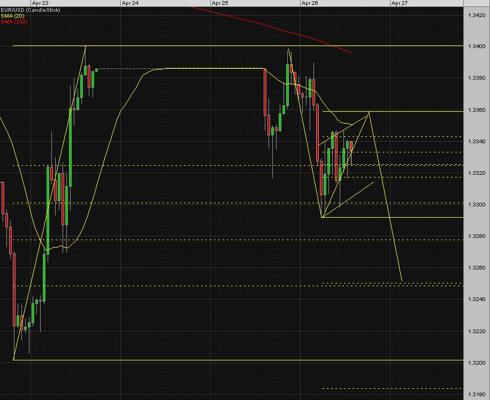 Source: OANDA
Disclosure:
Short position when Price hits 1.3360, Stop-loss 1.3405, Profit Target 1.3260
Disclosure:
Short position when Price hits 1.3360, Stop-loss 1.3405, Profit Target 1.3260