Despite the downgrade of the economy for 2011 through 2014, the Cable is on the verge of breaking through a key resistance level of 1.4775. Risk appetite allowed for GBP/USD to inch upwards from the low of this year. While all of other higher beta currencies have already cleared their respected resistance levels to formulate a proper bottom, GBP/USD is lagging way behind. However, the currency pair has structured a well defined inverted heads and shoulder, and as long as resistance of 1.4775 is breached we can see a splendid rally.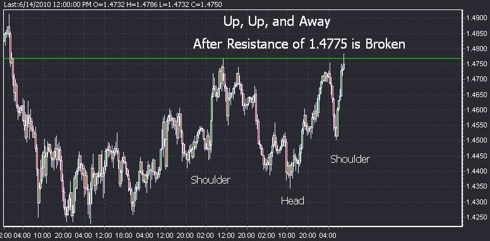 The main concern of trading has nothing to do with points of entry, but points of exit. Many traders fall for this: They spend countless hours analyzing proper set-ups to enter a trade., however there exit points are missing all together. Without a proper exit point, money management techniques can be chucked out of the window, and profitable trading itself can be jeopardized. Therefore, points that exit the trade have to be analyzed as well as points of entry.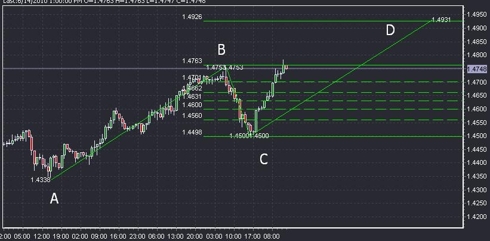 One of the strategies that can be utilized to find exits of trade are Fibonacci extensions in combination with ABCD lines. According to this little study, a well sufficient point of exit will be at 1.4925 to 1.4930. This level is generated through the following: The AB line has to be equal to CD line. Therefore AB=CD. We took the lowest point of this year and a high of last week to generate AB line, by duplicating the line we attached the bottom to point C, which is the lowest level reached on Friday. Point D will be our point of exit. Thereafter, we formulated Fibonacci extensions from point B to point C. When the Fibonacci extensions level are in sync with CD line at certain level, this generates a solid point of exit. BC line generated a 161.8% extension for point D. To reiterate, AB=CD (same line size), BC Fibonacci extension falls at the same level as CD line. Therefore we generated a solid profit taking point at 1.4925 to 1.4930.
Disclosure:
No Positions