Risk rally is helping to take all of the high yielding beta currencies higher. Aussie is among currencies which is savagely pushing to the upside. After the Reserve Bank of Australia warned that price pressures may continue to be ignited by a boom in China and Australia's mining sector, the markets interpreted the information as the central bank is not yet finished with their tightening of interest rates. However, RBA was quickly to follow with stating, " We were very keen to get interest rates back to a more normal level, given the way the economy had evolved, and we basically feel we've done that." The reason to the following explanation was based upon the current situation in EU which the central bank thinks can spread worldwide. Overall, the Australian economy has been the poster child of a turnaround. The economy is among the best performers out of G20, 20 biggest economies in the world.
Looking at the technical analysis we find that the Aussie is pressing to higher grounds, and as long as 0.8600 resistance is breached we can expect a continuation to the rally. Keeping in mind that the Aussie has rallied for six consecutive days, we have to think that a correction will come soon. Nonetheless, there are still opportunities to profit from this ultra performing currency. A break of 0.8600 will allow for AUD/USD to run to higher ground. Looking at 15 Minute Chart we see a well developed buy pattern originating.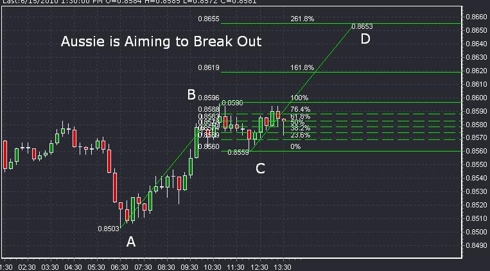 Our strategy of ABCD lines and Fibonacci extension is showing a proper set-up for AUD/USD, once 0.8700 resistance is breached. According to this study, an efficient point of exit for this trade will be 0.8655. This level is generated through the following: AB line which is the latest low and the latest high will have to equal to CD line. To achieve this simply duplicate AB line and place it at point C through point D. Putting a Fibonacci extension from point B to Point C, we notice that 261.8% extension is equal to the end of CD line. Therefore, we get a valuable point of exit. In addition, the following level represents a 2nd Standard Deviation of the Bollinger Bands on Daily Charts, an efficient point of resistance. To reiterate, AB=CD, BC Fibonacci extension of 261.8% falls at the same level as CD line. Therefore, we receive our point of exit at 0.8655, once we enter the trade at 0.8600-0.8605.
Disclosure:
Will be long at 0.8605