aAmpal-American Israel Corp(NASDAQ:AMPL)
Now here is a company that seems to be on the path of what could become a very nice turn around story for 2013. Last month the company released its Q3 report. Some impressive numbers, one being a huge improvement in net income, 85% increase from the same period in 2011. It seems the street has been a little slow on identifying this turn around. Investors who usually catch a turn around story early can see substantial returns in the end.
Company Overview
Founded in 1942, Ampal has over a sixty year history of investing in Israel. Over the years, we have witnessed profound changes but our mission remains constant, unlocking value mainly in the Israeli market to benefit our shareholders. Our team combines a creative approach to analysis with years of experience investing in Israel and abroad. Today, Ampal is best positioned to apply this experience to discovering undervalued assets.
Ampal-American Israel Corporation (Ampal) primarily acquires interests in businesses located in the State of Israel or that are Israel-related. It operates in five segments: chemical, energy, real estate rental, leisure-time and finance. The chemical segment consists of the investment in Gadot Chemical Tankers and Terminals Ltd. (Gadot), which operates in distribution and marketing of liquid chemicals for raw materials used in the chemical industry. The energy segment consists of the investment in East Mediterranean Gas Company, S.A.E. (EMG), an Egyptian joint stock company, which holds the right to supply natural gas to Israel through a pipeline from Egypt to Israel, and Global Wind Energy Ltd. (GWE). The real estate rental segment consists of rental property owned in Israel and the United States leased to unrelated parties. The leisure-time segment consists of Country Club Kfar Saba Ltd. The finance segment consists of all other activity, which is not part of the above segments.
INVESTMENT OBJECTIVES
An important objective of Ampal is to make investments in companies that grow in Israel initially and then expanded abroad. As a general guideline, Ampal seeks to acquire and maintain a sufficient interest in a company to permit it, on its own or with investment partners, to have a significant influence in the management and operation of that company. In determining whether to acquire an interest in a specific company, Ampal considers quality of management, return on investment, growth potential, projected cash flow, investment size and financing and reputable investment partners.
Third Quarter 2012 Financial Results
For the quarter ended September 30, 2012, Ampal recorded revenues of $107.9 million, compared to revenues of $140.5 million for the corresponding period in 2011.
Net loss for the quarter was ($2.9) million, or ($1.03) per basic and diluted share, compared to a net loss of $(20.3) million, or ($7.21) per basic and diluted share, for the corresponding period in 2011 (the number of Ampal's shares was retroactively adjusted to reflect a reverse stock split (effective at 5:00 pm EDT on July 20, 2012) in accordance with Ampal's announcement dated July 16, 2012).
As of September 30, 2012, the Company had cash, cash equivalents, other financial investments and deposits of $52.7 million.
Year on year Ampal-American Israel Corp has seen a 13.94% increase in revenues from 504.96m to 575.34m
| | |
| --- | --- |
| Average volume | 10.92k |
| Shares outstanding | 2.81m |
| Free float | 898.18k |
| P/E | N/A |
| Market cap | 6.39m USD |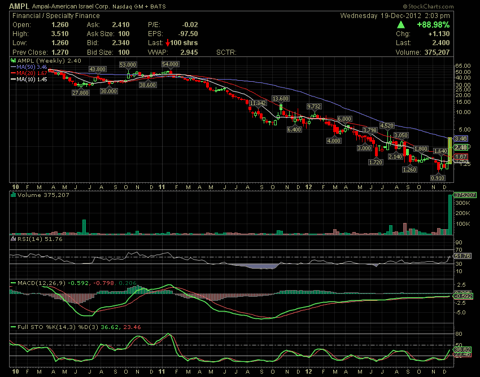 I find AMPL is currently trading at a significantly low value of only $6M market cap considering annual revenues were over 500M in 2011. With a float less than 1M shares AMPL has the potential to see a parabolic move like no other. Investing in micro-cap stocks is always risky, however where there is risk there is a chance for great rewards. Any investor that has been following the markets lately will tell you that several low float small caps have been seeing massive gains, AMPL has one of the tiniest share structures out of the list and is recently coming off all time lows. This is why i believe AMPL is set to see a parabolic move in the short term.
Disclosure: I am long AMPL.
I wrote this article myself, and it expresses my own opinions. I am not receiving compensation for it. I have no business relationship with any company whose stock is mentioned in this article.