Gold Companies such as ABX & NEM are rising after reporting earnings Tuesday night and Wednesday morning. With gold futures trading above 1150 and fragile banking systems around the world, it appears that this sector will catch a bid.
The following charts are not finished (weekly) yet show a technical upside bias. As long as the FED does not raise rates one should expect a general trend up. I think traders can wait for a pullback but long term investors should just let their VWAP algorithms work if they lack exposure to the precious metals sector.

One can try to pick individual gold stocks or just buy a gold index ETF such as GDX for major gold producers or GDXJ for junior gold producers. I believe that the GDXJ does have some very poor run companies in it but could raise from the secular trend.

One can see the prices of GDX options taken at approximately 11:35am EST on April 28, 2010. The GDX price was about 49.60 and the data is from interactive brokers. It would appear bull call spreads could be attractive because of the implied volatility skew. A trader could go long an ATM June GDX 50 call at 2.45 and short the 60 call at .25 for a total cost 2.20. This position would have an approximate delta of .42 , gamma .04 , vega .047, and theta  - .0157.  The max reward to risk is 3.54 : 1 .

I know one probably asks why sell the 60 call and not just go outright long the 50 call. First, the total maximum profit is already determined so it keeps traders, me at least (I hope!!), from getting to greedy. Also the effect of time decay is lessened. I am also thinking I might just buy the 50 call (probably wait for a pullback and after FED meeting) and then look for a run above 50 and then sell the 60 call or another strike for a higher price. A close below 45 and I would most likely close the trading position depending upon the circumstances that caused the down move.

And now back to waiting for the FED announcement.......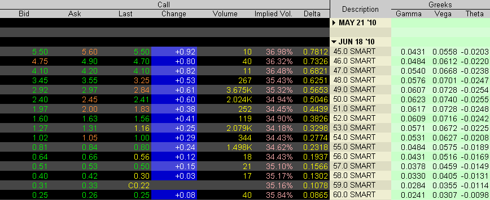 June GDX Options from Interactive Brokers




                                       GDX Daily from Tradestation.com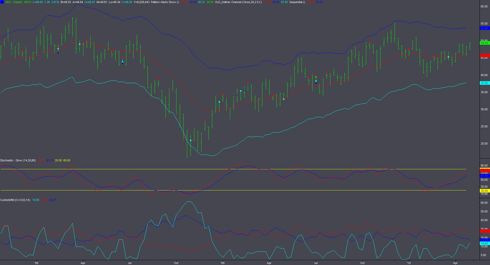 GDX Weekly from Tradestation.com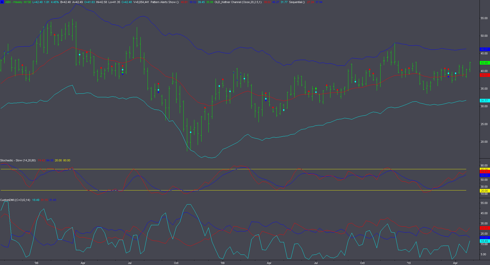 ABX Weekly Chart from Tradestation.com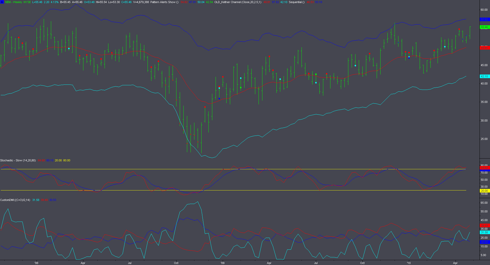 NEM Weekly Chart from Tradestation.com




Disclosure:
long gold etf options, gold stocks and options