Important Note to Subscribers: Before I begin I wanted to remind those of you with SPY positions that ex-dividend is on Friday the 15th. It is imperative that if you have any ITM strikes you must take off that position unless you want to be on the hook for the dividend. I will be sending out a trade alert Thursday (possibly tomorrow if SPY moves lower) to remind my subscribers to take the appropriate steps if they indeed have any ITM strikes.
The S&P 500 finally took a reprieve today after seven straight days of gains. SPY traded as low as $155.22, but finished the day back up towards the $155.70 level…indeed frustrating for those of us with bear call spreads.
But again, it's all about staying the course. And given the current overbought state of most of the highly-liquid ETFs I follow, the pot odds favor the bears. Bear call spreads are the appropriate options strategy in this case, although the low implied volatility makes it rather difficult to sell out-of-the-money credit spreads for decent premium. Just a reminder, all things being equal, the better the premium the larger the margin for error.
For all you newbies an 80-85% chance of success on a credit spread has a larger margin when implied volatility is higher. Given that the VIX is near all-time lows, you can quickly see how the margin of error is less than normal even though the probability of success is the exact same.
OVer the next few days I will be looking at several ETFs that are currently in a very overbought state for possible trades in both of my options strategies. Subscribers stay tuned!
If you haven't, join my Twitter feed or Facebook.
If you are a believer in a statistical approach towards investing please do not hesitate to try one of my options strategies. I use simple mean-reversion coupled with probabilities for each and every trade. Give it a try, it's free for 30 days.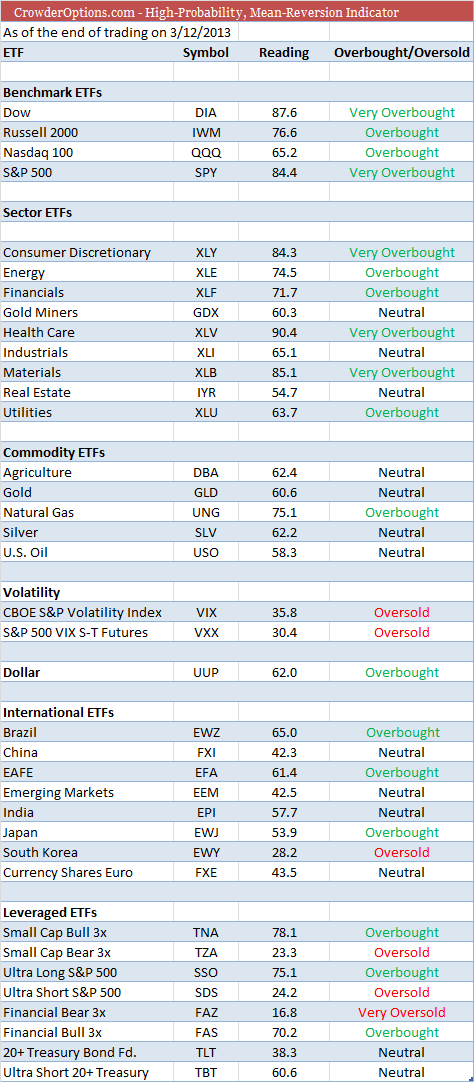 Disclosure: I am short SPY, DIA. I wrote this article myself, and it expresses my own opinions. I am not receiving compensation for it. I have no business relationship with any company whose stock is mentioned in this article.