ChipMOS (NASDAQ:IMOS) was one of the many technology companies left for dead in the market route of 2008/9.  Despite the solid recent move in its shares, assuming the world does not fall apart from a sovereign debt implosion, I believe the stock could easily double from it's recent close of $1.53 – and a reasonable case could be made for a move to $5-6 which would be just 5x EV/CY10 EBITDA or 5x EV/CY11 FCF.  ChipMOS is on the cusp of moving from a money losing operation to generating enormous free cash flow over the next couple of quarters.  Assuming the macro picture doesn't fall apart, the risk/reward appears compelling.
Rapidly improving outlook

I have followed the IMOS story for almost 8 year and published on IMOS while at Thomas Weisel Partners.   The stock appears to be setting up for a rally similar to the one it experienced in 2003 (shares rose from $0.85 in May '03 to $8 by November '03 and $14+ in January 2004).  During the 4 year period I published on IMOS, the stock consistently traded between $6-$8.  IMOS produced fairly steady earnings growth, but frequently lacked sufficient capital discipline, occasionally spending too much on capacity additions, thereby over-levering its balance sheet. 
When IMOS shares made their run in 2003, the key catalyst was the explosion of LCD driver-IC demand driven by the proliferation of flat panels.  This time around, IMOS should experience dramatic margin, profitability and FCF improvement beginning in 2Q (1Q is to be reported on May 18th) driven by tight LCD driver-IC assembly/test capacity from recent industry consolidation (that will likely result in ASP increases) and higher tester utilization rates (incremental test GM approaches 100%).  If ChipMOS has gotten religion regarding reigning in capital spending, and I think they have, ChipMOS could be one heck of a FCF generator beginning in 2Q and be able to rapidly de-lever its balance sheet.
IMOS Shares currently trade at 2.4x EV/my 2010 EBITDA estimate and 4.4x my estimate of 2010 FCF – there are no official analyst estimates as ChipMOS is among the proverbial ugly-step children on Wall Street that lost all its analyst coverage during the downturn (it was previously covered by Deutsche, Lehman, RBC, TWPG, etc.).
Catalysts that should drive shares higher include
-             2Q guidance of positive gross margins and FCF – the company reports on May 18th.
-            Emergence of historically largest customer Spansion from bankruptcy, which should drive higher revenues, including ramp of new wafer-sort contract.  Potential collection of damages – hearing is set for May 26th.
-            Potential increase in ASPs for LCD driver-IC assembly and test in next several months given potential capacity shortages, driving GM expansion.  Competitors Chipbond and IST have merged and ChipMOS acquired SPIL's equipment (SPIL signed a 5-year non-compete), just as demand has picked up.
-            3Q guidance of positive EPS and substantial FCF leading to meaningful balance sheet de-levering – assuming normal seasonality.
To summarize, ChipMOS will go from a money losing business with a levered balance sheet to a highly profitable company generating enormous cash flow in a matter of a couple quarters.  Assuming ChipMOS hits its numbers and maintains capital discipline (they've typically been good at the former, but not always at the latter) shares could trade substantially higher, while still at a low valuation.
Below I provide my basic Balance Sheet/Valuation and P&L forecast.  Following that, I give more detailed company background and explanation of recent events.
 
P&L forecast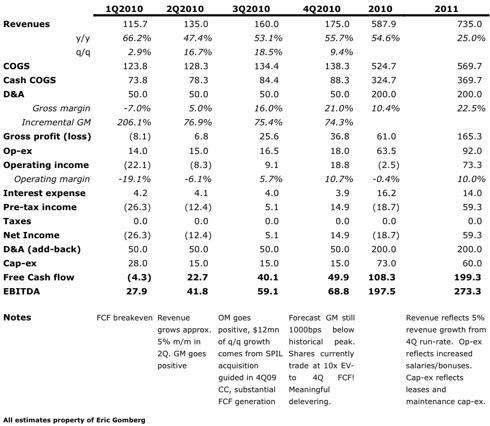 Comments on financials and forecasts
Currently there are approximately 77.9mn basic shares and 109mn fully diluted shares (based on my calculations assuming conversion of all converts and associated interest).  I use this more conservative FD share count since converts are currently "in-the-money."  The company has $121.6mn in cash, $74.3mn in short-term debt and $418.7mn in LT debt, giving the company  $371.4mn in net debt.  Given the $33mn cash received in February from Citigroup, and the conversion of $24.7mn of in-the-money convertibles, the "adjusted" net debt is $313.0mn, giving ChipMOS an adjusted Enterprise Value of $479.8mn.  In the event ChipMOS receives damages from Spansion, the company could receive up to $117mn of additional cash.  Please note that the $33mn payment from Citigroup is excluded from my EBITDA and FCF calculations since it is essentially one-time. 
ChipMOS has guided that 2010 cap-ex will be $75mn, with $55mn coming from assets purchased from SPIL (more on that below).  $28mn is forecast to be spent in 1Q with the remainder distributed evenly throughout the year.  D&A is forecast at $200mn (versus $206mn in 2009).  The company has guided to $16mn in interest expense in 2010 and with debt pay-down likely to commence in 2H10 and more so in 2011, I am modeling $14mn for 2011.  I am modeling no taxes in either 2010 and 2011 due to tax losses incurred in 2009 (notably taxes tend to be low because of 0% tax rate in Bermuda).  I expect cap-ex of $60mn in 2011.
Company background and recent history
ChipMOS provides assembly and test services to the DRAM, flash memory, LCD driver-IC and mixed-signal segments.  They are an outsource partner and receive chips from variety of semiconductor manufacturers for whom they package and test the chips.  The business faces similar cyclical peaks and valleys as the overall semiconductor industry. 
In 2008/9 ChipMOS went through the worst semiconductor downturn since the internet bubble, and were particularly harmed by the crash of memory pricing, which resulted in lower pricing for ChipMOS' services and significantly underutilized capacity.  ChipMOS was worse off than most as their largest customer, Spansion, went bankrupt and its second largest customer, Taiwanese DRAM manufacturer ProMOS, went through severe financial distress.  Coupled with a levered balance sheet including maturing debt, ChipMOS appeared to be in serious trouble.
Recovery
In the midst of the dire industry backdrop, ChipMOS took major steps to enhance its position for recovery.  In April 2009, ChipMOS negotiated with lenders to extend loan repayments.  In September 2009 the company restructured its convertible notes.  In November 2009 it changed its leasing terms.  The impact of the shift in leasing terms will result in less lumpy cap-ex, which too frequently has come at the wrong time.  For example, ChipMOS "spent" $84.5mn in cap-ex in 4Q2009 which includes $73mn in leases that will have cash payments paid evenly over 4 years. 
In January ChipMOS sold it's interest on a claim of money owed by bankrupt Spansion to Citigroup at a 50% discount – it received a $33mn payment from Citigroup in 1Q in February.  A claim for $234mn in damages (also sold to Citigroup) is supposed to be heard in court on May 26th, however my positive view on ChipMOS is not predicated on ChipMOS receiving any funds in this case – although it could be a substantial positive.
While ChipMOS was working on its debt and leasing terms, the semiconductor industry recovered.  DRAM and flash prices bounced significantly from their lows and ChipMOS is now enjoying burgeoning demand (they report monthly sales data).  Even Spansion has been cleared to exit bankruptcy (on April 16th the Plan of Reorganization was approved, and the company is expected to exit bankruptcy in May), and amazingly, despite litigation, the relationship with ChipMOS remains intact – including a new wafer sort agreement discussed in an April 22nd press release (greater detail is provided in Spansion reorganization filings than in the press release).  With the bankruptcy exit, revenue growth from Spansion should resume.
Expect ChipMOS to continue to benefit from positive news flow. 
·      Spansion to exit bankruptcy.  On April 16th Spansion's Plan of Reorganization was approved.  Spansion's imminent emergence from bankruptcy should enhance its competitive position and increase the amount of business it does with ChipMOS – including a newly signed 2-year wafer sort agreement that is set to begin in 2Q.
·      LCD driver-IC assembly and test industry consolidation.  In December Chipbond announced the acquisition of IST, one of its largest LCD assembly and test competitors – the acquisition was completed on April 1st.  In February ChipMOS purchased the all the LCD driver-IC equipment and several memory testers from SPIL for $55mn and a 5-year non-compete – notably SPIL will use these funds to buy shares of ChipMOS Taiwan at book value – that is, at $3.10 per share.  With 2 major players out of the market, just as capacity is tightening, ChipMOS stands to benefit – there have been multiple times in the past decade where ASPs have increased for assembly and test of driver-ICs, and based on my many trips to Taiwan, I would be very surprised if, at a minimum, ChipMOS and Chipbond didn't try to get along while times are good.
·      ProMOS' recently announced sale of its 12" wafer fab to Macronix could be a positive.  ProMOS, a top ChipMOS customer has been financially hamstrung and its fab sale should help it fund growth in its technology partnership with Elpida (notably, last night ProMOS reported April sales up 22% from March levels).  In addition, Macronix is also a major customer and the expansion of its capacity could drive more business with ChipMOS.
Risks
Beyond general macro risks, there are risks associated with an investment in ChipMOS including, dramatic ASP declines in ChipMOS' core markets caused by fierce competition, economic slowdown, or capacity overbuild, poor operational execution, and lack of capital discipline resulting in inability to achieve anticipated levels of free cash flow.
Disclosure:
Long IMOS