It is tough to find a good deal in the market today. I did a stock screener for Canadian companies with a P/E >10, dividend yield > 5%, and a market cap of atleast $500 Million.
Of 23 listings, only three firms were not REITs or energy companies. I don't like REITs right now because the ones I looked at are financed 50% debt. If I was looking for energy companies, I would screen for a much higher market cap. The three remaining securities were a chain of senior care facilities, and newspaper publisher, and Wajax Corp.
Wajax is listed on the TSE, has a P/E of 9.47, and monthly dividends of $0.27 (about 0.006%). I immediately liked Wajax Corp (WJX). They make and service pneumatic, hydraulic, electronic, and robotic parts for heavy machinery and vehicles primarily for the construction, mining, forestry, oil, and gas industries. Their products include crane equipment, excavators, bearings, valves, seals, engines, and generators. They sell great products for core Canadian industries.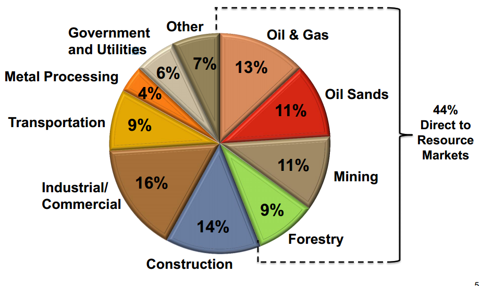 Souce: Wajax Investor Relations Presentation, October 2012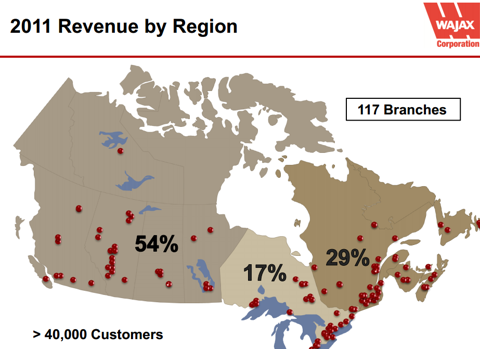 Source: Wajax Investor Relations Presentation, October 2012
The company is well spread out across Canada. Every portfolio needs exposure to Canadian mining, agriculture, oil and gas in Canadian dollars at a good price with solid dividends. The most recent earnings report shows revenue is up in two of their three sectors year-on-year. Earnings are up. This is a good company affected by cyclical demand.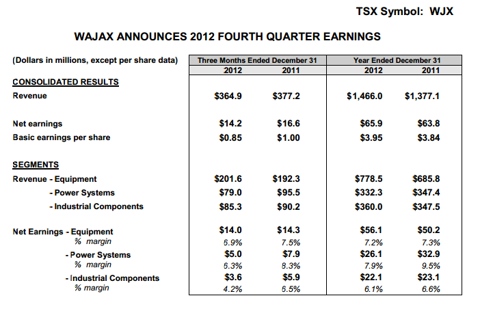 Source: Wajax News Release, March 5th 2013
I think the market oversold this stock. Analyst price targets average 42.44. It is fair to expect a moderate bounce for Wajax. They have raised there dividend twice stick listing; the probability of the dividend yield falling below 5% per annum is low. Their goal is to pay 75% of earnings in dividends. The stock is at the low end of its 52 week range, and is a great deal in these easy-money fueled markets.
Technicals suggest than Wajax has strong lower-level support at around $38. This company is a great short term play riding the 10% bounce back to the 50 and 200-day moving-average of $42. Trending downwards much further would be unusual. Beta is only 1.07.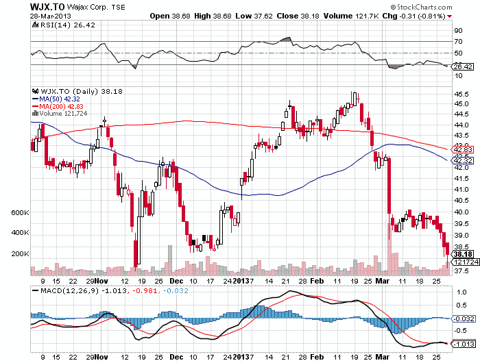 Source: Stockcharts.com
Conclusion
Good dividend, great price. I think this dip in earnings is temporary. Natural resource prices are rising; business should be investing in equipment. Short term, the security seems to have reached a lower-support and should bounce back quickly. Long term, this company has the diversification to drop underperforming products or find some way to make investors happy and sustain the high dividend. At $38.18, there is money to be made in the short and long-term. First quarter 2013 results are due May 10.
Disclosure: I have no positions in any stocks mentioned, but may initiate a long position in OTC:WJXFF over the next 72 hours. I wrote this article myself, and it expresses my own opinions. I am not receiving compensation for it (other than from Seeking Alpha). I have no business relationship with any company whose stock is mentioned in this article.