Overview:
Radiation oncology is an important therapeutic area for patients, in addition to chemotherapy and surgery, and improvements in precision have meaningful clinical benefit.  MRI-guided radiotherapy has significantly improved outcomes over traditional CT-based approaches, and presents the near-term promise of to improve oncologic outcomes, even while the world waits on novel therapeutic pathways like CAR-T and CRSPR.  A clear innovation, MRI-guided systems allow physicians to image and treat patients at the same time with superior soft-tissue contrast and real-time biologic and physiologic feedback without the ionizing radiation of traditional imaging methods.  Improved accuracy and precision allows doctors to deliver higher doses of radiation more frequently to deliver a more curative and less toxic therapy to the patient, while protecting healthy tissue thereby allowing clinicians to treat tumors which cannot be satisfactorily treated with existing equipment, such as kidney or lung tumors. 
First-to-market, ViewRay achieved a 2012 FDA approval for its first generation MRIdian LINAC System.  Management was unable to commercialize this system effectively, despite favorable legislative headwinds and promising clinical data.  In Feb 2017, an updated version was FDA approved, which has reportedly produced a growing backlog of $195 million in sales.  In the two quarters since approval, however, the company has earned just $13m and recently underwent a dilutive $50m secondary offering.  Reaffirmed in the Q3 earnings call, 2017 revenue projections of $42-47m suggest Q4 revenue of $27-32m.  This guidance is based on a range of seven to eight installations, suggesting a per installation revenue of approximately $6m each.
While it may be too soon to tell, the reported Q3 results are troubling – not only does management seem unable to scale operations to meet the reportedly growing need but their margin is impossibly thin.  In Q3, net income was -$11m despite revenues of $12m of revenue.  Gross income was just $2M since the COGS was 80% of revenue, and EBITDA was -$11m.  Without meaningful reduction in per-unit expenses, installation rate would have to increase significantly to cover operational costs which is unlikely without a buyout to improve efficiency and value.
However, chances of a buyout at this point may low since the economics of medical devices drive consolidation at earlier points in company lifecycles, the technology is aging but FDA-approved offering would expect premium to book and large competitors have jumped in through Varian (2017) and Elextra/Philips (2018).
Short of a buyout scenario, we recommend SHORTING ViewRay at current price of $9.45.  At a 25% chance of buyout resulting in 25% reduction of SG&A and COGS, we assign a buyout value of $15.15.
Competitive Landscape:
Competition for MRI- based radiation oncology systems, was previously expected by YE from Elekta (EKTA, Not Rated), is now delayed until 1H18 as EKTA is adding additional functional imaging capabilities to its offering. We wonder if the timing of EKTA's expected approval or ability to get it to price in a competitive manner could be pushed out further given the historical challenges EKTA has had with their system."
Below is summary of competition:
Varian Medical Systems, Inc. (NASDAQ:VAR), Elekta AB (Sweden, EKTA-B.ST), Accuray Incorporated (NASDAQ:ARAY), Thermo Fisher Scientific (NASDAQ:TMO), C. R. Bard, Inc. (NASDAQ:BCR), IsoRay Medical, Inc. (NYSE:ISR), Ion Beam Applications SA (Belgium), Nordion, Inc. (Canada), RaySearch Laboratories AB (Sweden), Mevion Medical Systems, Inc. (U.S.), and Mitsubishi Electric Corporation (Japan) are the key players in the global RT sector. Other competitors in the internal and external radiation therapy market include Brainlab, Theragenics, GE Oncura, Best Medical, Eckert & Ziegler BEBIG and IsoAid among others. VRAY also faces competition from alternative cancer treatment methods, such as traditional surgery, chemotherapy, robotic surgery and drug therapies.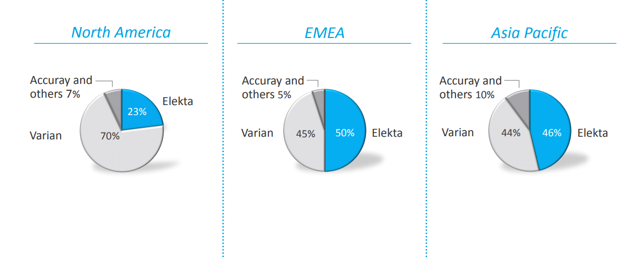 Source: https://www.elekta.com/investors/downloads/Elekta-ASTRO-2015-Webcast.pdf
Financials:
                ViewRay ended Q3 with $34M in cash, and undertook a $50M equity offering in October 2017 on top of $44M in accrued debt.  With a quarterly cash burn averaging $16M over the last three quarters, ViewRay is not in bad shape at the moment.  However, Q3 produced a gross margin of just 16.3%, while they sustained an -$11M overall loss.  Management relies on their backlog of $195M in orders to calm long term investors, but seems to have trouble converting its backlog into revenue in a manner that improve margins and achieve meaningful economies of scale.  It remains to be seen if management can accelerate revenue or improve cash flow quickly, despite many years in the business.  2017 guidance was lowered to $42-47M from $45-50M, and management offers no 2018 guidance.
Five analysts are covering ViewRay with an average BUY rating and an average 12-month price target of $10.60, all within range of $10-12.  Analysts predict 2018 revenues of $92.6M but EPS of -$0.15 before the recent secondary offering.
Systematic Review: Charged-Particle Radiation Therapy for Cancer | Annals of Internal Medicine | American College of Physicians
Disclosure: I/we have no positions in any stocks mentioned, and no plans to initiate any positions within the next 72 hours.